OmegaPro funds seized by UK authorities (OneCoin?)

OmegaPro funds have been seized by UK authorities.
The regulatory action occurred through OMP Money, a UK shell company set up by OmegaPro to access banking channels.
OMP Money was in turn tied to Viola Money, which was shut down by UK authorities last December.
The background on these latest developments is a bit complicated so I'll start at the beginning.
OmegaPro is a simple 200% ROI Ponzi scheme.
In order to access traditional banking channels, OmegaPro incorporated the UK shell company OMP Money in April 2020.
OmegaPro co-founder Andreas Szakacs pitched OMP Money as "a bank". He presented it as an integral part of OmegaPro's regulatory compliance;
The most important thing I want you to do is to go to the FCA register.

At the FCA register you can search for OMP Money and see that we are regulated by the FCA.

This would be something unique I would say for our industry and I'm so happy to finally announce this.
OMP Money accessed banking channels through Viola Money, another UK shell company.

OMP Money first ran into regulatory problems in June 2021, wherein the FCA deregistered the company.
OMP Money would remain deregistered until December 2021, wherein it was briefly reinstated before being deregistered again.
Viola Money was set up as V-Wallet (Europe) in July 2015. In May 2019 the company was renamed Viola Money (Europe).
Viola Money registered with the FCA a few months after the name change in November 2018.
Viola Money provided clients with access to GBP and EUR payment processor services, as well as banking and prepaid debit card services.
Viola Money conducted banking services through ClearBank (UK) and LHV Bank (Estonia)
As reported by Interpath;
On 22 October 2021, ClearBank notified both Viola Money and the FCA that it had decided to terminate its agreement for the provision of banking services to the Company with immediate effect.

The reasons given by ClearBank included that following a review of the Company's activity they had noted:

-Unusual payment requests;

-Financial crime typologies; and

-An inability for the Company to adequately and effectively monitor transactions.
LHV Bank followed suit and gave Viola Money 60 days notice it was terminating their agreement on October 29th.
The FCA initiated action against Viola Money on November 2nd.
On November 25th, LHV Bank terminated Viola Money's banking agreement "with immediate effect".
The FCA deregistered Viola Money on December 14th.
Two Interpath employees would later be appointed Joint Special Administrators (Receiver equivalent).
In a February 9th fifty-six page report, Interplay disclosed;
The records of the Company are inaccurate and incomplete – for example, the Company does not appear to have previously performed a customer funds reconciliation and customer account balances per the Company records significantly differ to the actual balances held at financial institutions.

It is currently uncertain whether we will be able to make a distribution to customers.

This reflects that the customer funds are largely not currently controlled by the JSAs
A list accompanying the report reveals €8454 EUR belonging to "OmegaPro Services Ltd" has been seized.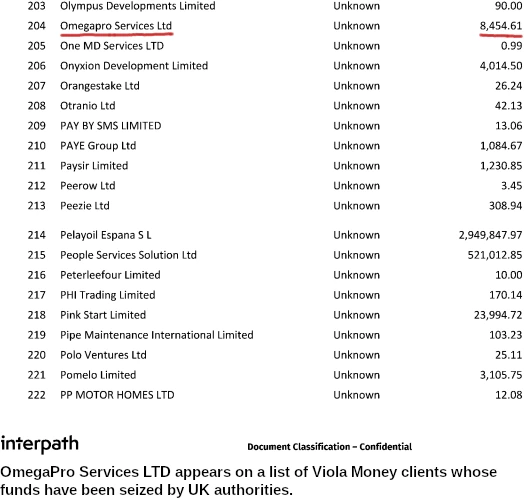 OmegaPro Services Ltd is yet another UK shell company tied to OmegaPro.
OmegaPro Services Ltd was incorporated in May 2019 and operates out of a Cardiff PO Box. Per Anders Kagestedt, purportedly a Swedish national, is listed as the sole Director.
Upon Viola Money running into regulatory problems, the stooges put in charge bailed.
Again from Interpath's report;
The shareholders of Viola Money are Stephen John Davies (90.5%) and David Barclay (9.5%).

David Barclay and Mary-Ann Townsend are directors of the Company and are also the persons responsible for the management of its electronic money.

On or around 8 December 2021, Mr Barclay, the CEO and director of the Company, is understood to have resigned with immediate effect.

We have written to both David Barclay and Mary-Ann Townsend as the directors of the Company as reported on Companies House to request they complete and return a Statement of Affairs.

David Barclay has advised he resigned as a director of the Company on 8 December 2021 and no longer has access to the material required to complete a Statement of Affairs in any meaningful way.

Mary Ann Townsend advised that she is not aware of the information requested within the Statement of Affairs as her role was primarily the Money Laundering Regulations Officer for the Company.

As such we have not received a Statement of Affairs to date.
Stephen John Davies, Viola Money's majority shareholder, doesn't appear to exist. If Interplay's correspondence with Barclay and Townsend was in writing, I'd proffer they don't exist either.
UK incorporation and fraud have been synonymous for decades.
Who was actually running Viola Money (which was obviously part of a larger money laundering syndicate), brings us to an interesting Feb 22nd article from the Times.
Unfortunately the article is paywalled – but its introduction was enough to catch my attention.
A self-styled "fintech" payments business was authorised by the City regulator while its founder was subject to a money laundering investigation related to the notorious multibillion-pound OneCoin scam.

A new report from administrators has revealed that "almost all" the funds controlled by the business are subject to freezing orders from HM Revenue & Customs or police forces.
Now I've searched high and low for a "new report" from Interpath, and the latest I could find was the Feb 9th report cited above.
If there's a new report it's not on their website.
Unfortunately The Times don't disclose how they're tying Viola Money to OneCoin. OneCoin isn't mentioned anywhere in Interpath's February 9th report.
Nonetheless my own research led me to the tail-end of a discussion on Viola Money's shutdown – referencing a February 2021 UK court case.
Unfortunately this article from Court News UK is also behind a paywall.
But like The Times' article, we glean interesting information from what is available.
A money launderer rinsed over £75 million from a scam based on a worthless cryptocurrency called 'OneCoin,' a court heard.

Christopher Hamilton, 62, is said to have laundered up to US Dollars 105m from the American scheme in which investors were promised fantastic rates of risk free profit.

But the OneCoin was worthless and Hamilton was arrested at his home in Cowbridge, near Bridgend in south Wales in April 2016.
I've never heard of Christopher Hamilton. Nor is his 2016 OneCoin money laundering arrest in the UK referenced anywhere on BehindMLM.
What on Earth is going on here?
Based on what is publicly available, I can't answer that. But bear with me because the rabbit hole gets even deeper…
In April 2019 Dominic Welsh, some schmuck in the UK, was prosecuted over a bungled blackmail attempt.
WalesOnline thankfully provides us with a freely accessible article;
An ex-marine blackmailed a "petrified" company director at his family home about an alleged $32m debt, a court heard.

Cardiff Crown Court heard Dominic Welsh placed his alleged victim's family under surveillance and threatened violence in an attempt to recover money his employers believed they were owed.
The "victim" is none other than Christopher Hamilton, identified as "a director for more than a dozen companies in the UK and abroad."
Prosecutor Christopher Rees said: "It is particularly chilling that the defendant was also tracking Mr Hamilton's wife and daughter and even daughter's boyfriend as part of the plot to demand money from him."

The court heard a message was found on Welsh's phone from June 7, 2017, saying: "On the debt we are just about ready to make our move.

"We are gonna hit about four targets at once. A couple we are gonna just slap around and threaten their families but the other two we will put it on them heavily."

In his evidence Welsh said he was paid $10,000 a month for his work and was due to earn a $30,000 bonus if he helped his clients to "recover" the money.
Who was Dominic Welsh, the alleged blackmailer, working for?
Prosecutors allege American businessman Gilbert Armentar and his associate William Morro hired Welsh to recover funds they believed they were owed.
That's Gilbert Armenta, OneCoin founder Ruja Ignatova's secret lover.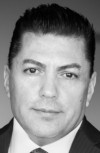 Armenta (right) was indicted and arrested in the US in 2017.
Armenta pled guilty to five counts of fraud, and is currently awaiting sentencing.
William Morrow is believed to be a pseudonym used by Segun Onibalusi.
Onibalusi, a Nigerian national, appears to be an accomplice working with/for Armenta.
Dominic Welsh was acquitted in April 2019.
Curiously, I was unable to determine the outcome of Christopher Hamilton's OneCoin money laundering case.
What I can confirm is Christopher Hamilton also appears to be The Times' link between Viola Money and OneCoin.

Whether UK authorities are still investigating Viola Money, and whether any of that will lead to action against OmegaPro, is unclear.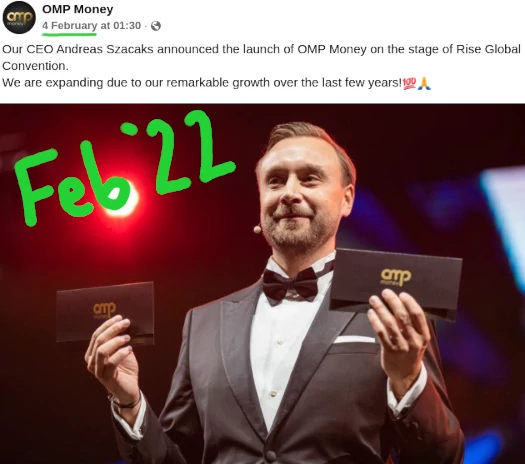 OMP Money markets payment processor services on its still active website.
OMP Money has decided to make a custody account service available to all its users which is now as easy as a checking account.

Secure your money with us, now!
Who OMP Money and OmegaPro are now providing these services through is not disclosed.
OmegaPro is run by co-founders co-owners Andreas Szakacs (Sweden), Mike Sims (US) and Dilawar Singh (Germany).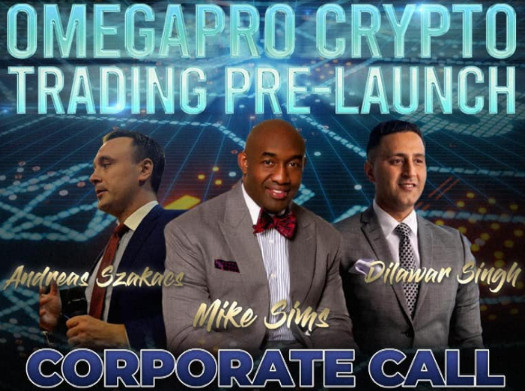 Szakacs, Sims and Singh run OmegaPro from Dubai, the MLM scam capital of the world.
Thus far OmegaPro has attracted regulatory attention in Colombia,  Spain, France, Peru, Belgium and Chile.
Update 24th February 2022 – In addition to being a pseudonym used by Segun Onibalusi, William Morro is also an actual person working with Armenta.
Armenta and Morrow appear to have been laundering money for years. Whether Morrow is a person of interest to US authorities is unclear.
Update 26th June 2022 – Extradition proceedings in the UK have shed some light on Christopher Hamilton's OneCoin money laundering case.