Gilbert Armenta violating OneCoin bond home incarceration?

OneCoin defendant Gilbert Armenta is being pursued for unpaid mortgage payments dating back to April 2020.
For some reason the Plaintiff's attorney is having issues serving him.
The property in question is a residential home in Fort Lauderdale, Florida.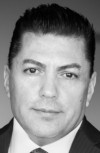 Armenta (right) held a $290,625 mortgage in 2018. In August 2019 the mortgage was transferred to Velocity Commercial Capital.
Armenta is being sued by the Trustee behind Velocity Commercial Capital, U.S. Bank National Association.
As alleged in the lawsuit against Armenta;
A default exist under the Note and Mortgage as a result of a lack of payment of the installment due April 1, 2020 and all subsequent payments on the Note.

Plaintiff, U.S. Bank, has demanded payment of the obligation reflected by the Note and Mortgage, but despite such demand, said default has not been cured.
To that end U.S. Bank is suing Armenta across three counts for
breach of promissory note;
mortgage foreclosure across two counts; and
assignment of rents and leases.
The sought amount in damages is $287,021.88 plus "interest, late charges, corporate advances, and all costs of collection", backdated to April 2020.
U.S. Bank filed suit against Armenta on January 12th, 2021.
On April 16th, a filing revealed Armenta's summons was returned unserved.
As per the filing, no less than thirteen attempts were made to serve Armenta at a residential address in Pompano Beach, Florida.
Each time service was attempted, no one answered the door.
On February 1st a card was left of the property door. It was still there on February 16th.
On May 5th the court granted U.S. Bank an extension to serve Armenta.
On June 16th, another filing revealed Armenta had still yet to be served.
This filing details nine attempts at service across three addresses in Florida.
A followup June 17th filing on behalf of U.S. Bank's attorney details attempts to locate Armenta's current whereabouts.
This includes cross-referencing social security, telephone listings, Florida property records and the internet.
On June 21st a "Notice of Action" was filed by the court, directing Armenta to file a response to the lawsuit by August 5th.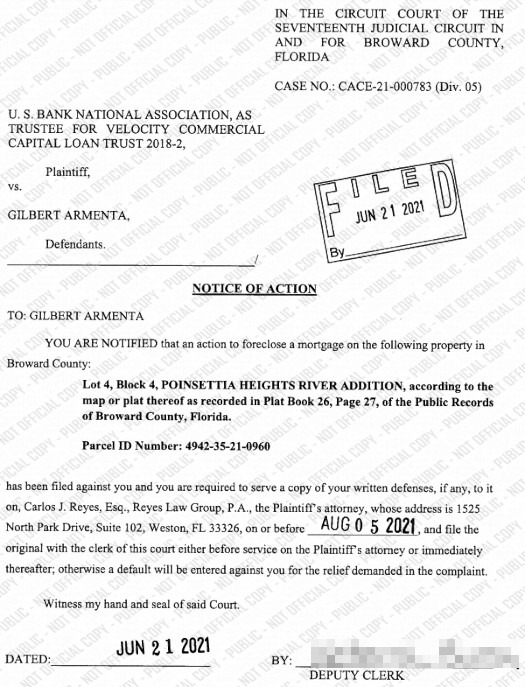 If Armenta fails to file a response by this deadline, default judgment will be entered into against him.
Gilbert Armenta seemingly having financial problems isn't particularly interesting. What's interesting is Armenta, as a OneCoin criminal defendant, was released "under compassionate release" last year.
As per a November 2020 filing in a related civil class-action lawsuit filed against him, Armenta stated he's
under a compassionate release order, with limited opportunity to leave my residence.
Armenta was released on bond in March 2020. The filing however only became public last month.
Armenta was released on a $5 million bond, secured by $500,000 in cash and two Florida properties; one in Fort Lauderdale and one in Lauderdale by the Sea
Neither of these properties are the one tied to Armenta's defaulted mortgage.
Both properties however are listed as addresses service was attempted at.
Home incarceration conditions imposed in Armenta's bond filing state:
You are restricted to 24-hour-a-day-lock-down at your residence except for medical necessities and court appearances or other activities specifically approved by the court.
Armenta's home incarceration is supposed to be "enforced by location monitoring technology".
The address Armenta is to serve home incarceration at is a unit address in Lauderdale by the Sea.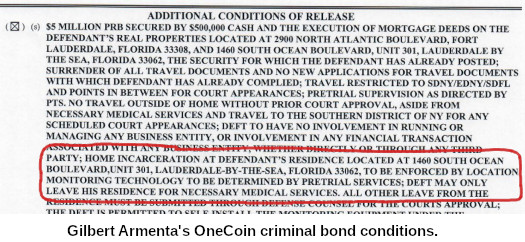 This is the same address service was attempted thirteen times across January and February 2021.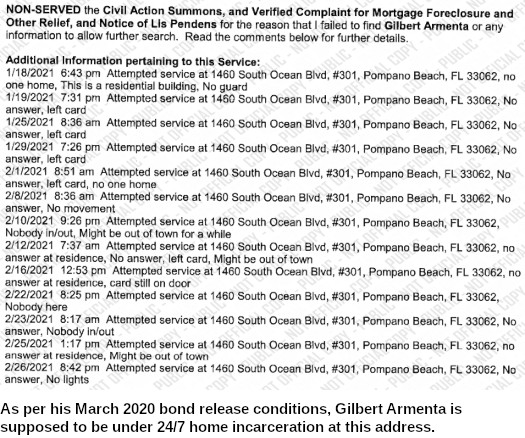 Armenta's bond filing does state he has to
advise the court or the pretrial services officer or supervising officer in writing before making any change of residence or telephone number.
At the time of publication there's nothing suggesting a change of address on his OneCoin criminal case docket.
Which begs the question, where is Gilbert Armenta?
The odds Armenta had "medical necessities and court appearances" thirteen times in Jan/Feb 2021 across AM and PM attempted service times is slim to none.
Either
Armenta is really good at pretending nobody is home;
his bond conditions have changed and there's no public record of it; or
he's in potential violation of his OneCoin criminal bond release conditions.
Pending any updates on Armenta's whereabouts, stay tuned…