About BehindMLM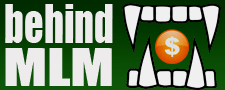 Ever visited an MLM review site that just didn't seem right?
'Don't join this MLM company, it's a SCAM! Join MY MLM company instead!'
There's a lot of rubbish MLM review and news sites on the internet that masquerade solely as lead generation tools for their owners. I believe there's a distinct lack of concise and clear information out there regarding companies within the MLM industry and MLM itself.
The aim of Behind MLM is to fill that void and prove to be a useful resource to people curious about the MLM industry and the companies that exist within it.
I created BehindMLM out of a genuine interest in the MLM industry and a desire to provide the public with relevant and accurate MLM information, news and company reviews.
I hope you find BehindMLM a useful resource and feel free to leave any feedback below. Additionally you can contact me if you've got any further queries about the site, want to submit a company for review or for any general questions.
Thanks for reading!