Stolen deceased identity used to promote OneCoin

For a two year old company who make all sort of financial claims, there's a distinct lack of independent media acknowledgement.
When something is published, OneCoin and their affiliates go into meltdown and make sure friends and family watching their Facebook page take note: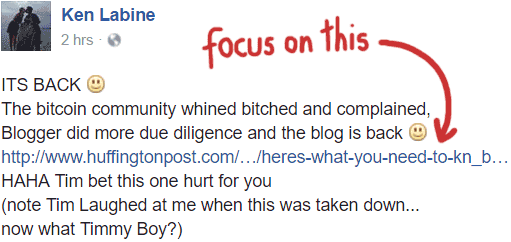 The article Ken Labine, a Canadian OneCoin investor,  is referencing was purportedly authored by William Morrow a few days ago on September 14th.
The article, "Here's What You Need To Know About Cryptocurrency", blabs on about bitcoin, then altcoins and finally OneCoin. It's pretty much just a fluff piece with a OneCoin hook on the end.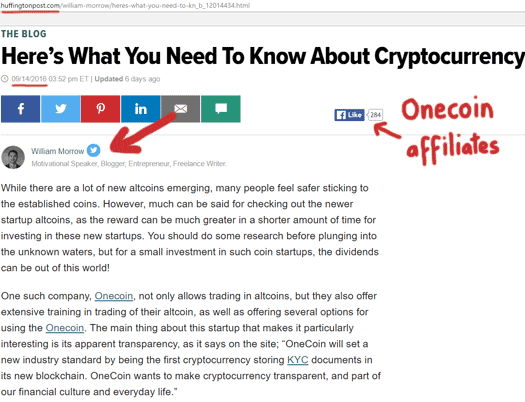 Two problems with the author though. That's not William Morrow in the profile photo, it's a man named Morrow Willis.
According to public records, Morrow Willis died of acute lymphoblastic leukemia in February, 2015.
The shameful use of a dead man's profile photo to promote OneCoin appears to be the work of Segun Onibalusi.
Onibalusi is based in Nigeria and claims to be an "entrepreneur and internet marketer with 6yrs of internet marketing (Link Building) experience".
If you click on William Morrow's Huffington Post profile link, you are redirected to Onibalusi's profile. Scroll down and you'll see the "Here's What You Need To Know About Cryptocurrency" article was published on his account.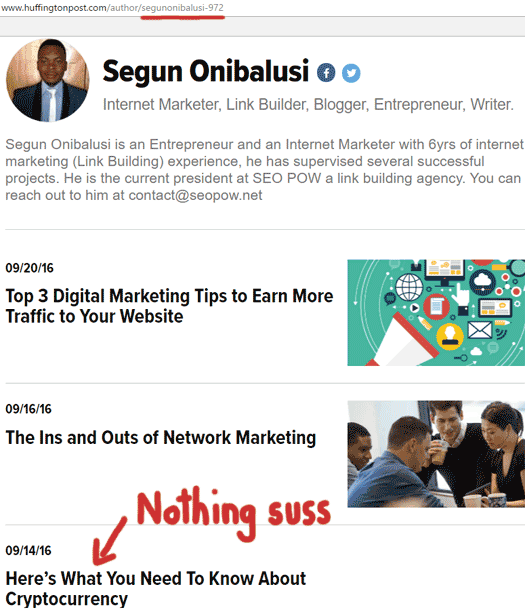 Onibalusi appears to have renamed his account to William Morrow sometime after published the OneCoin fluff piece, however not all areas of Huffington Post have updated to reflect the change.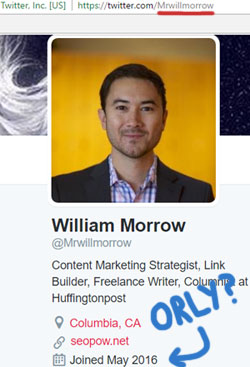 In addition to defacing the memory of Morrow Willis with scammy marketing, Onibalusi also a created bogus Twitter profile to accompany his bogus William Morrow profile.
The bogus profile was created in May, 2016 and links to the company SEOPow.
On his About.me profile, Onibalusi claims SEOPow is a "link building agency".
an Entrepreneur and an Internet Marketer with 6yrs of internet marketing (Link Building) experience, he has supervised several successful projects. He is the current president at SEOPOW a link building agency.
Whether Segun Onibalusi is a OneCoin affiliate himself is unclear. The Huffington Post article links to the OneCoin website twice, without an affiliate referral code.
Either way, I think we can all agree using dead people's names and profile photos to promote a business opportunity is pretty slimy. Even for MLM.
OneCoin's attempts at Ponzi promotion on Huffington Post haven't gone well.  The OneCoin website cites another Huffington Post blog, stating;
Despite growing efforts by our competition to discredit our growth by bombarding us with a number of unfounded accusations, experts from around the globe are continuously recognizing OneCoin as an innovative and revolutionary digital asset.

As posted in the Huffington Post : "No matter what you may think about OneCoin, it has definitely grown into one of the world's largest cryptocurrencies, and likely won't be leaving anytime soon."

The accompanying link returns a "404 Not Found" error.