Gilbert Armenta's OneCoin fraud indictment

Gilbert Armenta, a resident of Florida, was a key figure in OneCoin's money laundering operations.
He has also been romantically linked to OneCoin's founder, Ruja Ignatova.
On September 12th, 2017, Armenta was indicted by a Grand Jury on three counts of extortion; conspiracy to commit extortion, attempted extortion and travel act extortion.
Armenta was arrested in Connecticut the following day on September 13th.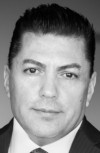 As per proceedings held in New York on September 18th, Armenta's bail was set at $5 million dollars.
Armenta (right) was ordered to stay in Manhattan with a 6pm curfew and GPS monitoring. His passport and those belonging to his adult children were also surrendered.
Armenta's initial plea to the criminal charges against him was not guilty.
On January 24th 2018, the DOJ filed a superseding indictment adding additional criminal charges.
Armenta now faced five counts;
conspiracy to commit wire fraud;
conspiracy to commit money laundering (three counts); and
conspiracy to commit extortion.
As alleged by the DOJ;
Gilbert Armenta assisted in the execution of the OneCoin scheme by, among other things,

(a) coordinating the opening of OneCoin Ltd. depository bank accounts … at banks located in Mexico and South America;

(b) establishing and administering OneCoin "pool accounts" at various international banks;

(c) introducing one or more principals of the OneCoin scheme to an online reputation company for the purpose of removing from the internet negative information about OneCoin Ltd.;

(d) transmitting OneCoin Ltd. fund to pay recruitment commissions to OneCoin members who recruited new OneCoin members, as well as to pay refunds to dissatisfied OneCoin members; and

(e) transmitting OneCoin Scheme proceeds through bank accounts located in the United States and abroad, and making various misrepresentations to banks regarding the source of the funds, for the purpose of laundering the OneCoin scheme proceeds.
With respect to extortion, the DOJ alleged
Armenta agreed with others to use threats of physical harm to attempt to collect payment through international wire transfer from an individual in the United Kingdom who they believed had stolen business proceeds originally intended for international wire transfer.
The individual in question is not named.
The same day the superseding indictment was filed, Armenta pled guilty to all five counts.
We know through testimony that Armenta opted to cooperate with the FBI following his arrest in September 2017.
Nothing was filed in Armenta's case from March 27th, 2018 till April 2020.
On April 29th 2020, the DOJ requested Armenta's case be unsealed. I believe this signaled the end of his cooperation with US authorities.
On May 29th Armenta's sentencing was scheduled for July 23rd.
Citing COVID-19 and claiming he was suffering from "uncertainty and stress", on July 7th Armenta requested his sentencing hearing be conducted via video conference.
The uncertainty and stress that Mr. Armenta and his family have been living with has been agonizing.

Mr. Armenta has been in home detention for over three months, following eight months in detention at the Metropolitan Correctional Center (the "MCC").

Further delaying his sentencing, possibly indefinitely depending on the pandemic's progression, only exacerbates the anxiety and torment that Mr. Armenta is experiencing.
This letter to the court revealed that in July 2019 Armenta was remanded back into custody. The DOJ allege Armenta violated his cooperation agreement.
In December 2019 the DOJ informed Armenta they would not be providing him with a Section 5K1.1 letter.
A Section 5K1.1 letter states to the court that because
the defendant has provided substantial assistance in the investigation or prosecution of another person who has committed an offense, the court may depart from (sentencing) guidelines.
Because of his own actions Armenta's cooperation with US authorities, as far as his own self interests went, was for naught.
The DOJ responded in opposition to Armenta's motion the same day.
The DOJ revealed that with respect to violating his cooperation agreement, Armenta had
used his companies to engage in additional criminal activity while subject to the terms of a cooperation agreement with the Government.
In their argument against a video conference hearing (which increased the probability of the scheduled date being kept),  the DOJ argued
there are no specific reasons that sentencing in this case cannot be further delayed without serious harm to the interests of justice.
The complexity of the case in support of an in-person hearing was also brought up.
On July 8th the court denied Armenta's video conference request.
The application is denied. Defendant provides no specific reasons to find that further delay would cause serious harm to the interest of justice.
Armenta's is currently scheduled for in-person sentencing on October 21st, 2020.
Stay tuned…