GooBets investor flaunts lack of US ties

In the wake of escalated Ponzi regulation in the US, schemes operating in the MLM underbelly are now touting their lack of US ties as a selling point.
The latest scheme to do so is GooBets, with investor Suzanna Dreyer promoting "Goobets has nothing to do with the USA".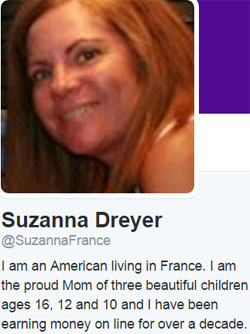 On her Twitter profile, Dreyer states she is "an American living in France". Through her downline builder named "Interested People", Dreyer claims to "have been earning money on line for over a decade."
In addition to touting a lack of ties to the US as a selling point, Dreyer's latest April 15th GooBets promo also claims the scheme 'requires no sponsoring, recruiting or selling'.
BehindMLM recently reviewed GooBets and found it to have no retailable products or services.
For those unfamiliar with the scheme, GooBets was launched by former MultiClick Ponzi scheme investor Augusto Queiroz.
Dreyer's April 15th GooBets promo continues;
Every Single person Makes Money, in fact it's impossible NOT to make money. This means no one is going to leave… who's going to quit when they are making money ?

You do NOT have do any pointless tasks, you will still earn weekly profit shares (with) unlimited earnings potential.

Top Worldwide Leaders are on board already, ready to capitalize on this huge market (me included). Goobets has nothing to do with the USA.

Up to 30% earnings per month (compare that with a bank where you get 1% a year) (and) if you do team build & sponsor, you earn incredible bonuses.
Why is reassuring prospective investors that GooBets has no ties to the US important to Dreyer?
Because GooBets are running a Ponzi scheme that advertises weekly ROIs of up to 31%. Dreyer obviously hopes that by not having ties to the US, that GooBets will not become the subject of a US regulatory investigation.
That of course doesn't mean Dreyer isn't actively looking to recruit US-based investors though.
Whereas investors from elsewhere in the world are encouraged to sign up through the GooBets website, Dreyer asks that US-based investors contact her for "special instructions".
IMPORTANT: If you are in the US, please contact me for special instructions BEFORE you register!
Nothing suss.
Dreyer meanwhile appears to have vast experience with earning money through the MLM underbelly.
On her Interested People website, Dreyer warns prospective investors
Please note that programs sent through this list are for entertainment purposes only. Some are VERY high risk and some may turn out to be scams.

NEVER spend more than you are ready to lose. ALL on line programs are like gambling in Vegas. Even the truly legit ones can run into trouble and get shut down for various reasons.

We have seen this too many times to ignore the possibility of it happening with ANY program.

ALWAYS get your seed money out first and play with profits (if you can). It is always tempting to just let it ride, especially when you follow the first rule and are ready to risk losing your original funds.

But the people who make more than they lose regularly do this: get out seed money, then take out half of profits every time and respend the rest.
Other MLM opportunities that appear on Suzanna Dreyer's Twitter feed include


As above, Dreyer was also an affiliate with Zeek Rewards and TelexFree, $850 million and $1.8 billion dollar Ponzi schemes respectively.