Dubli Review: Recruitment and e-commerce

Dubli operates in the e-commerce MLM niche, with the company claiming to have a corporate headquarters office in Cyprus.
An address in the US state of Florida is provided on Dubli's website, presumably to plant the seed that the company has a US presence. Further research however reveals that this is just virtual office space provided by Regus (starting at $109 a month).
It's noted that the images used by Dubli to represent their purported Florida office look nothing like images of the actual office space provided by Regus: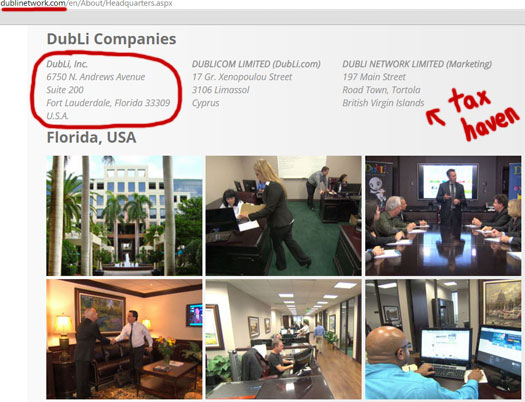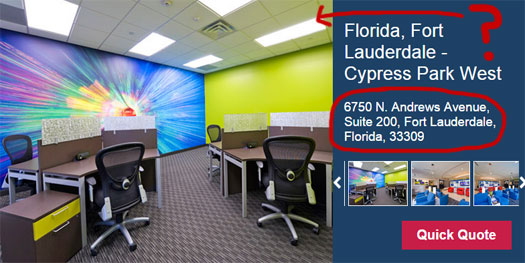 What the story is there I'm not sure.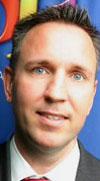 Heading up Dubli is CEO Michael Hansen (right).
As per Hansen's Dubli corporate bio,
In 1996, he commenced his entrepreneurial career by developing a successful chain of Mexican themed franchise restaurants which he sold in 1999 to pursue a career in the Network Marketing industry where he achieved the highest position in two US-based network marketing companies, in telecommunications and financial services.
I did see a Michael Hansen pegged to a few MLM opportunities but, due to language-barriers, am not sure if it is the same person. In any event, Hansen went on to launch Dubli in 2003 and has been running the company ever since.
As for Dubli, I first wrote about them all the way back in 2010 – when the company was mostly focused on online penny auctions.
BehindMLM reviews were a bit different back then, so you'll have to excuse the deviation from the standard most of you are used to today.
I never got around to properly reviewing Dubli's compensation plan then, as momentum for the company petered out shortly after the initial buzz.
As I recall though, the basic gist of it revolved around the selling of "Dubli Credits", which were then used in the company's auctions.
Over the next four years Dubli persisted with their model, occasionally fluttering in and out of the MLM industry's consciousness.
During this time the company underwent more than a few relaunches in an attempt to get their auction business off the ground, but it wasn't until 2012 that things began to take off.
As explained in Dubli's annual report, filed August 2014:
During fiscal 2012, the auctions program generated an increasing number of transactions during the first three quarters and then grew significantly in the fourth quarter.

The fourth quarter growth is attributable to significant discount bonus feature added to each auction by the Company, a promotional device designed to build web site traffic and increased sales of goods and other products.
During 2012, Dubli sold a total of $2.09 billion in auction credits. Quarter 4 alone saw a 1330% increase in auction revenue, $1.9 billion up from $143,000 the previous quarter.
The problem?
Business Associates affiliated with our network marketing company purchased 96.0% of all DubLi Credits sold in fiscal year 2012.
Retail activity was insignificant.
With Dubli affiliates purchasing credits came commission liabilities, which, despite selling $2 billion worth of credits in 2012, saw Dubli abandon their auctions in 2013:
Although the addition of a random bonus discount that varied from 50% to 90% per auction increased transaction volume significantly which resulted in an increase in gross revenue recorded during the fourth quarter of fiscal year 2012, the profit margin on a majority of the transactions were negatively impacted and less than the expectation as desired by the Company.

Consequently, after conducting an evaluation of the auctions program, we decided to discontinue this part of our business model during 2013 and to focus our resources on potentially more profitable programs for our e-commerce platform.
Dubli's e-commerce model as its known today was launched March 2013 (it existed previously in different forms, but failed to generate significant revenue):
After we discontinued the auctions program in fiscal 2013, we modified our business model to focus on… selling Premium and V.I.P. Member Package subscriptions to online customers.
That said, it's only these last few months that the company has gained any traction. As evidenced by recent review requests and a recent schmooze event held out in Dubai, Dubli are now again trying to enter the US market.
I believe this is the first serious attempt to re-establish themselves in the US since the company ditched their penny auctions last year.
Read on for a full review of the Dubli MLM business opportunity.
The Dubli Product Line
Dubli owns an e-commerce platform, which provides access to third-party affiliate deals.
The company offers free customer access to the platform, with customers able to receive a "cashback" on purchases made.
In addition to free customer membership, two paid subscriptions exist offering a higher percentage cashback:
Premium ($4.95 a month) – regular cashback + 4%
VIP ($99 annually) – regular cashback + 6%
The Dubli Network Compensation Plan
The Dubli compensation plan pays out on the shopping activities of customers and recruitment efforts of affiliates.
Dubli Affiliate Membership Ranks
There are six affiliate membership ranks within the Dubli compensation plan.
Along with their respective qualification criteria, they are as follows:
Team Member – starting affiliate rank
Team Leader – recruit and maintain at least three affiliates or pay between $2475 to $12,000
Team Coordinator – recruit and maintain at least three Team Leader ranked affiliates
Sales Director – recruit and maintain at least three Team Coordinator ranked affiliates
Vice President – recruit and maintain at least five Sales Director ranked affiliate legs
Senior Vice President – recruit and maintain at least five Vice President ranked affiliate legs
Customer Commissions
If a Dubli affiliate signs up customers, they earn 25% of the subscription fee paid by Premium and VIP customers.
A 25% commission is also payable on any commissionable revenue generated by these customers.
Commissionable revenue is generated when customers purchase through Dubli's shopping portal and third-party merchants pay Dubli a commission.
Note that any new customers referred by existing Dubli customers (not affiliates), are tracked to the affiliate who introduced the referring customer. This includes any commissions payable on their subscription fees and shopping activity.
Shopping activity by a personally recruited affiliate's customers is also commissionable, payable according to a Dubli affiliate's membership rank:
Team Member – 5%
Team Leader – 10%
Team Coordinator – 15%
Sales Director – 20%
Vice President – 25%
Senior Vice President – 27.5%
Recruitment Commissions
Dubli pay out commissions directly on the recruitment of new affiliates.
Recruitment commissions are paid out as a percentage of membership fees paid by newly recruited affiliates.
Business License – $495
Team Leader Accelerator – $2475
Platinum Team Leader Accelerator – $6000
Elite Team Leader Accelerator – $12,000
How much of a percentage is paid out is determined by how many affiliates a Dubli affiliate and their downline have recruited:
Team Member – 5%
Team Leader – 10%
Team Coordinator – 15%
Sales Director – 20%
Vice President – 25%
Senior Vice President – 27.5%
At the upper tier of the Dubli compensation plan, a Senior Vice President is paid $2750 for each Elite Team Leader Accelerator affiliate they recruit.
A further bonus commission is payable if an affiliate recruits groups of three affiliates within a rolling thirty day period:
recruit three Business License affiliates = $300 per group of three
recruit three Team Leader, Platinum Team Leader or Elite Team Leader Accelerator affiliates = $1500 per group of three
Coded Bonus (recruitment and customer commissions)
The recruitment of a new Dubli affiliate always generates a 27.5% commission, paid out of their sign-up fees.
When a Senior Vice President recruits a new affiliate, they are paid the full 27.5%. At all the other ranks, only a percentage of this 27.5% is paid out (see above in "recruitment commissions").
When this happens, the remaining percentage is paid out via a coded bonus.
Eg. If a Team Coordinator recruits a new affiliate, they are paid 15% of the recruited affiliate's membership fees.
12.5% remains to be paid out (27.5 – 15), so the system searches the affiliate's immediate upline for a higher ranked affiliate.
In this example, let's say the affiliate's immediate upline was a Vice President. Their percentage payout is 25%, however 15% has already been paid out, so they are paid 10%.
2.5% of the 27.5% total commission still remains to be paid out, so the system then continues to search higher for a Senior Vice President ranked affiliate to pay the last 2.5% out to.
Note that in the above example, if the immediate upline was a Senior Vice President ranked affiliate, they would have been paid 12.5% (27.5 – 15). Given that the whole 27.5% has been paid out, the system would not need to search any higher.
Note that the coded bonus also applies to customer commissions, with 27.5% always paid out on recruited affiliate's customer shopping activity (see "customer commissions" above).
Production Bonus
The Production Bonus is yet another recruitment commission, paying out $500 per ten affiliates recruited into an affiliates downline.
Affiliates are only counted towards the Production Bonus quota if there are no equally ranked affiliates between the affiliate qualifying and where the newly recruited affiliate is placed in their downline.
Note that only Team Coordinator or higher ranked affiliates can qualify for the Production Bonus.
Partner Program Certification
Dubli's Partner Program involves third-party companies white-labeling their e-commerce platform and signing up their existing customers to it.
Details on this are sketchy. What I was able to ascertain is that a Dubli affiliate needs to purchase a Team Leader Accelerator package or higher to participate.
I've seen commissions of up to 30% mentioned on activity generated by Dubli Partners, but no specific breakdowns.
Golf & Beach Resort Promotion
If a Dubli affiliate achieves the rank of Senior Vice President within 30 months of joining Dubli, the company will award them with the title to a house built on property Dubli purportedly owns in the Cayman Islands.
Joining Dubli
Affiliate membership to Dubli is available at three price-points:
Business License (basic affiliate membership) – $594 ($99 + $495)
Team Leader Accelerator – $2475
Platinum Leader Accelerator – $6000
Elite Leader Accelerator – $12,000
Note that all affiliates are required to pay an additional $99 monthly fee after their first month.
Apart from the "team leader" packages auto-promoting an affiliate to the Team Leader rank and increasing their commission percentage payout, the only other difference between the packages is what's bundled with them.
Business License – 10 annual or 100 monthly trial VIP customer subscription vouchers
Team Leader Accelerator – 30 annual and 200 monthly trial VIP customer subscription vouchers and Partner Program Certification
Platinum Leader Accelerator – 30 annual and 200 monthly trial VIP customer subscription vouchers, Partner Program Certification and Partner Registration Voucher (includes first year monthly fees)
Elite Leader Accelerator – 30 annual and 200 monthly trial VIP customer subscription vouchers, Partner Program Certification, 3 Partner Registration Vouchers (includes first year monthly fees)
Note that with the customer subscription vouchers, a 99 cent fee must be paid to activate them.
Conclusion
The first problem with Dubli is that it has no readily identifiable products or services.
The e-commerce platform belongs to the company, with only Partners who pay to rebrand and deploy it. As far as the MLM side of the business goes, all that's on offer is access to third-party discounts.
To establish whether any of these offers were exclusive, I randomly picked three third-party merchants in the Dubli Mall and had a look at how Dubli has affiliated with them.
Pet Doors offers a 5.2% cashback, with Dubli affiliated with them through "Affiliate Traction":

As per their website,
AffiliateTraction, with offices in Santa Cruz California, is the largest multi-national affiliate marketing agency in the world.

We provide all-inclusive affiliate program management and promotional services for global brands and retailers.
Next I looked up "2modern.com":

The "tqlkg" domain link redirected me to the website of Converstant, who bill themselves
the world's largest affiliate network, we have a commanding presence in every major product category. Over 50 percent of the affiliate advertisers on the web choose to work with us.
The third company I checked was "bikini.com". At first I couldn't see anything in the source-code that openly revealed a third-party, but then I noticed conspicuous HTML comments under the "verifications" section of the code: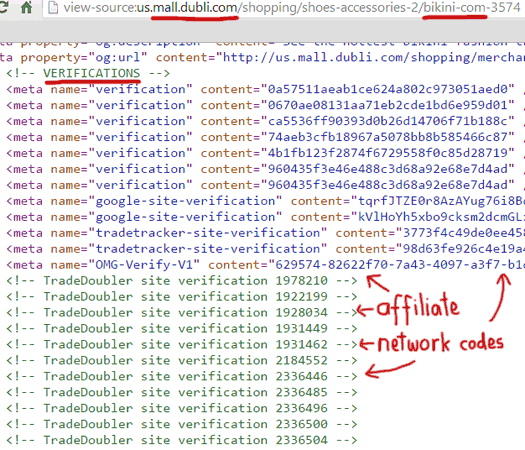 Present on all Dubli Mall listings, what you're looking at there is a collection of affiliate referral codes for the various network Dubli are involved in. If no direct URL for an affiliate network is used, then one of those codes triggers a referral cookie and tracks the sale.
I didn't look any further than that, but it's apparent that most, if not all, of the merchants Dubli offer access through their portal is via third-party affiliate programs.
This I later confirmed by going over
As such, a typical purchase through the platform would look something like this:
merchant makes a sale
third-party affiliate network collects their fee
Dubli paid their affiliate commission
Dubli affiliates paid a percentage of commission Dubli receive
This is additionally confirmed in a 10K filing, also from August of this year:
DubLi offers our own online "DubLi Shopping Mall" that allows customers to search and shop for products offered by various online stores. DubLi is not the supplier of these products.

We provide links to products sold in numerous merchants' online stores based on the customer's searches and earn a commission on the purchases made by the customers that we refer.

For all customer purchases that are completed with the respective online store (known as merchant partner in the affiliate network) which sold the product, the Company receives a set percentage based on the completed customer purchase (transaction share) or a flat dollar amount for each transaction that is directed from a DubLi Shopping Mall or Shopping Mall.
Albeit on a much larger scale, this is akin to me signing up as an Amazon affiliate, getting customers to purchase through my link and then offering whatever Amazon pay me as "cashback" to my customers.
Further analysis of Dubli's Premium and VIP customer subscriptions though is where things start get murky.
One constant I noticed in Dubli affiliate marketing is that the coded bonus paid out on affiliate purchases (up to 27.5% of whatever Dubli is paid), is roughly the amount Free affiliates receive.
As such, I believe the cashback amounts Free members of Dubli receive is roughly the amount Dubli are paid by the affiliate networks they've enrolled themselves in.
This begs the question where does the extra 4% and 6% offered to Premium and VIP customers come from?
Taken from Dubli's FAQ:
Per the Terms and Conditions of both the Premium and V.I.P. Memberships, you are only eligible to receive your annual Cashback after you have subscribed to the membership for 12 consecutive months.
The obvious answer is the $4.95 a month and $99 annual fee these customers are charged.
But if so, then a potential revenue liability exists if a customer acquires more cashback in the 4-6% bonus amounts then what they pay Dubli year on year.
Dubli could be hedging their bets that enough of their Premium and VIP customers aren't going exceed the amount they pay the company in bonus cashback, but that's a pretty dangerous gamble to wage your entire business on.
The bonus percentages obviously aren't coming from the merchant network (see mention of "fixed percentages" and "flat dollar amounts" received from Dubli above).
And if it's not coming from customer subscriptions, then that leaves affiliates – which is unlikely seeing as Dubli force them to purchase a VIP subscription and pay $99 a month for commission eligibility.
These monthly fees however could be redirected to cover bonus cashback percentage liabilities from the customer network.
With free customer membership still receiving the default cashback amount and not being required to put in any money of their own, I still think Dubli are making these additional cashback amounts up from the fees charged Premium and VIP members.
Possible evidence of this strategy is available with the mention of a loan taken out (from Dubli's CEO no less) in August:
As previously reported in the Form 10-K for the fiscal year ended September 30, 2012 of DubLi, Inc. (the "Company"), on August 11, 2014, the Company entered into a revolving loan agreement with Michael Hansen, the Company's President and Chief Executive Officer, who is also the controlling stockholder.

The unsecured promissory note (the "Note") is for a maximum of $3 million which may be drawn as needed by the Company.

Interest is calculated at 6% per annum from the date of the amount drawn and all principal and interest is due and payable in full on December 31, 2015.

On August 27, 2014, the Company entered into an amendment and restatement of the revolving loan agreement with Michael Hansen (the "Amended Note") whereby the maximum amount available under the loan agreement was increased by $2 million, for an aggregate amount of up to $5 million.

All the other existing terms of the Note remained unchanged in the Amended Note.

As of August 28, 2014, the Company's borrowings under the Amended Note totaled $1.5 million.
That loan is barely a month and a half old and it's already been extended beyond its original agree amount, and half of the initial amount has already been borrowed (and presumably spent).
And I have to mention that I found it rather odd that the CEO of Dubli is making loans (which attract interest) to the company himself. Something about that just doesn't sit right with me.
By all means go out and get a loan from a bank or what not… but the CEO loaning the company he works for? Yeah, might be legal but definitely doesn't feel kosher.
As to the loan itself, I only brought it up as a possible revenue source to make up liabilities that arise out of Premium and VIP customers receiving "too much" cashback.
Dubli themselves have no inventory or shipping costs, so other than affiliate commissions what else could be costing them so much so quickly?
In any event, why is any of this relevant?
Well, if they're hedging their bets on enough customers not making enough cashback to match the fees they pay, this is hardly sustainable in the long-term.
This might explain the need for the MLM side of the business, as one would think Dubli's e-commerce network should have been taken off by now.
Unfortunately analysis of Dubli's compensation plan takes things from murky to toxic.
Continuing analysis of the customer subscriptions, the inherent danger Dubli faces is that, in bundling so many subscription vouchers with paid affiliate memberships, there won't be a significant amount of customers purchasing subscriptions.
Dubli already experienced this back in 2012 when they incentivized affiliates purchasing credits, and although that resulted in a revenue explosion, ultimately commission liabilities (not to mention regulatory liabilities) saw the company pull the plug on the auctions.
With affiliates being given plenty of customer subscription vouchers to splash around, are we going to see a repeat performance?
How Dubli is marketed needs to be paid attention to here, because it's quite reasonable for the company to claim this latest launch has resulted in thousands of new customer subscriptions going forward.
Who paid for the subscriptions however is ultimately what will count. If most, if not all, of the customer subscriptions Dubli holds were paid for by affiliates, we're probably going to see a similar scenario to that of Zhunrize.
Zhunrize, another MLM e-commerce platform company, was shut down earlier this week by the SEC.
Like Dubli, Zhunrize also charged affiliates thousands of dollars to participate, however upon investigation by the SEC it was revealed that
substantially all of its revenue has comes from the sale of memberships (referred to as stores) and the corresponding monthly internet hosting fees associated with operating those stores, rather than the sale of products.
If thousands of Dubli affiliates spending at least $594 each to join the company dwarfs whatever Dubli received from its affiliate networks and any fees from retail customers buying memberships, then compliance wise the company has a big problem.
And that's only one of the significant compliance challenges facing the company.
The other is the blatant recruitment-driven pyramid scheme Dubli have embedded into their compensation plan.
Pay $594 to participate as an affiliate, recruit new affiliates and get paid.
At no point in the Dubli compensation plan (which co-incidentally is not provided openly anywhere on the company's website), is there any customer requirement pegged to either the amount of customers an affiliate must sign-up, or how much they spend (cumulatively) in the e-commerce platform.
As such, it's entirely possible for a Dubli affiliate to totally ignore the e-commerce platform and just treat Dubli as a chain-recruitment pyramid scheme.
As I mentioned in the compensation plan analysis of this review, at the top-tier a Dubli affiliate is paid $2750 for each Elite Leader Accelerator affiliate they recruit ($12,000).
Compounding this is the fact that affiliates are wholly encouraged to solely focus on affiliate recruitment, as every affiliate membership rank (which increases an affiliates commission percentage payout), is tied to direct and indirect recruitment.
Nowhere in Dubli's compensation plan, other than 5% direct commissions at the base-level, are affiliates encouraged to acquire and maintain non-affiliate e-commerce customers.
Under this scenario, one could swap out the e-commerce network because it fails to have any relevance to your typical Dubli affiliate's focus – other than serving to kill time in marketing presentations.
The e-commerce platform very much feels like the hook here, with the actual guts of Dubli's compensation plan revolving around affiliate recruitment and compensating affiliates who recruit the most.
The recruitment commissions paid out on affiliate membership fees alone should be enough to trigger a regulatory investigation. Let alone analysis of the e-commerce platform and whether or not it's actually functioning as advertised.
All in all I'd highly recommend prospective affiliate inquire as to how many paid members (that is members who paid for subscriptions themselves without the use of a voucher), a prospective upline has.
Then weigh that amount against the affiliate VIP subscriptions they have and any non-affiliate subscriptions that originated via the use of a voucher (the upline paid for).
If you don't see significant non-affiliate funds being generated through the e-commerce platform, then there's a good chance most of the money being generated is being raised purely on the affiliate recruitment side of things.
And if that's the case, avoid at all costs.
Dubli is a publicly traded company who are required to make regular filings with the SEC, they're only going to get away with this for so long before it catches up with them.
I'll finish up with an appropriate quote from Dubli's August 10-K filing:
Our network marketing program is subject to a number of federal and state regulations administered by the Federal Trade Commission and various state agencies in the United States, as well as, regulations on direct selling in foreign markets administered by foreign agencies.

We are subject to the risk that, in one or more markets, our network marketing program could be found not to be in compliance with applicable law or regulations.

Regulations applicable to network marketing organizations generally are directed at preventing fraudulent or deceptive schemes, often referred to as "pyramid" or "chain sales" schemes, by ensuring that product sales ultimately are made to consumers and that advancement within an organization is based on sales of the organization's products rather than investments in the organization or other non-retail sales-related criteria.
The recent flurry of affiliate activity and the likely millions subsequently paid out in commissions isn't likely to go unnoticed.
Update 27th September 2014 – Regarding the cashback frequency, it's been brought to my attention that VIP members are paid cashback monthly with a 60 day delay.
Premium members are paid cashback annually but only if they pay $4.95 for 12 consecutive months.