Ariix Review: Affiliate restrictions & complex pay plan

Ariix launched in mid 2011, are based out of the US state of Utah and operate in the health and wellness MLM niche.
Heading up the company are its seven founders: Fred Cooper (CEO), Mark Wilson (President), Jeff Yates (CFO), Riley Timmer (COO), Deanna Latson (Chief Product Officer), Wenhan Harry Zhang (CIO) and Ian Chandler (Vice-President of Business Development for Asia-Pacific).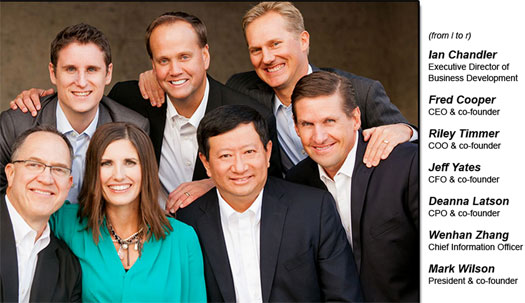 With the exception of Latson, Ariix's Founders all came from executive position with Usana.
Fred Cooper was Usana's COO, Jeff Yates their CFO, Riley Timmer their Vice-President of Finance, Wenhan Harry Zhang their IT Director and Ian Chandler Usana's Customer Relations Coordinator.
Evidently work on Ariix began while management still held their positions at Usana. The Ariix website domain was first registered on the 11th of January 2011, with Ariix's Founders resigning from Usana four months later in May.
Explaining his departure from Usana on a September 2011 Ariix affiliate call, Fred Cooper equates his time there to "killing himself":
When I started Ariix, I never actually thought we would be doing our own network marketing company.

I had what many people would have said was the most cushy job on the planet. It was a job which everyone tries to aspire to.

I worked hard, I got my good education, I did everything that I could… worked day and night, worked all the time, worked hours.

There were weeks where I'd work a hundred and twenty hours. A hundred and twenty.

In one year I missed forty-seven weekends out of fifty-two, at the cost of my family, my social life, my friends.

And all the things that I love to do, I didn't have the time to do because I was killing myself to rise up into this company and kind of live the good life.

I finally did it, three years ago approximately I finally made it to the President of the organization.

I didn't have much chance of going any higher, because the owner's son took the top spot. But I was perfectly content in the second spot.

Then one day it became apparent to me, as much as I think this is my company too, because I had thireen years or so in that company, I had worked my guts out for thirteen (years), side by side with the owner, side by side next to the owner's son, this was mine too – I had a vested emotional interest in that company.

And it became obvious that I was just an employee. That in the end, my decisions, my choices did not have to be adhered to or listened to.

That my ability to control my company was also limited. My ability to control my compensation was controlled by a board of directors and the owners.

And, more importantly, I saw first-hand that an associate colleague of mine, that I had worked with for thirteen years, was going to lose his job at the opinion of an owner.

The one place that I thought I was safe and secure, turned out to be not any safer or more secure than any other employee.

So when I saw the treatment of those other executives and what was going to happen to them, that was the day I realized, "Y'know what? My turn is coming."

It's not "if", it's "when" – and I had better do something to change my own financial situation.
That "something" was Ariix, which Cooper departed with a host of his fellow Usana executives.
We walked away from seven-figure incomes, to do a business that we've taken to become better.
With key Usana executives ditching the company so too came the inevitable affiliate jumpships, with Usana terminating a number of affiliates following Ariix's launch.
One such affiliate was Lynn Allen-Johnson, a former 5 Star Diamond Director with Usana and member of their Millionaire Club.
Allen-Johnson was terminated by Usana in July 2011. Reflecting on her termination at the time, Allen-Johnson wrote (source withheld due to affiliate marketing links):
I am writing with much sadness to announce that I am no longer with USANA.

I have been terminated based on the fact that I was looking at the Ariix opportunity joined by my family on a private call to gain clarity on the compensation plan.

After 15 years of building my business for what I thought was a "life long" residual income and my legacy to my Grandchildren, I have once again discovered how naive I am.

USANA has blessed my life so much and given me so much but I also believe that I have given USANA much.

I have loved and shared the vision of Dr. Wentz with my whole heart and the fact that I chose to look at Ariix had nothing to do with USANA.

It had to do with the fact that Fred and Mark are my dear friends and I respect and admire them greatly. They have always been there for me with encouragement and love and I wouldn't have accomplished what I did without them.

Although Ariix hasn't opened yet, I was looking at it and weighing my options and deciding what path I wanted to follow for my future.

USANA compliance department has made that decision for me with a termination letter and it is with great sadness that I share this….
Responding to an enquiry about Allen-Johnson's termination, Usana's compliance asserted it was due to cross-promoting:
Thank you for your question about the recent cancellation of Lynn Allen Johnson's associate agreement.

It was with a very heavy heart that USANA took the action to cancel her distributorship. Lynn violated her agreement when she invited a select group of USANA distributors, including leaders from her team, her family and non-family members, to an opportunity call where the CEO of another network marketing company presented the benefits of joining that company, including their perception of improvement over USANA.

On the call Lynn also promoted the benefits of joining that company to the USANA associates who were listening.

Because of the public way in which this was done, Lynn's promotion of a competitor immediately caused damage in the USANA field.

USANA asked Lynn to help combat the damage caused by publicly committing her 100% efforts to USANA but she declined leaving no choice but to cancel the associate agreement.

Compliance with the associate agreement is essential to the security of USANA's business and the independent businesses of thousands of USANA distributors.

While we are saddened by Ms. Johnson's choice, we wish her well in her new company.
Calling out Ariix's integrity and that of their affiliates, Usana went on to frame the termination as a potential regulatory issue:
State and federal regulators carefully scrutinize the network marketing industry to ensure that companies enforce polices to protect distributors and consumers alike from the unethical or illegal conduct of unscrupulous business promoters and rogue associates.

To that end, USANA vigorously enforces its polices so that associates and shareholders alike can rely on USANA as a long-term responsible business.

USANA regrets that it must take action to cancel any distributorship, and as such, it is a rare occurrence among the tens of thousands of hard working and deserving USANA associates.

However, when the actions of rogue associates directly affect the livelihood of other associates USANA has no choice. USANA will always choose to protect its associates.

USANA will gladly suffer the short-term effect of losing a distributor leader rather than sacrifice the integrity on which USANA is built and the livelihood if its associates and families.
On her LinkedIn profile, Allen-Johnson credits herself as a member of the "Ariix Founders Club":
The ARIIX Founders Club is the most prestigious and high-level ranking that a Representative can achieve in the entire sector of network marketing.

The invitation to join the ARIIX Founders Club is the pinnacle of what can be achieved in the direct selling industry—the perfect balance of being a Representative with the privileges of a founder.
Other than the inevitable fallout of gutting one MLM company to start another, it appears to have been smooth sailing for Ariix since.
Read on for a full review of the Ariix MLM business opportunity.
The Ariix Product Line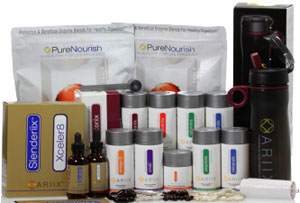 Ariix market a range of products in the health and wellness niche:
Nutrifii – a collection of premium supplements that gives your body the nutritional support it needs for optimum health
Priime – essential oils that "harnesses beneficial ingredients from all over the world, in synergistic blends that combine our profound respect for ancient traditions with new scientific insights"
Puritii – "protects you from air and water pollutants that directly impact your health every day"
Reviive – a personal care range that is "packed with all-natural and certified organic ingredients"
Slenderiiz – "the only healthy and natural weight management system of its kind "
Ariix claim their products
are free of substances banned by the United States Anti-Doping Agency (USADA)
follow United States Pharmacopeia guidelines
adhere to water quality standards are set by the US Environmental Protection Agency (EPA)
do not Genetically Modified Organisms (GMOs)
are manufactured using Good Manufacturing Practices (GMP)
Unfortunately Ariix do not provide retail prices to the public on their website.
An Ariix online shopping cart link is provided, however if a visitor clicks on it they are asked to "log into" the cart: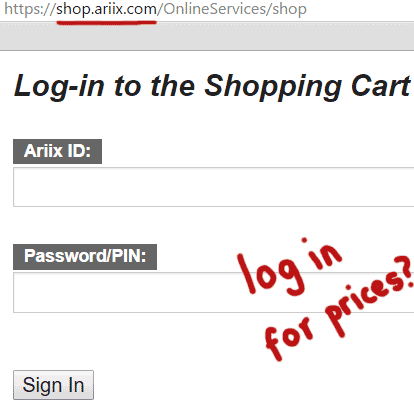 Why a potential Ariix retail customer wanting to see pricing needs to login, I have no idea.
The Ariix Compensation Plan
The Ariix compensation plan is pretty complicated, and not helping is that it's presented as a twelve-page "wall of text" document.
The complexity stems from Ariix's hybrid additions to a regular unilevel plan, which I've done my best to break down into a simple explanation below.
Commission Qualification
In order to qualify for commissions each month, Ariix affiliates must
generate volume either from personal consumption or from volume created from purchases and subsequent sales of products to consumers in excess of 75 points will become eligible for commissions for four subsequent weeks.
A monthly autoship order is also mandatory:
All representatives must enroll (day one) for one of the monthly auto-delivery choices in order to receive ongoing commissions.
Ariix Affiliate Ranks
There are sixteen affiliate ranks within the Ariix compensation plan.
Along with their respective qualification criteria, they are as follows:
Team Lead – generate at least $25 a week in commissions
Senior Team Lead – generate at least $50 a week in commissions
Supervisor – generate at least $75 a week in commissions
Senior Supervisor – generate at least $100 a week in commissions
Manager – generate at least $150 a week in commissions
Senior Manager – generate at least $200 a week in commissions
Director – generate at least $250 a week in commissions
Senior Director – generate at least $375 a week in commissions
Vice President – generate at least $500 a week in commissions
Senior Vice President – generate at least $750 a week in commissions
Officer – generate at least $1000 a week in commissions
Senior Officer – generate at least $2000 a week in commissions
President – generate at least $3000 a week in commissions
Chief Executive Officer – generate at least $4000 a week in commissions
Chairperson – generate at least $6000 a week in commissions
Level 2+ Chairperson – "+$2000/level" (no idea what that means)
Retail Commissions
Retail commissions are payable on all Ariix product sales to retail customers.
The retail commission paid out is the difference between the wholesale and retail cost of the products ordered.
IIX Membership
To qualify for IIX membership, an Ariix affiliate must either sign up with an affiliate pack that includes IIX membership, pay $150 or generate 500 PV points within four weeks of signing up as an affiliate.
Note that PV stands for "Personal Volume" and is sales volume generated by an affiliate's own purchase of product or retail customer orders.
Ariix affiliates who qualify for IIX membership
receive an additional 15% discount on personal product orders
double their earnings in Ariix's compensation plan
Residual Commissions
Residual commissions in Ariix are paid out using a unilevel compensation structure.
A unilevel compensation structure places an Ariix affiliate at the top of a unilevel team, with every personally recruited affiliate placed directly under them (level 1):

If any level 1 affiliates go on to recruit new affiliates, they are placed on level 2 of the original affiliate's unilevel team.
If any level 2 affiliates recruit new affiliates, they are placed on level 2 and so on and so forth down a theoretical infinite number of levels.
Every time an Ariix affiliate recruits a new affiliate and creates a new level 1 position on their unilevel team, this is referred to as a "leg".
The leg that generates the most sales volume is designated "power line", with the rest of the unilevel legs referred to as "pay lines".
Ariix pay out a 15% base commission on the sales volume generated by each pay line in an affiliate's unilevel team, capped at $2000 per leg per week.
Note that if the sum of volume generated by all pay lines is less than 13,334 BV (Business Volume) and less than that of volume generated by the power line, the difference between the volumes is carried over into the next weekly pay period (ie. the volume is not flushed to zero).
Unilevel Matching Bonus
Ariix affiliates can earn a matching bonus on unilevel commissions earnt by their downline.
This matching bonus is tracked down seven levels of an affiliate's unilevel team, with how many levels it's paid out on determined by an Ariix affiliate's rank:
achieve Gold or Silver affiliate rank status = 7.5% match on level 1, 5% on level 2 and 2.5% on level 3
generate at least $500 in unilevel commissions = 7.5% match on level 1, 5% on level 2 and 2.5% on levels 3 and 4
generate at least $1000 in unilevel commissions = 7.5% match on level 1, 5% on level 2 and 2.5% on levels 3 to 5
generate 1 additional unilevel payline (see below) = 7.5% match on level 1, 5% on level 2 and 2.5% on levels 3 to 6
generate a second additional unilevel payline from at least four existing paylines = 7.5% match on level 1, 5% match on level 2 and 2.5% match on levels 3 to 7
Silver rank status qualification requires an affiliate to recruit and maintain four commission qualified affiliates.
Gold rank status qualification requires an affiliate to recruit at least four new affiliates who sign up with a minimum 150 PV order as well as monthly autoship.
Note that IIX membership doubles the above percentage matches as follows:
level 1 – 15%
level 2 – 10%
levels 3 to 7 – 5%
Additional Unilevel Paylines
Additional pay lines are created when an existing pay line caps out at $2000 a week.
Ariix refer to such paylines as "optimized", with the subsequently created payline leg a continuation of the existing one. Presumably new affiliates added to the existing leg are placed in the newly generated leg.
Additional Unilevel Positions
If the additional unilevel paylines wasn't already confusing enough for you to digest, Ariix affiliates are also able to generate an additional position within an "optimized" pay line.
To qualify for an additional position, sales volume in that line (excluding affiliate and preferred customer purchases) must exceed $2000 a week.
This allows for additional earnings and greater stabilized volume from the depths of that organization.
Each new position created requires a one-time 150 PV order to be placed. Additional caveats include
at least one optimized leg must exist within which no additional positions have been created and
additional positions cannot increase an affiliates commission payout on any individual pay leg by more than 55%
To summarize both the creation of payline legs and additional positions within a leg:
If a payline caps out at $2000 a week, a new payline leg is created.
If the optimized leg commission volume is $2000 a week on volume minus affiliate and preferred customer orders, then a new position is created in that leg so an affiliate can double-dip on the existing volume.
Power Reentry Position
Ariix affiliates can qualify for a bonus position in their first month with the company.
To qualify for a Power Reentry Position, an Ariix affiliate must generate 1500 PV in sales volume within 4 weeks of signing up.
Power Reentry positions are placed on an affiliates power line, pay out the base 15% commission rate and are not subject to the "at least one optimized leg must exist within which no additional positions exist" rule.
Subsequent positions are able to be placed under the initial Power Reentry Position, provided the qualification criteria detailed in "Additional Unilevel Positions" above is met.
Team Lead Bonus
If an Ariix affiliate is at the Team Lead or higher rank and has personally recruited four commission qualified affiliates, they receive a $33.75 a week Team Lead Bonus.
IIX Member affiliates receive $67.50 a week.
Note that recruited affiliates must also be on monthly autoship:
These qualifications are triggered by the Auto-Delivery process that takes place on a four-week cycle after their initial order for three out of the required four.
The Team Leader Bonus is paid out weekly, provided an affiliate maintains at least four personally recruited commission qualified affiliates in their downline.
Income Position Bonus
The Income Position Bonus rewards Ariix affiliates for generating additional unilevel positions.
The Income Position Bonus itself is a bonus pool made up of 2% of Ariix's company-wide sales volume.
Affiliates earn one share in the pool for their first generated position, two for their second, three for the third and so on and so forth.
The Income Position Bonus is paid out weekly, with IIX members earning double shares per additional unilevel positions created.
Pay Line Bonus
The Pay Line Bonus rewards Ariix affiliates with shares in a 1% pool of the company-wide sales volume.
Ariix affiliates earn one share in the pool for each optimized pay line they generate after the first.
An affiliates second optimized payline generates one share, their third payline two shares and so on and so forth.
IIX members receive double share allocations per payline generated.
Savings Bonus
The Savings Bonus is a credit allocation, awarded to Ariix affiliates who generate more than $250 in unilevel commissions a week (base rate commission only).
The Savings Bonus are generated at a rate of 7.5% of the weekly unilevel base commission paid out.
Once an affiliates Saving Bonus point balance reaches 10,000, they can then exchange the points for cash.
Once this first 10,000 credit point balance is achieved, subsequent credit points can be exchanged as they are generated.
Accelerate Sales and Profits Bonus
The Accelerate Sales and Profits Bonus is a cash bonus awarded when Ariix affiliates
specific packs to consumers in specific countries. The amount of the bonus will vary by pack.
Other than IIX members receiving double the bonus, no further specific information on payouts or the packs is provided in the Ariix compensation documentation.
Joining Ariix
Ariix do not provide affiliate joining costs on their website, but you can access a hosted PDF titled "ARIIX-Enrollment-Packs.pdf" through a Google search.
As per this document there are six Ariix affiliate membership options:
Member Pack – $200
Slenderiiz Member Pack – $299.95
Slenderiiz Business Pack – $699.95 (includes one additional unilevel leg)
Business Pack – $699.95 (includes one additional unilevel leg)
Slenderiiz Elite Pack – $1250 (includes two additional unilevel legs)
Elite Pack – $1250 (includes two additional unilevel legs)
The primary difference between these packs is the products they come with and income potential through the Ariix compensation plan.
Note that the Slenderiiz Member Pack and more expensive affiliate memberships come with IIX membership.
Also note that after an affiliate's first year, a $25 annual affiliate fee also applies.
Conclusion
Evaluating Ariix as a member of the general public is difficult.
No retail pricing is provided on the company website, the compensation plan is complicated and the PDF with joining costs is only accessible via Google.
Why there's no retail pricing or affiliate membership costs provided I have no idea. But in 2015 that's just not good enough.
The products sound great, but we need to know how much they are. How on Earth is a prospective Ariix affiliate supposed to evaluate market feasibility otherwise?
To give you an idea of what you're dealing with as far the comp plan goes, here's a perfect example from the pay line bonus section:
If multiple Income Positions have Optimized Pay Lines, the number of Pay Lines eligible for shares are determined by the total number of Optimized Pay Lines minus the number of Income Positions with Optimized Pay Lines.

For example, 2 Income Positions with three Optimized lines on IP1 and four optimized lines on IP2 would earn as follows: the first with two pay lines (and one power line) on IP1, and three pay lines (and one Power Line) on IP2, would yield 5 (2+3 Optimized Pay Lines) minus 2 (first Pay Line on each IP) or 3 Optimized lines for a total of 6 shares (3+2+1), or 12 shares (6×2) with a IIX Membership.
Clear as mud?
The whole compensation document is gigantic paragraphs with one lone diagram to break up twelve pages of text.
And the plan itself is pretty difficult to comprehend (you're probably going to be reading my own "simplified" breakdown a few times to get it).
I kind of got the sense it was written by someone who wasn't really thinking of your average MLM affiliate, but rather a top earner who can just plug and play a large downline into it.
They get paid through complex algorithms nobody really understands, Ariix gets to call it "one of a kind" and nobody's none the wiser.
Having gone through it, there are several glaring compliance issues in it that need to be addressed.
First and foremost, autoship is mandatory if you want to earn anything:
The Auto-Delivery Program is an easy way to ensure that Representatives remain active within the ACTIV8 Compensation Plan.
Be that as it may, it makes it impossible to assert that Ariix affiliates are purchasing products outside of mandatory commission qualification.
This was one of the major regulatory issues brought up in the recent pyramid scheme lawsuit the FTC brought against Vemma.
Specific to Ariix, what's the bet pretty much every affiliate is self-qualifying for commissions each month with a minimum 75 PV autoship order?
This drags Ariix into dangerous autoship chain-recruitment territory and needs to be addressed.
Moving on, the whole IIX membership thing seems rather pointless. If they don't spend over $200 on their membership, Ariix affiliates are slugged $150.
"Oh but it's optional Oz…"
Baloney.
Being a IIX member doubles every bonus in the compensation plan, with that having a huge impact on income potential. How many top Ariix affiliates do you think there are who aren't IIX members?
Simply put, the IIX membership is blatant pay to play, with affiliates slugged either $150 to "double bonuses for LIFE!" or paying for it as part of their signup pack.
Another incentive I didn't like was the whole Power Re-Entry thing. This commission is basically the only way you can earn from your power leg.
That it's locked behind 1500 point time-sensitive qualification criteria is a shambles.
But not to worry,
for your convenience, ARIIX has created the Ultimate Pack or, during limited time offers, Upgrade Packs, to make generating 2000 points more convenient.
What's more convenient than paying Ariix over a thousand dollars to earn on your strongest unilevel leg?
Oh and if you don't pay up within your first four weeks, poof… Power Re-entry disappears. There's no other way to qualify for it.
Affiliate ranks? No idea why there's sixteen of them. Other than the Team Lead Bonus, Ariix affiliate ranks don't appear to have any bearing on the compensation plan whatsoever.
And then there's the restrictions placed on Ariix affiliates…
I don't know whether or not this is a reflection of what was going on in Usana back in 2011, or if it's simply a case of Ariix management seeing firsthand what happens when you gut a company, but the Ariix compensation plan has a definite tinge of preventative paranoia to it.
Any "Bonus" paid in the ACTIV8 Compensation Plan is conditional upon dedicated effort towards the building of ARIIX exclusively.

This is not to say that Bonuses shall be immediately terminated should a Representative elect to join or participate in another MLM; however, lack of active participation in ARIIX while actively publicly participating in another MLM that is deemed as detrimental to ARIIX's reputation due to statements made in public, may then result in the termination of all ACTIV8 Bonuses.

Conditions for determining the forfeiture of ones Bonuses include direct references to ARIIX in regards to:

The extent of the publicity of the departure,
Speaking ill of ARIIX, Products, Management, and/or field leaders,
Disclosing confidential information,
Failure to comply with Policies & Procedures,
Direct comparisons or contrasts of ARIIX with the competitor, and
The degree to which ARIIX sales, brought by the Representative, have diminished to the alternative competitor.
Could those restrictions be any more open-ended in favor of Ariix if they tried?
To their credit, Ariix do state that base commissions are paid regardless. So they're not terminating anyone for the above… but withholding bonuses? That's pretty low.
The only restriction that's acceptable is number four (assuming the policies and procedures don't contain the other restrictions). The rest of them are waaaaay out of line.
And just in case you thought those six conditions weren't paranoid enough, the Savings Bonus restriction goes even further:
The Representative will lose any accumulated credits if they join, promote, or participant in (either directly or indirectly) another MLM during the accumulation phase, unless such participation was prior to becoming an ARIIX Representative.
Thou shalt not see, hear or speak of another MLM business opportunity. Don't you even dare even think about it, or Ariix will cut off your bonuses.
The correct way to build affiliate loyalty is to make your opportunity so great that people aren't going to want to focus on anything else.
What Ariix are doing above is the complete opposite of that.
Furthermore the FTC just recently sued a company for enforcing a gag-order against their customers:
The Federal Trade Commission is taking action against the Florida-based marketers of a line of weight-loss supplements who allegedly made baseless claims for their products, and then threatened to enforce "gag clause" provisions against consumers to stop them from posting negative reviews and testimonials online.
And I quote, Ariix affiliates are prohibited from 'speaking ill of ARIIX, Products, Management, and/or field leaders'.
An affiliate tries an Ariix product, doesn't like it and publicly says so – BAM… no more bonuses for you.
That's a gag order any way you look at it. All it'd take is one top Ariix affiliate to slip up, have their bonuses canned and then what, does an FTC lawsuit really have to be the catalyst for a remodel of Ariix's affiliate loyalty policies?
Right now they bring up that analogy of two cheating partners getting together, only to find themselves in a relationship where neither trusts the other.
I want to say this is just heavy handiness and not the result of the fallout with Usana, but I'm finding it a little too coincidental to be honest. It smacks of hypocrisy.
One last thing I'll mention before I wrap up is an abnormal drop in traffic to Ariix's website late last year:

Late November 2014, traffic to Ariix's website tanked and I wasn't able to ascertain why.
Relying on business from China might have something to do with it, with China currently making up an estimated 43.3% of traffic to the Ariix website.
Language-barriers might very well explain the sudden drop in activity and why Ariix doesn't seem to have recovered.
Personally I'm always weary of the MLM company with high traffic statistics from China, as MLM regulation there is pretty much "grease the wheels and anything goes".
The US accounts for only 16% of website traffic to Ariix, which might be reflective of the state of the opportunity locally. Definitely something to think about on top of everything else.
Having observed so many red flags with the Ariix opportunity, I wanted to finish up with something they're doing right – but I'm really struggling here.
The opportunity itself seems launched on a platform on instability (the ashes of Usana), and things have only gone downhill from there.
I suppose if I had to pick something done right it'd be Ariix's products. But even then, despite the pledge behind the product line, I've got no idea how much any of them cost!
Personally I think Ariix might need to hire someone to come in and revamp the entire opportunity from the ground up. They could also do it internally, but either way until it happens, Ariix feels like a bit of a mess at the moment.
Update 7th August 2020 – In July 2020 Ariix was acquired by NewAge Beverages Corporation.