AddWallet Review: Third incarnation of WCA?

There is no information on the Addwallet website indicating who owns or runs the business.
The company's website domain ("addwallet.com") was registered on the 26th of December 2012, however the domain registration information is set to private.
Further research into the ownership of Addwallet however has revealed one unconfirmed possibility.
Back when AddWallet first launched a few weeks ago, the website was hosted on a server hosted on the 63.208.1.30 IP address. According to two independent WHOIS records, another domain (and attached subdomains) were also being hosted on this address.
A Google cache of HypeStat reveals one other website on the same domain: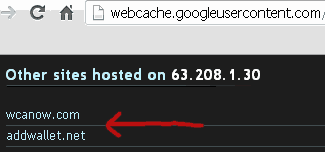 With TrustOrg showing additional subdomains:

Out of the above domains, "wcanow.com" and "members.wcanow.com" are of concern to our research. For those not familiar with the seedier side of the MLM industry, WCA stands for World Consumer Alliance.
World Consumer Alliance is a $2 micro Ponzi scheme started by Paul Skulitz back in late 2012 under the name Wealth Creation Alliance (WCAREV).
Following the initial launch of Wealth Creation Alliance, CEO "Coach" Blaine announce the company was changing its name to World Consumer Alliance, after it was revealed a previous "Wealth Creation Alliance" had turned out to be a scam.
Despite being a Ponzi scheme themselves, Blaine explained they didn't want to be associated with the previous WCA scam (which had no connection to Skulitz's new WCA).
In a further attempt to distance itself from the name, the company then later changed its website domain from "wcarev.com" to "wcanow.com".
Not surprisingly, in early January members of World Consumer Alliance began reporting that the company was not paying its members. Coincidentally, this was also around the time AddWallet was first announced.
The obvious theory here would be that after convincing thousands of people to invest in Wealth Creation Alliance and World Consumer Alliance, that the admins had paid out what they could (initial Ponzi ROIs attract new investors), and were now looking to launch a new scheme under the "AddWallet" name.
This certainly explains why there's no management or owner information on the AddWallet website and the domain registration is set to private.
To date, no explanation has been provided by either AddWallet or World Consumer Alliance as to why the two company's websites were being hosted off the same domain.
As late as a week or so ago, both the AddWallet and World Consumer Alliance websites were moved off the shared hosting account and placed on their own dedicated hosting servers.
Update 30th March 2013 – On a recent AdWallet affiliate call Louis Cordero was named as the Ecuador based CEO of AddWallet.
Brandon Bradshaw was also named as Vice-President (based in Florida in the US) and Logan Chamberlain as CFO (based in Ecuador).
An AddWallet presentation I was recently forwarded also names AddWallet as a subsidiary of "Cartera International", allegedly a registered corporation in Ecuador. /end update
Read on for a full review of the AddWallet MLM business opportunity.
The AddWallet Product Line
Despite the copious amount of information on the AddWallet website pertaining to SEO, internet market, lead generation, website programming etc. etc, the actual AddWallet product is pretty straight forward.
AddWallet sells advertising units to its members, who in turn can then use these units to enter advertising (of websites) into a members-only rotator.
AddWallet sells advertising units are sold at a rate of 1 unit per $1 and are available in eight packages of 10, 20, 50, 100, 250, 500, 1000, 2500 and 5000 units.
AddWallet members are required to view a set number of websites via the rotator each day if they wish to qualify for certain commissions.
The AddWallet Compensation Plan
There are two primary components of the AddWallet compensation plan, membership fee commissions and a member-funded revenue share that revolves around the sale of advertising units.
Recruitment Commissions
AddWallet pays recruitment commissions per the direct recruitment of new affiliates. How much of a commission earnt depends on the paid membership level of an affiliate:
Silver membership pays $2 per new affiliate personally recruited (any membership level)
Gold membership pays $2 (Silver) and $10 (Gold) per new affiliate recruited
Diamond membership pays $2 (Silver), $10 (Gold) and $20 (Diamond) per new affiliate recruited
Note that Silver members can only earn a max of $2 regardless of the membership level a recruited affiliate is at. Gold members earn $10 for all recruited Gold and Diamond members and Diamond members only earn $20 on recruited Diamond members.
Membership Fee Commissions
There are three membership fee levels within AddWallet, with each paying out different commissions.
Silver membership ($10 a month) is required if an AddWallet member has invested in more than 10 advertising units.
Gold membership ($50 a month) is required if an AddWallet member has invested in more than 50 advertising units.
Diamond membership ($99 a month) is required if an AddWallet member has invested in more than 100 advertising units.
Silver members are paid membership fee commissions using a 2×10 matrix with Gold and Diamond members paid using a 2×15 matrix.
A 2×10 matrix places an affiliate at the top with two legs branching out under them. These two positions represent recruited new members and form level 1 of the affiliates matrix.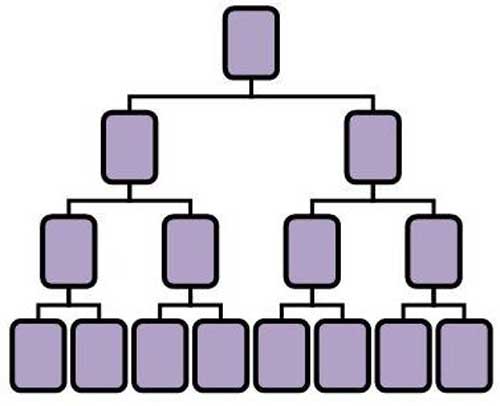 Under these two levels another two branch out (level 2) and so on and so forth down 10 levels (Silver and Gold members extend down to 15 levels).
Commissions are paid out depending on an affiliate's paid membership level:
Silver members are paid 30 cents per affiliate in their matrix
Gold members are paid $1 per affiliate in their matrix
Diamond members are paid $2 per affiliate in their matrix
Volume requirements are mentioned in the compensation plan, however they have been suspended until February.
Advertising Unit ROIs
Each advertising unit AddWallet sells generates a ROI via the company's "Retail Profit Pool" for 90 days from the date of purchase. This Retail Profit Pool is paid out daily and consists of revenue generated by the sale of advertising units to AddWallet members.
AddWallet themselves provide no information on the ROIs offered, however AddWallet members are quoting a minimum ROI of 1% a day and "up to" 2%.
AddWallet pay members 75% of the daily ROI, with a minimum of 25% of the daily ROI needing to be re-invested in the purchase of new advertising units. Optionally, AddWallet affiliates can increase their re-investment amount incrementally up to 100%.
Referral commissions are also paid out on the investment in advertising units made by members, with this revenue coming out of the Retail Profit Pool itself (thus driving down the effective ROI paid out to all members).
Silver members earn 7% on their level 1 affiliate's (personally recruited) investment amounts
Gold members earn 7% on their level 1 affiliate's investment amounts and 5% on level 2 (affiliates recruited by level 1 affiliates)
Diamond members earn 10% on their level 1 affiliate's investment amounts and 5% on level 2
In order to qualify for a daily ROI, AddWallet members must view seven ads a day via the company's advertising rotator.
Joining AddWallet
Initial membership to AddWallet is free, with the company charging a monthly subscription depending on how many advertising units have been purchased by an affiliate (including re-investment).
10 units = Silver Membership at $10 a month
50 units = Gold membership at $50 a month
100 units or more = Diamond membership at $99 a month
Conclusion
Under the guise of selling advertising, AddWallet combines elements of both a Ponzi scheme with that of a pyramid scheme.
The whole matrix and membership fees thing is straight up recruit more members, pay the company more money and earn more money. These commissions are paid straight out of each affiliate membership fees and are paid out on nothing more than the recruitment of said members.
The whole "Retail Profit Pool" meanwhile is pretty much just a member-funded investment scheme. Given that it's obviously only going to be funded by AddWallet affiliates, why AddWallet have decided to call it a "Retail Profit Pool" is beyond me.
In anycase, members invest in units and then earn a daily ROI subject to the completion of a pointless task. View seven ads a day, pat your belly, drink 9 cups of coffee… take your pick because it doesn't really matter.
With no other identified revenue source and nothing being sold to retail customers, all that matters is that members continue to invest real money and recruit new members who also invest new money in advertising units to keep the scheme afloat.
The more money invested by affiliates, the larger the ROI paid out. And naturally once the returns owed exceeds the new investments coming in (even with forced 25% reinvestment), the entire scheme collapses.
When you consider that AddWallet appears to have its roots in World Consumer Alliance this of course isn't all that surprising. What might be surprising though are the claims by the company that "thousands" have already signed up for their scheme.
First Wealth Creation Alliance, then World Consumer Alliance and now AddWallet… third time lucky?
Pity Ponzi schemes have nothing to do with luck.