Wealth4AllTeam Review: 10 day ROI scheme

At the core of any MLM business should be the marketing and sale of products or services. If you can sell those products and services due to your efforts and genuine demand, then all the more power to you.
Keeping that in mind, when a company describes its products or services simply as 'a non commissionable requirement for compliance', things don't look too good.
Read on for a full review of the Wealth4AllTeam MLM opportunity.
The Company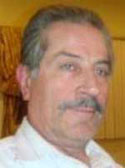 Wealth4AllTeam is headed up by a one Mr. Danny Cianciulli (photo right) who acts as CEO. Cianciulli seems to have built a downline using the 'Wealth4AllTeam' branding for a while now (2010 or so) and has previously been involved in several MLM opportunities.
The two most prominent of these opportunities I found links to are:
1. ROI Unlimited – a recruitment based travel scam:

2. Something called the 'The Endless $60 Miracle Money Maker', which appears to be some sort of free trial offer 'join up and then cancel' scheme through the website zipnadazilch.com: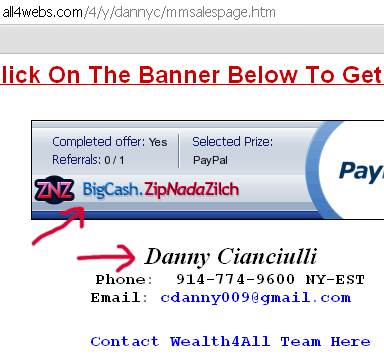 As far as I can tell, the launch of Wealth4AllTeam back in November 2011 was the first time Cianciulli has used the brand as a stand-alone MLM opportunity.
The Wealth4AllTeam Product Line
Wealth4AllTeam have no retailable products or services. Instead, upon joining the company members are then able to make investments with the company and bundled with each investment are advertising tools and a training module.
The advertising credits are for use on the Wealth4AllTeam social network (wealth4allteam.co) which appears to be a web application piggybacked onto Facebook (it allows you to sign into it with your Facebook account).
No further information is provided on training packages, other than stating that they are a 'non commissionable requirement for compliance'.
The Wealth4AllTeam Compensation Plan
The Wealth4AllTeam compensation plan revolves around the investment of money in 'training & advertising packages' (TAPs) by members.
There are twelve TAP investment groups (TAP 1 to 12) and each TAP group has 12 levels within it. These are typically numbered with a decimal, for example TAP 1's levels are written as TAP 1.1, TAP 1.2 through to TAP 1.12 for example.
At the end of TAP 12.12, the process repeats itself as TAP 13.1 onwards.
Each of these TAP investment groups has a different purchase price as follows (total investment amount required (12 investments per group) are in brackets):
TAP 1 = $16 ($192)
TAP 2 = $32 ($384)
TAP 3 = $64 ($768)
TAP 4 = $128 ($1536)
TAP 5 = $192 ($2304)
TAP 6 and onwards simply recycle these investment amounts (TAP 6 = $16, TAP 7 = $32 etc).
Members start by investing at TAP 1.1 for $16 these TAPs, starting with TAP 1.1 through to 1.12 with there being no limit on the amount of TAPs members can purchase.
These individual investments then mature over a 10 day period upon which Wealth4AllTeam then pay out a return on the initial investment (ROI).
All of the TAPs in any one group level (twelve in total, split six and six) pay out a ROI every 10 days with half paying out over 60 days and the other half over 120 days.
I don't know what the exact make up is on which TAPs expire over 60 days and which expire of 120 days but for explanation purposes, on level 1 this would equate to TAPs 1.1-1.6 expiring in 60 days after 6 ROIs were paid out (every 10 days) and TAPs 1.7-1.12 expiring in 120 days after 12 ROIs were paid out (again every 10 days).
The ROI paid out every 10 days varies from group to group as follows:
TAPs 1.1 – 1.12 = $4.50 ($27 over 60 days and $54 over 120 days)
TAPs 2.1 – 2.12 = $7.20 ($43.20 over 60 days and $86.40 over 120 days)
TAPs 3.1 – 3.12 = $14.40 ($86.40 over 60 days and $172.80 over 120 days)
TAPs 4.1 – 4.12 = $28 ($168 over 60 days and $336 over 120 days)
TAPs 5.1 – 5.12 = $43.20 ($259.20 over 60 days and $518.40 over 120 days)
TAPs 6 and onwards again recycle these ROI amounts (TAPs 6.1 – 6.12 = $4.50, TAPs 7.1 – 7.12 = $7.20 etc).
Effective ROIs over 120 days total at each TAP level is then calculated as follows:
TAP 1 – $192 invested with $486 paid out = 253% ROI
TAP 2 – $384 invested with $776 paid out = 202% ROI
TAP 3 – $768 invested with $1555.20 paid out = 202% ROI
TAP 4 – $1536 invested with $3024 paid out = 196% ROI
TAP 5 – $2304 invested with $4665.60 paid out = 202% ROI
As before, these ROI amounts simply recycle for TAP 6 onwards.
ROIs are paid out 50/50 with 50% of all returns paid having to be re-invested back into TAPs.
Referral Commissions
In addition to the investment returns paid out above, Wealth4AllTeam also pay out a 10% referral commission on all TAP purchases made by people you recruit into the scheme.
Recruitment Commission
For each member recruited into Wealth4AllTeam who pays the $10 upgrade fee, the company pays out a $5 commission to the recruiting member.
Joining Wealth4AllTeam
Membership to Wealth4AllTeam is free, however members wishing to cash out must pay a $10 upgrade fee and invest in TAPs.
Free members can earn referral commissions by recruiting new members, getting them to pay the upgrade fee and investing in TAPs but they too must upgrade if they wish to cash out these earnings.
Conclusion
Wealth4AllTeam's TAPs are a bit confusing at first (which isn't helped by the way the company explains the concept on their website), but once you break it down it's pretty clear you're looking at investments with a fixed 60 and 120 day ROI period (paid out incrementally over 10 days recurring).
There is no outside money flowing into the system and 100% of the money paid out as ROIs is paid in by members.
As far as the advertising goes, it isn't offered to non-members simply because there's no external demand for it. The Wealth4AllTeam social network is clearly not a stand-alone service and only those participating in the Wealth4AllTeam investment scheme are going to sign up as members.
Exposure wise all that's happening is members are investing money, putting up advertising on a social network and winking at eachother as they earn guaranteed ROIs made up of new investments by existing and new members.
No doubt members will try to convince non-members that it's all about the legitimate sale of training but with the company itself admitting that training only exists in an attempt to be compliant with US laws, that's a pretty thin argument.
Moreso when you consider that these advertising packages are most likely not offered past the TAP 12 group whereas investments can continue well beyond TAP 13 (theoretically they can continue on indefinitely as long as new money is continually pumped into the scheme).
The 50% re-investment rule will prolong the life of this obvious Ponzi but sooner or later new money will stop flowing in and as with all Ponzi schemes, there simply won't be enough money to pay out.