GooBets Review: MultiClick scammer launches bet scheme

There is no information on the GooBets website indicating who owns or runs the business.
The GooBets website domain ("goobets.com") was registered on the 15th of August 2014, listing a "Pedro Barbosa Filho" of "GooBets LLC" as the owner. An address in the UK is also provided.
I was unable to find any further information on Filho in relation to GooBets. His relationship with the company remains unclear.
Further research meanwhile reveals multiple businesses operating out of the provided UK address, suggesting that GooBets exists in the UK in name only.
Additional evidence supporting this is the fact that the email address used to register GooBets uses a Brazilian domain.
The name of the domain owner, the Brazilian email address used to register the domain and the fact that only Portuguese and English are offered as languages on the GooBets website, strongly indicate the company is being run out Portugal or Brazil.
Of those two, Portugal is the likely candidate, with Alexa estimating that Portugal makes up 19.3% of all traffic to the GooBets website domain. Peru (18.8%) and India (17.8%) round out the top three sources of traffic.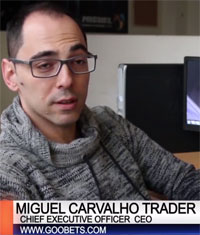 GooBets has what appears to be an official company YouTube channel. In videos uploaded to the channel, a "Miguel Carvalo" is credited as the CEO of the company.
Carvalo appears on the GooBets website as a "main trader":
Miguel Carvalho is a famous Portuguese trader. His administrative competence and sports prognosis market experience were fundamentals to achieve Goobets Main Trader position.

He started at the trader world in 2004 and since then he is increasing his fame and market recognition.
For reasons unknown, Carvalho is not credited as GooBet's CEO on their website.
Carvalho being based out of Portugal meanwhile further re-enforces that this is likely where the company is based.
Finally, as far as I can tell, GooBets is Carvalho's first MLM venture.
Someone you won't find mentioned on the GooBets website is Augusto Queiroz.
In various GooBets affiliate presentations, Queiroz is identified as the company's Director of Marketing:
Not surprisingly, given Miguel Carvalho's evident lack of experience, Queiroz is the driving force behind the MLM side of GooBets.
Two years ago, Queiroz was busy promoting MultiClick:
MultiClick was a Brazilian Ponzi scheme, shut down by regulators in late 2013.
Read on for a full review of the GooBets MLM business opportunity.
The GooBets Product Line
GooBets has no retailable products or services, with affiliates only able to market affiliate membership with the company itself ($50)
Once signed up, GooBets affiliates can then invest in Bet Trader packs (310-$1350) and participate in the GooBets income opportunity.
Bundled with GooBets affiliate membership are various amounts of betting tips each month. These betting tips are focused on the sporting events.
The GooBets Compensation Plan
The GooBets compensation plan sees affiliates sign up, pay a membership fee and then recruit others who do the same.
Affiliate membership with GooBets is available at four price-points:
Bet Trader I – $310
Bet Trader II – $570
Bet Trader III – $830
Bet Trader IV – $1350
Weekly ROIs
GooBets pay out a weekly ROI to affiliates, with how much of a ROI paid out determined by how much an affiliate has invested:
Bet Trader I – up to 27%
Bet Trader II – up to 28%
Bet Trader III – up to 29%
Bet Trader IV – up to 31%
These percentage amounts correspond to the total amount of funds invested, with what is actually paid out being a floating percentage.
The GooBets compensation plan states that affiliates
will lose your participation bonus when you receive 2 times the amount of your pack from your network commissions.
This suggests that ROI payments cease once 200% of the amount invested has been paid out via non-ROI commissions.
Referral Commissions (unilevel)
GooBets affiliates are paid to recruit new investors who invest in the scheme.
Commissions are paid out when recruited affiliates invest in Bet Trader packs as follows:
Bet Trader I – $13
Bet Trader II – $26
Bet Trader III – $39
Bet Trader IV – $65
Residual recruitment commissions are paid out using a unilevel compensation structure.
A unilevel compensation structure places an affiliate at the top of a unilevel team, with every personally recruited affiliate placed directly under them (level 1):

If any of these level 1 affiliates go on to recruit new affiliates of their own, they are placed on level 2 of the original affiliate's unilevel team.
If any level 2 affiliates recruit new affiliates, they are placed on level 3 and so on and so forth down a theoretical infinite number of levels.
GooBets cap payable unilevel levels at ten, with a 0.22% commission paid out on any investments made between levels 2 to 10 (level 1 commissions are paid out as above).
Residual Commissions
Residual Commissions in GoodBets are paid out using a binary compensation structure.
A binary compensation structure places an affiliate at the top of a binary team, with two positions directly under them: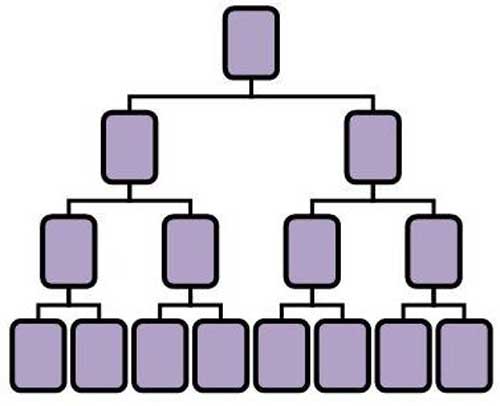 These first two positions represent the start of two binary teams (left and right), with positions filled via direct and indirect recruitment of affiliates.
Investment volume is tracked between the two binary teams, with volume generated via recruited affiliates investing in Bet Trader packs as follows:
Bet Trader I – 50 points
Bet Trader II – 100 points
Bet Trader III – 150 points
Bet Trader IV – 250 points
Note that the first two positions in the binary do not generate any points. An affiliate must first recruit two affiliates (to fill these two initial positions), in order to qualify for binary commissions.
Points on either side of the binary are tallied up daily. GooBets affiliates are then paid up to 50% of the point total of their weaker binary side (the side that generated the least points).
Bet Trader I – 10% of the total points
Bet Trader II – 20% of the total points
Bet Trader III – 30% of the total points
Bet Trader IV – 50% of the total points
Points paid out on on both side are then flushed, with the weaker side reset to zero and points leftover on the stronger side carried over to the next day.
Note that points eventually expire 60 days after they were first generated.
Also note that GooBets cap binary earnings, with how much can be earnt determined by how much a GooBets affiliate has invested:
Bet Trader I – $5000
Bet Trader II – $10,000
Bet Trader III – $15,000
Bet Trader IV – $25,000
Referral Commissions (binary)
Using the binary compensation structure explained above, GooBets pay a referral commission using monthly affiliate fees.
Fees charged once again correspond to how much a GooBets affiliate has invested with the scheme:
Bet Trader I – $13 a month
Bet Trader II – $26 a month
Bet Trader III – $39 a month
Bet Trader IV – $65 a month
Commissions are paid out again based on points, with payment of the above monthly fees corresponding to the following point values:
Bet Trader I – 1 point
Bet Trader II – 2 points
Bet Trader III – 3 points
Bet Trader IV – 5 points
At the end of each day, points are tallied up between the two binary sides, with commissions paid out at a rate of 1 point matched equal to $1.
Note that the percentage of matched points paid out on is the same as residual binary commissions:
Bet Trader I – 10% of points matched
Bet Trader II – 20% of points matched
Bet Trader III – 30% of points matched
Bet Trader IV – 50% of points matched
Green Diamond Bonus
In order to qualify for the Green Diamond Bonus, a GooBets affiliate must recruit at least ten Bet Trader IV investors.
Five of these investors must be on the left side of the binary and five on the right.
GooBets affiliates have 60 days to meet this qualification criteria, from the date they first signed up as an affiliate.
If an affiliate meets the above qualification criteria, they receive a share of 2% of the funds invested in GooBets each month.
Black Diamond Pool
The Black Diamond Pool is made up of 1% of the funds invested in GooBets each month.
Shares are distributed equally among qualified affiliates, with affiliate qualifying by generating at least 3000 binary points on both sides of the binary.
This daily qualification requirement must be met for at least 20 days in any given month.
Note that this is an ongoing monthly requirement.
Binary Point Bonus
GooBets affiliates are given various bonuses, based on how many binary points they've accumulated on their weaker side.
This is a running total, with the following bonuses awarded at various point milestones:
30,000 points = Mont Blanc pen
150,000 points = Rolex watch
450,000 points = "dream trip for 2 person + flight + hotel"
1,000,000 points = Jaguar XF car
2,000,000 points = Maseratti Gran Turismo car
Joining GooBets
Affiliate membership with Goobets is $50, with affiliates also required to invest in one of the four available Bet Trader packs:
Bet Trader I – $310
Bet Trader II – $570
Bet Trader III – $830
Bet Trader IV – $1350
Ongoing monthly fees also apply, with how much is charged depending on how much is initially invested:
Bet Trader I – $13 a month
Bet Trader II – $26 a month
Bet Trader III – $39 a month
Bet Trader IV – $65 a month
The primary difference between these membership options is income potential via the Goobets compensation plan.
Conclusion
Augusto Queiroz's MultiClick Ponzi experience is on display here, with GooBets offering up more of the same.
Before we get into the sports betting ruse, a simple glance at the GooBets compensation plan reveals that affiliates invest large sums of money on the promise of a weekly ROI.
The MLM side of the business seeks to dampen the funds paid out via ROIs, dragging GooBets into Ponzi / pyramid scheme hybrid territory.
Either way, it's painfully obvious that funds paid out are primarily sourced from new affiliate investment.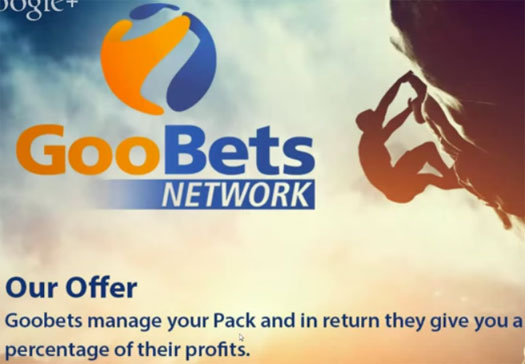 There's also an additional "pay to play" element to the scheme, with income potential tied to how much is invested. This is evidenced in the binary earnings cap, percentage of binary points paid out on, referral commissions cap and weekly ROIs paid out.
Affiliates are also capped to investing in one pack, unless they invest in a Bet Trader IV pack. Upon handing over $1350, Goobets affiliates are then able to invest in up to nine additional Bet Trader IV packs.
And this brings us to GooBets sports bet ruse.
First and foremost, if Miguel Carvalho had indeed developed some crackpot betting method to sustain 200% ROI payouts – what on Earth does he need your money for then?
Surely he'd be able to take a loan out from a bank, double it, pay the loan back and then be well on his way to generating a fortune?
The reason Carvalho and GooBets need affiliate investment is obvious: They're running a Ponzi scheme and need the funds to pay out existing investors.
No doubt some token level of sports betting activity goes on, but I'd wager it wouldn't be anything less than one to two percent of funds invested.
Between the MLM commission payouts and weekly ROIs, there simply isn't enough funds to risk on sports bets.
Further evidence of a Ponzi scheme can be observed by way of comparison between the nature of betting (no guarantees), and the commissions and ROIs GooBets pay out.
There is a complete disconnect between the two, all but revealing the only constant GooBets rely on is new affiliate investment.
Oh and did I mention one of the ringleaders was involved in one of the biggest Ponzi schemes in Brazil only recently?
That alone should be enough to trigger fraud alarm bells.
As with all Ponzi schemes once new affiliate investment dries up GooBets will find itself unable to meet it's weekly ROI obligations.
Seeing as passive investment is entirely possible (GooBets are of course illegally engaged in the offering of unregistered securities), those investors are likely to see the warnings signs first emerge.
This will manifest itself by way of a reduction in the weekly ROI paid out. That's around the time those participating in the MLM side of the business will notice binary points generated declining.
By then of course it'll be too late, with Miguel Carvalho and Augusto Queiroz making off with what's left (I have a strong suspicion there's other serial Brazilian and Portuguese Ponzi pimps involved in this one too).
Ponzi regulation in Portugal is rather lax, so don't expect intervention anytime soon. Rather, GooBets is likely to collapse – which unfortunately causes the most amount of destruction to investors.