GoFunRewards Review: "Lifestyle Dollars" investing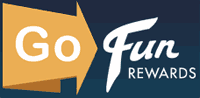 I'm not sure exactly when it happened but sometime in the last few weeks Go Fun Rewards has removed the "Now in prelaunch!" notice on their website, indicating that the business has officially launched.
With the Go Fun Rewards compensation plan readily available, I figured it was time for a review.
Go Fun Rewards operate in the "revenue sharing" MLM niche and provide a corporate address on their website in the US state of California.
Go Fun Rewards first popped onto my radar as yet another MLM penny auction startup back in mid 2012. Back then they were headed up by President Randy Williams however he recently left the company to sign on over at JubiRev (no review yet as they haven't made their compensation plan public).
Not too sure what the story was as neither JubiRev, Williams or Go Fun Rewards has publicly commented on it but from what I gather it was due to ongoing disagreements between Williams, some top affiliates in Go Fun Rewards and eAdGear's Chinese based management.
Although only referred to as a "100 million dollar plus debt free company" on the Go Fun Rewards website, eAdGear pretty much supply the backend for Go Fun Rewards operations and own the company.
eAdGear used to run the eAdBid penny auction (now defunct), which is where Go Fun Rewards root in penny auctions originates.
As for who's running things now, the Go Fun Rewards website doesn't divulge any information at all.
Our vision is to be a major force in advancement of the network marketing and travel industries worldwide.

GoFun Places consists of some of the best and most successful, knowledgeable and hard working executives around.

We've assembled a team of experts to expand and support our growth and development as a company.
Similarly, eAdGear's website contains no specific information as to who is running things over there either.
Further research into Go Fun Rewards however reveals that affiliates are naming a "Glen Jensen" (photo right) as William's replacement.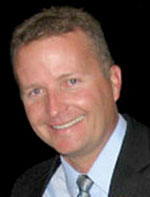 Glen Jensen's first MLM venture was "Synergy Worldwide" (MLM nutrition) in 1999. After selling Synergy 2000 Jensen (photo right) stayed on as company President for a few years but eventually resigned.
Returning to the MLM industry in late 2004 Jensen launched "Agel Enterprises" (MLM nutritional supplements). Citing a "hostile takeover", Jensen claims he was kicked out of Agel as CEO in 2010:
A Venture Capital company took a minority share in 2005 to finance the amazing growth. In June 2007 I paid them 100% back.

However Agel continued to grow fast from $8 million per month in August to $12.5 million in September 2007, basically growing from $100 million to $150 million a year with all signs of even higher growth figures.

So I teamed back up again with the Venture Capital (VC) Company. They wanted me to slow down the growth of Agel, which in my opinion, was a very bad decision.

The problem with these Venture capitalists is that they have minimal understanding of the Network Marketing Industry and did not understand how precious momentum is.

They insisted on, and demanded control. Until that point, I was in control, but now the VC controlled 2 of 3 Board seats and my ownership units were dropped below 50%.

In late 2010 the VC insisted on closing 12 countries with $47 million in revenue. I could not accept this, so the VC decided to replace me.

We are still in a legal battle over this decision.
Offering somewhat of a different take on Jensen's claims that he was kicked out of Agel for not wanting to slow the company's momentum, MLM attorney Kevin Thompson writes:
On December 22, 2010, Agel filed a lawsuit against its CEO, Glen Jensen. Basically, the lawsuit alleges that Jensen violated the employment agreement by allegedly leveraging his position with Agel to build a competing company.

The lawsuit levies some serious allegations. According to Agel, they're arguing that Glen was looking to split the company and take some key leaders to another opportunity.

Agel explicitly accused Jensen of lying to the company, conspiring against the company, abusing his authority as CEO and misusing company funds.
Mysteriously, just 3 days later Thompson observed Jensen on Facebook claiming "I am Agel – Always!!!".
That sentiment was shortlived however, with Jensen going on to file a lawsuit in Utah against Ash Capital and Agel, demanding the company be dissolved and a receiver appointed.
Jensen accused Ash Capital (the aforementioned "venture capitalists") of "misapplying and wasting" Agel's assets and "improperly taking over Agel", defaming Jensen and failing to pay him commissions owed as a distributor.
I was unable to ascertain what the final outcome was of the above two lawsuits and ongoing disputes between Jensen and Agel. Save to say that Jensen seemingly has nothing to do with Agel these days.
Meanwhile Jensen moved on in the industry and launched a "forex MLM" called "Uprize" in early 2012.
Uprize is not just a company, a program, or a product – it is a movement.

People all around the world are realizing they can no longer trust their financial future to the bankers, brokers, and the "economic elite". It is time to join the movement and take responsibility for your financial freedom"

We've turned the direct marketing value proposition on its head. While most direct marketing companies inate their prices to cover their multi-tiered commission plan, Uprize has done just the opposite.

Our exclusive arrangements with key vendors allow us to offer a full institutional data feed, the Uprize Intellitrader System, and professional training at a fraction of the cost of comparable products, creating an irresistable value for our members.
Again I don't know what happened there but today Uprize doesn't exist.
Now in 2013, Jensen's appears to be making yet another return to the MLM industry as President 0f Go Fun Rewards. Read on for a full review of the Go Fun Rewards MLM business opportunity.
The Go Fun Rewards Product Line
Go Fun Rewards' product offering consists of three portals under the banner of "Go Fun Places".
We help our members save up 95% on lifestyle, leisure and travel products and services like electronics, sporting gear, luxury items, dream vacations and more!
Despite "prelaunch" being removed from both the Go Fun Rewards and Go Fun Places websites, I don't know whether Go Fun Rewards have launched their travel site or shopping mall yet, as when I clicked on their "auction" link I was refused access because I had "no sponsor":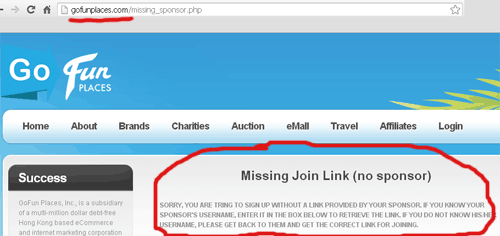 If Go Fun Rewards' have indeed launched their services, then it appears that for now they are not open to the general public.
Whether this is by design or a result of the company still not being ready to properly launch after over six months of prelaunch I'm not sure.
I do note that the website GoFunBids ("gofunbids.com") is live, however I had to find that myself. It doesn't feature on the GoFunRewards or GoFunPlaces websites. I have no idea if the mall and travel sites have launched.
Either way, whatever is behind Go Fun Places' "you must have a sponsor" barricade, there doesn't appear to be a retail option for now.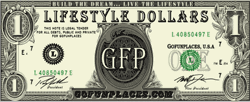 One possible reason is that purchases in Go Fun Places are made with what the company calls "Lifestyle Dollars".
Lifestyle Dollars have real value and save everyone money on Lifestyle, Leisure and Products or Services.
Lifestyle Dollars appears to be some sort of inhouse e-currency used on the Go Fun Places website. I couldn't see anywhere to buy Lifestyle Dollars as a retail customer, with the Go Fun Places website only giving me the option to sign up as a affiliate.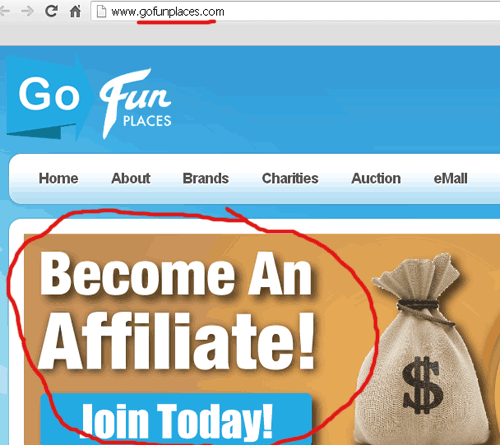 No idea where their actual retail customers are supposed to sign up but apparently if I join GoFunRewards as an affiliate, I'm going to make bags of money…
The Go Fun Rewards Compensation Plan
The Go Fun Rewards compensation plan revolves around affiliates exchanging real money for what the company calls Lifestyle Dollars.
As a paid member of our program you will receive Lifestyle Dollars.

Everytime you share Lifestyle Dollars with your friends, family and customers, you enable them to save money.
Reward Credits
Reward Credits are used in the Go Fun Rewards compensation plan to calculate how much of a share a Go Fun Rewards affiliate earns in their daily revenue share pool.
Reward Credits can be earnt via
giving away purchased Lifestyle Dollars to "customers", who then "register" (???) them
customers buying stuff from Go Fun Rewards (not available to the public) shopping mall, penny auction and travel booking engine
people registering Lifestyle Club Cards
something called "monthly retail package sales" and
something else called "PK-100 thru PK12500 sales" (something to do with the bundling of multiple Lifestyle Club Cards)
Reward Credits pay out a daily ROI for 100 days. This ROI is paid out from what the company calls "Daily Lifestyle Rewards", which is made up of 50% of Go Fun Rewards "commissionable sales volume" (including affiliate purchases).
60% of the ROI paid out to affiliates (in Lifestyle Dollars) can be redeemed as cash. Affiliates must generate more Reward Credits and re-invest back into their Reward Credit balance if they wish to grow their overall credit amount (and increase their daily ROI).
Lifestyle Club Membership
Go Fun Rewards' "Lifestyle Club" appears to be some sort of fee the company charges for access to a third-party resort booking engine.
Confusingly, Go Fun Rewards claim the retail value of LifeStyle Club membership is $3500 but go on to suggest that the retail value of the cards is $157, $257 or $357.
Despite these dollar values, Go Fun Rewards suggest their recommend their "give them away for free". The compensation plan does not mention whether or not affiliates are expected to buy the cards or how they obtain them to give away.
If affiliates do manage to sell a Lifestyle Club Membership, they receive a 100% commission on the sale, with Go Fun Rewards describing this as 'getting paid direct by your customer'.
Unilevel Recruitment Commissions
Paid out on affiliate membership fees, which Go Fun Rewards curiously refers to as "customer memberships", the company pays out a series of commissions tied into the recruitment of new affiliates.
This commission is paid out via a unilevel compensation structure. A unilevel compensation structure places an affiliate at the top of the structure, with every personally recruited affiliate placed directly under them (level 1).
If any of these level 1 affiliates recruit new members, they are placed on level 2 of the original affiliate's structure. If any level 2 affiliates recruit new affiliates they are placed on level 3 and so on and so forth.
Using this unilevel structure, Go Fun Rewards affiliates are paid a percentage of their downlines monthly affiliate fees down 9 levels of recruitment:
Free affiliates – 4% on level 1 and 10% on level 2
Director (20 MPV) – 4% on level 1, 10% on level 2 and 3% on level 3
Senior Director (50 MPV) – 4% on level 1, 10% on level 2, 3% on levels 3 and 4 and 4% on level 5
Regional Marketing Director (100 MPV) – 4% on level 1, 10% on level 2, 3% on levels 3 and 4, 4% on level 5 and 3% on levels 6 and 7
National Marketing Director (100 MPV and 3 personally recruited Regional Marketing Directors) – 4% on level 1, 10% on level 2, 3% on levels 3 and 4, 4% on level 5 and 3% on levels 6 to 8
Senior Vice President (100 MPV, 4 personally recruited Regional Marketing Directors and 3 personally recruited National Marketing Directors) – 4% on level 1, 10% on level 2, 3% on levels 3 and 4, 4% on level 5, 3% on levels 6 to 8 and 4% on level 9
Presidential (100 MPV, 4 National Marketing Directors and 5 Senior Vice Presidents) – 4% on level 1, 10% on level 2, 3% on levels 3 and 4, 4% on level 5, 3% on levels 6 to 8 and 4% on level 9
Note that at the Senior Vice President and Presidential affiliate levels, the unilevel is extended past level 9 to include on the "group sales" volume of affiliates until a Senior Vice President or Presidential affiliate (respectively) is found beyond level 9 of the unilevel.
MPV in the above affiliate rank criteria is "monthly personal volume" and is generated via the payment of an affiliate's monthly membership fees:
Free affiliate – 0 MPV
Silver membership – 20 MPV
Gold membership – 50 MPV
Diamond membership – 100 MPV
Unilevel Check Match Bonus
For Regional Marketing Director or higher ranked affiliates, Go Fun Rewards pays a matching bonus of 5% on the unilevel recruitment earnings of affiliates in their downlines.
In order to qualify for the Unilevel Check Match Bonus, a Go Fun Rewards affiliate must have a newly qualified Regional Marketing Director in their downline for that month.
Note that this is a monthly qualification, with the generation of a new Regional Marketing Director only qualifying an affiliate for one month of the matching bonus.
Fast Start Recruitment Bonus
Curiously called a "Customer Acquisition Bonus", Go Fun Rewards Fast Start Recruitment Bonus pays an affiliate a percentage bonus upon the recruitment of new affiliates:
Level 1 (personal recruits) – 33%
Level 2 (recruits of level 1 recruits) – 10%
These percentages are of the first month's affiliate membership fee paid by recruited affiliates.
Joining Go Fun Rewards
Affiliate membership to Go Fun Rewards comes in four varieties:
Free affiliate – no cost
Silver membership – $20 a month
Gold membership – $50 a month
Diamond membership – $100 a month
Conclusion
When Zeek Rewards was busted by the SEC in mid 2012, pretty much every MLM company looking to launch a penny auction of their own was thrown into turmoil.
Some abandoned their plans, some launched anyway (with most currently sitting in limbo or decline), and others spent months upon months in prelaunch trying to figure out how they might get around being seen as a similar Ponzi scheme to Zeek.
Evidently Go Fun Rewards falls into the latter category as it is painfully obvious the company has simply attached a hodgepodge of irrelevant components to their penny auctions in an attempt to look legit.
The problem?
Buried amongst all the layers of attempted misdirection, there's still a Ponzi scheme in there.
Affiliates join Go Fun Rewards, invest in Lifestyle Dollars, dump these on fake accounts they've created themselves, these points are "registered" (whatever that entails) and affiliates are then paid out a daily ROI for 100 days.
Where does this ROI money come from? It's the sum total of 50% of the money new investors affiliates are pumping into the investment scheme Lifestyle Dollars.
100% commission travel cards, shopping malls, blahblahblah it all reeks of executives sitting in a boardroom wondering what they can attach to Zeek Rewards' blatant Ponzi scheme business model to try to make it appear legit.
Fundamentally though, you've still got affiliates buying into a scheme, being rewarded daily based on how much they invested into the scheme, with said rewards being sourced from new investors investing into the scheme.
Throw in the commissions paid on the monthly fees Go Fun Rewards charge their affiliates to participate, and you add on more problems with the addition of a recruitment driven pyramid scheme.
At the end of the day it's easy to see how Go Fun Rewards was nothing more than a Zeek Rewards clone with "penny auction bids" renamed "Lifestyle Dollars".
Come launch there are more retail options in Go Fun Rewards but as a retail customer I can't view anything on the Go Fun Places website, nor see anywhere to even buy Lifestyle Dollars. You can't do anything on the GoFunPlaces website as a retail customer!
History has shown us that when you allow affiliates to earn a daily ROI proportionate to how much they initially invest and continue to re-invest into the scheme, you wind up with a Ponzi scheme masquerading behind MLM. Affiliates wind up solely funding the scheme and anything else attached to it becomes irrelevant.
Given the extreme similarities between GoFunRewards and Zeek Rewards, this obviously isn't going to end well…