CO2 Rewards Review: Selling carbon offset units?

The idea that people can simply pay money to offset their carbon output has always seemed flimsy to me.
The actual carbon being emitted isn't reduced meaning people's pollution habits aren't changing. Furthermore it's been reported that less than 30% of money spent in purchasing carbon offsets are actually used to reduce carbon emissions.
Personally I think it's much more effective to actually change your habits rather than just throw money at it (ride a bike, take shorter showers, don't leave the lights on etc.).
Nonetheless, seeking to combine the purchase of carbon offset units with a MLM style compensation plan comes the CO2 Rewards business opportunity.
Read on for a full review.
The Company
The CO2 Rewards website makes only one vague reference to who owns or operates the company:
CO2Rewards (CO2R) is owned and operated by Global Rewards Group Ltd. The Global Rewards Group is first and foremost a network of people united in a common cause.

The Global Rewards Group is simply a group of extra ordinary people, inspired by natural passions, empathy for our world, and each other.  Our Group has come together to create and carry out an aggressive and revolutionary plan to restore some of this balance to our world.

Global Rewards Group Ltd. is incorporated in the Official Republic of Seychelles.

The Global Rewards Group is debt free with a staff of 30 in-house people with extensive resources in the areas of Management, Marketing, Banking, Software Engineering, Legal Consultation, and International Customer Support.
They say an awful lot but don't really tell you anything. CO2 Rewards go on to list a company address in Seychelles:
Global Rewards Group Ltd
Reg No:. 103664,
Registered address: Suite 9, Ansuya Estate, Revolution Avenue, Victoria, Mahe, Seychelles.
And that's pretty much it. I couldn't find any further information about Global Rewards Group (Seychelles, a known tax-haven, has no searchable business registry).
That said, the domain co2rewards.com was registered on the 26th January 2012 and names a 'Motasem Owda' as the registrant. Owda's supplied details indicate that he's  operating out of Riga in Latvia.
Owda's LinkedIn profile states that he's working in website and development in Latvia,
and I was ready to write him off as possibly being just the webdesigner of the CO2 website, however his Facebook profile: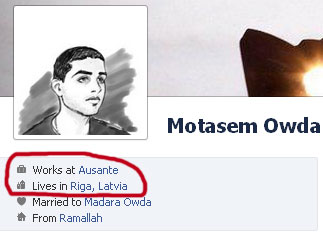 mentions that he works at something called Ausante.
Ausante is a MLM company that claims to sell "carbon offset units" using a binary compensation plan structure.
Looking at the Ausante and CO2 Rewards websites, it's quickly apparent that the same product line and being MLM companies are not the only characteristics shared between them.
(click any of the following screenshots to enlarge them)
Here's Ausante's 'About Us' page: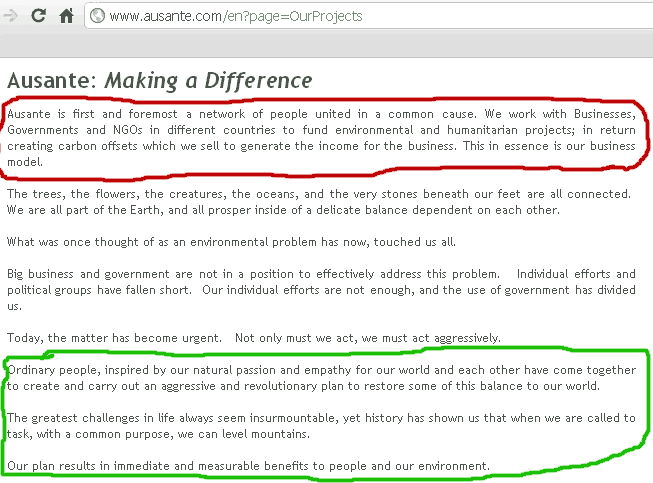 and here's CO2 Rewards' same page: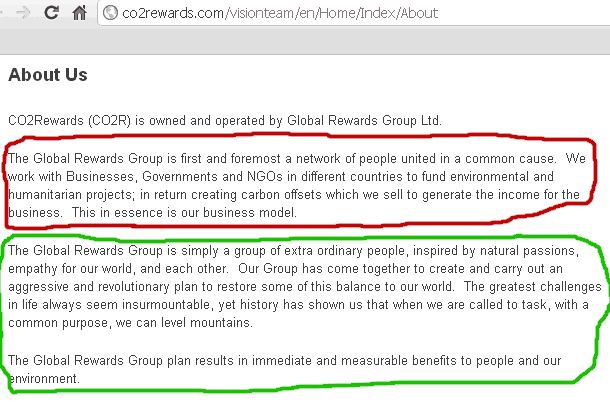 Here's Ausante's 'Your Future' page: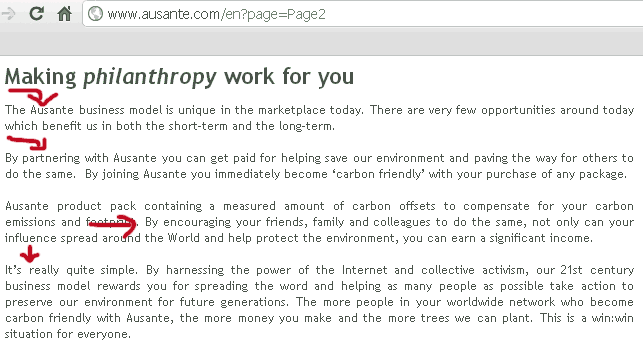 and CO2 Rewards' homepage: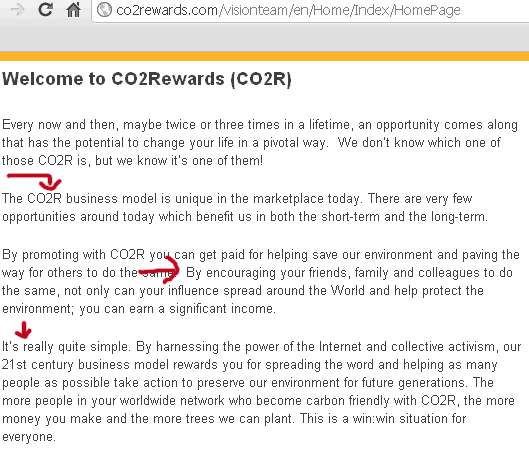 Short of perhaps being a member of Ausante, the company does not list Motasem Otwa on their management page so it's unclear what (if any) the relationship between CO2 Rewards and Ausante actually is.
In June last year Owda tweeted:

Although which company he was talking about at the time isn't specified.
Motasem Owda however most likely appears to at least be running the CO2 Rewards website however and therefore owns and runs the company itself. Whether or not he has partners in Global Rewards Group is unclear.
Update January 10th, 2012 – Motasem Owda got in touch with BehindMLM recently and clarified his involvement (or lack thereof) in CO2 Rewards and naming "Motahir Ali" as the owner:
I'm a Project Manager who used to work for Baltic Design Colors, working period April – September 2011.

After my contract expired with Baltic design colors, I applied to work as a copy writer and a project manager for a company called Intellesite, working period October 2011 – October 2012.

Intellesite is an IT company that develops MLM softwares and Led by Motahir Ali or his nickname (Tahir Ali).

This man owns the biggest shares of Ausante and Co2rewards his name was listed on Ausante's management team page and here's his linked in bio : http://www.linkedin.com/in/topsites.

All the companies that you see under his name (Treedy, Topsites , Ausante, etc.. ) he owns the biggest shares if not all of them.

I worked on treedy as a main project manager and (I still have the project documents if you want me to prove to you that), and on Ausante as a copywriter.

Motahir ali wanted to expand his operations in the US through a number of people such as a guy called "big john" (I never known this guy and never spoken to him), Rudolf Christen and Kevin Thompson. And by him running and maintaining the software he's also controlling the money and the companies' bank accounts.
Owda claims that Ali "pulled a stunt" on him and used his personal information to register the CO2 Rewards domain with. Owda states he is now 'suing the people who recklessly used (his) personal details without (his) personal authorization'. /end update
The CO2 Rewards Product Line
CO2 Rewards' product are carbon offset units. In a nutshell, you buy these units to offset your carbon footprint, with the money used to purchase the units supposedly going towards "green" initiatives.
One of the major applicable concerns of carbon trading units is 'widespread instances of people and organizations buying worthless credits that do not yield any reductions in carbon emissions'.
CO2 Rewards themselves don't explicitly acknowledge any relationship, but the company website does have several PDF's detailing green initiatives by the company OverSy.
OverSy bill themselves as a 'Carbon Offset Verification System' so it appears that there's at least been some effort on CO2 Reward's part to ensure verification of the units they are making available for purchase.
I do note that on the CO2 Rewards website the company states that members
MUST actually use the Carbon Offset Units that you purchase or give them away as samples to help grow (their) business.
The giving away part I get but I'm not entirely sure how you're supposed to use the credits. As I understand it the purchase of units is a voluntary contribution to balancing an individual's carbon footprint. Once purchased, there's nothing to "use" as such.
You fund green initiatives that offset your own carbon output, that's pretty much it.
CO2 Rewards' carbon offset units are either purchased by members themselves or sold at a retail level by members. At least that's what the company claims.
Currently the retail sales section of the CO2 website simply states that 'This page will be avaiable (sic) soon.' At the time of publication, there is no retail option to purchase carbon offset units from CO2 Rewards members, so 100% of the purchases are coming from the company's members.
No prices for carbon offset units are provided on the CO2 Rewards website.
The CO2 Rewards Compensation Plan
The CO2 Rewards compensation plan revolves around a profit-share model.
CO2 Rewards claim that they share 'up to 50% of the daily net profits with' their members.
How much of a share a member receives from this profit pool is dictated by how many 'ProfitPoints' a CO2 Rewards member has.
When a member purchases carbon offset units themselves and gives them away to customers, or sells units at a retail level, the company rewards them with 'ProfitPoints'.
The more ProfitPoints a member has, the larger their share in the profit pool.
Customers can either be brought into the company by CO2 Members, or sourced from the company itself via a company customer acquisition co-op.
Whereas traditionally the size of the share is pro-rata against how many ProfitPoints a member has, instead CO2 Rewards use an investment model.
At the end of the each day, the company decides on a percentage return to offer members. Then, with 1 ProfitPoint equal to $1, the company pays out a return for the day (not guaranteed at any fixed rate, but typically between 1% and 2%).
The CO2 Rewards Affiliate agreements also mentions 'referral commissions' but fails to clarify any specifics.
Joining CO2 Rewards
Membership to CO2 Rewards appears to be free.
There is an optional subscription package called a Management Active Platform (MAP). CO2 Rewards list the benefits of MAP subscription membership as follows:
Everything executed electronically versus snail mail.
Deep discounts on services provided, such as banking and internal transfers.
Sales tools access all inclusive versus separate charges.
Communication access and updates to and from select groups (In the loop vs. out)
Paid weekly versus monthly
MAP membership costs 74 euro ($96 USD) a month. Interestingly enough CO2 Rewards claim that this membership cost 'is taken ONLY OUT OF PROFIT, NEVER OUT OF POCKET'.
It appears that either CO2 Rewards provide MAP membership for free if a member isn't earning at least 74 euros a month, or that MAP subscription can only be purchased after a member is earning over 74 euros a month.
Conclusion
The biggest question mark in the CO2 Rewards opportunity is in the product itself. Carbon offset units are in effect entirely voluntary payments towards offsetting an individual's carbon footprint.
As far as reselling them goes, offering a profit-share and referral commissions poses two problems.
The first is that in order to pay out a return in the profit-share, CO2 Rewards needs to be charging more than a company that isn't offering a profit-share.
With there being no difference between verified carbon offset units other than the price, the chance of attracting genuine retail sales seems quite difficult.
Secondly there's the profit share. As explained above, with CO2 Rewards themselves not owning any green initiatives, they're obviously themselves purchasing the credits from somewhere. In that case all that can really be shared then is the profit margin between the wholesale price and what they are charging members and retail customers.
Is that really going to be enough to sustain a business in the long-term?
Typically in these profit share setups a large chunk of the money handed over finds its way into profit-sharing pool. However with CO2 Rewards having to compete with other offset unit resellers, they first and foremost have to be competitive.
Otherwise they will completely fail to attract retail customers. That in itself I suppose isn't so much a problem but it then means that 100% of the sales are by CO2 Rewards members. These units then need to be given away (for free) to customers and that itself raises more questions.
Comparatively, if I signed up as a customer with Ausante, I can purchase carbon offset units for $320 (12.5 tonnes), $960 (40 tonnes) or $2880 (150 tonnes).
Through CO2 Rewards, I can sign up as a retail customer under a member and what, get the same offset units for free?
That doesn't add up.
If I've purchased units and given them away, technically then any returns on the cost price of the product should be passed onto the owner, which would be my customer.
Unless of course I'm being paid not on the product purchase, but on the actual money paid for the offset units.
Unfortunately when you combine the fact that CO2 Rewards offer their members the ability to acquire customers through the company itself (whether or not they charge for this service is unclear), effectively it's entirely possible to use CO2 Rewards as an investment program.
You purchase units, give them away to customers the company supposedly provides you and then earn a return on the money you fed into the company.
With the problems of CO2 Rewards remaining competitive at a retail level if they want to run a profit-share, I imagine the investment route is how most of their members are going to participate in the opportunity.
Based in Seychelles, a country with strong corporate secrecy laws, if members stop purchasing new units and the profit share percentage dips too much, Motasem Owda has made it quite easy for him to disappear should the company collapse.
You're probably not going to have to worry about the authorities shutting down CO2 Rewards for operating what is essentially a masked investment scheme, but with the unclear relationship between Ausante and clarification on Owda's involvement in CO2 Rewards and any other owners, CO2 Rewards' business profile is not exactly confidence inspiring.