Karatbars International Review: Gold and recruitment

Karatbars International launched in 2011 and claim to be based out of Stuttgart, Germany.
The company's website domain registration however paints a different picture, with "karatbars.com" being registered to a "Harald Seiz" of "Karat Swiss AG", operating out of Glarus in Switzerland. Adding to the confusion is a German telephone number provided on the domain registration.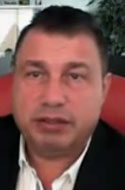 Harald Seiz (right) is credited with being the "found and owner" of Karatbars International on their website. Seiz's corporate biography reads:
Since the early '80s, Harald Seiz is self-sufficient in the financial industry. After training in insurance and real estate industry, he worked as an independent financial services provider with a number of companies, where he was very successful. During the mid-90s he reached with a company about 60 million in sales.

(At the) end of 2008, he joined a company into a precious metals business. In just seven months Harald Seiz was the no. 1 for the company. However, his visions were larger than those of the company, which was only active in Germany.

Gold in small units available for everyone – and that worldwide – was a fantastic idea to offer people more certainty. So Harald Seiz founded in 2011 Karatbars International GmbH.
I believe the company Seiz joined in 2008 is KB Gold, although I wasn't able to find anything specific on Seiz's MLM past.
From what I've been able to put together, there's been much confusion between KB Gold and Karatbars International, primarily due to both being based out of Germany and both having similar abbreviated names.
One regulatory action that cannot be confused however was the specific warning issued by Canada's Autorité des marchés financiers in Canada. Issued to potential investors as part of "fraud prevention month", the AMF wrote:
(Karatbars International's) investment products are primarily promoted through conferences, the Internet and social media.

With the company's "Affiliates" program, investors can make Internet-based purchases through Karatbars plans and they are encouraged to recruit two other Affiliates. These Affiliates are in turn encouraged to recruit two other Affiliates each, and so on.

Affiliates are lured by the possibility of earning large payouts, in particular through a percentage of amounts collected from the Karatbars plans and gold products purchased by referrals.
Read on for a full review of the Karatbars International MLM business opportunity.
The Karatbars International Product Line
Karatbars International as a company retail gold on their website (sold per gram).
Collector cards are also mentioned on the Karatbars International website, however these do not appear purchaseable at a retail level.
The Karatbars International Compensation Plan
The Karatbars International compensation plan is poorly written and fails to adequately explain various components of the plan.
Heavily abbreviated and lacking any sort of clarification however, it's likely to confuse most prospective affiliates to the point of just not bothering with it all together.
I've done my best to explain what is presented in the official plan documentation below. By design or otherwise however, note that the break-down below is incomplete due to large amounts of missing or poorly presented information provided by Karatbars themselves.
Karatbars International Affiliate Membership Ranks
There are 12 affiliate membership ranks within the Karatbars International compensation plan. Along with their respective qualification criteria, they are as follows:
Distributor – sign up as a Karatbars International affiliate
Supervisor – 200 points a month
Bronze Supervisor – 500 points a month
Silver Supervisor – 1250 points a month
Gold Supervisor – 2500 points a month (or purchase a package)
Bronze Manager – 4000 points a month
Silver Manager – 6000 points a month
Gold Manager – 9000 points a month
Bronze Director – have two unilevel legs generating 6000 and 4000 points a month respectively, and have personally generated at least 50 sales
Silver Director – have three unilevel legs generating 6000, 3000 and 2000 points a month respectively, and have personally generated at least 100 sales
Gold Director – have three unilevel legs generating 9000, 4000 and 3000 points a month respectively, and have personally generated at least 200 sales
Gold Director Elite – Qualify as a Gold Director, have at least one Gold Director in your downline and have personally generated at least 300 sales
Note that points are generated by affiliate purchases within Karatbars. 2 EUR spent by an affiliate and/or their downline generates 1 point. Also note that "sales" refers to purchases made either by retail customers or recruited affiliates.
Monthly qualification between the Gold Supervisor to Gold Manager, monthly qualification must be maintained at least three times a year to maintain rank. At the Gold Manager level, rank is guaranteed, however higher rank qualification must be maintained on a month to month basis.
Package Commissions
There are three packages for sale within Karatbars International: Bronze, Silver and Gold.
Each time an affiliate sells one of these packages to an affiliate they've recruited, they are paid a commission. How much of a commission is paid out depends on how much money their downline spends on a package:
Bronze (239 EUR) – 60 EUR
Silver (595 EUR) – 150 EUR
Gold (1595 EUR) – 300 EUR
Unilevel Commissions
Unilevel commissions in Karatbars International are paid out according to money spent by recruited affiliates in a downline.
A unilevel compensation plan places an affiliate at the top of a unilevel team, with every personally recruited affiliate placed directly under them:

Karatbars pay out a percentage of the money spent by affiliates in a unilevel team, with commissions tied into "points"(see affiliate membership ranks).
Unilevel commissions are paid out as a percentage of point accumulated by an affiliate, with how much of a percentage earned being determined by an affiliate's membership rank:
Distributor – no commission
Supervisor – 0.5%
Bronze Supervisor – 1%
Silver Supervisor – 1.5%
Gold Supervisor – 2%
Bronze Manager – 2.5%
Silver Manager – 3%
Gold Manager – 3.5%
Bronze Director – 4%
Silver Director – 4.5%
Gold Director – 5%
Gold Director Elite – 5.5%
Gold Director Elite affiliates can increase their paid percentage, by having additional Gold Director Elite ranked affiliates in their unilevel legs:
1 Gold Director Elite affiliate in a unilevel leg – 5.75%
2 Gold Director Elite affiliates in a unilevel leg – 5.9%
3 Gold Director Elite affiliates in a unilevel leg – 6%
Whether this bonus percentage applies to the entire unilevel or just that particular leg is not clarified.
Note that a percentage override is available on all personally recruited affiliates, paying the percentage difference between their rank and an affiliate's own rank when commissions are calculated.
Binary Commissions
Binary commissions in Karatbars are paid out based on the generation of "units". Units are generated when an affiliate's downline spend money within the company:
Silver Package – 20 units
Bronze Package – 50 units
Gold Package – 100 units
purchase 1 gram of gold – 1 unit
branding card – 50 units
K-exchange – 20 units
License – 100 units
Exclusive Box – 4 units
Box – 1 unit
Champagne – 4 units
Case – 1 unit
Note that gold and the packages are self-explanatory, however there's no further information about any of the other products on the Karatbars website. Presumably this means they are not for sale at a retail level.
A binary compensation plan places an affiliate at the top of two binary teams, left and right: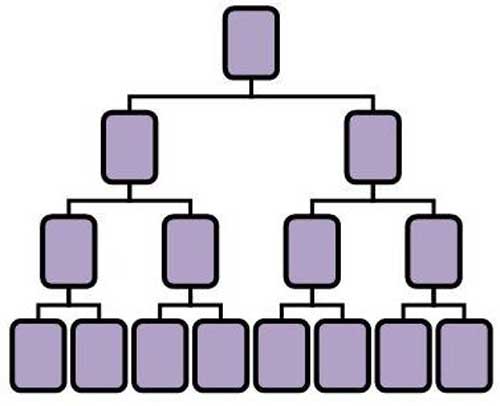 As points are generated within these two teams, they are grouped off into cycles, which in turn then pays a commission.
A cycle in Karatbars International is the grouping of 50 units on one binary team and 25 on the other. Once achieved, a cycle pays out a commission and the counted units are removed from the binary.
How much of a commission per cycle is paid out depends on how the highest package level an affiliate has purchased:
Silver – 40 EUR
Gold – 60 EUR
VIP – 80 EUR
Worldwide Turnover Bonus
The compensation plan explanation for the Worldwide Turnover Bonus makes little sense. It appears to be some sort of percentage bonus pool, composed of 95 cents of every gram of gold Karatbars sells.
How the pool is paid out to affiliates is unclear.
Gold Pool
The Gold Pool is made up of 1% of Karatbars International's "lump-sum gold purchases", which I believe are package purchases and gold purchases over 50 EUR.
In order to qualify for the Gold Pool, a Karatbars affiliate must have three unilevel legs that have generated at least 9000 points each. Points on these three legs are then divided by 1000, which provides the number of shares in the Gold Pool that affiliate qualifies for.
Karatbars Incentives
As a Karatbars International affiliate sells grams of gold within their downline, the accumulated balance is used to reward them via Karatbars incentives:
1000 units – gold iPhone
3000 units – trip to Dubai
10,000 units – "mega trip"
25,000 units – gold Rolex watch
70,000 units – new standard car
160,000 units – new deluxe car
350,000 units – luxury sports car
1,200,000 units – luxury villa
Joining Karatbars International
Affiliate membership to Karatbars International is free, however several commissions and bonuses are tied into the purchase of a package.
With most, if not all Karatbars affiliates likely to purchase a package when they join, this means defacto affiliate membership to Karatbars is between 239 EUR and 1595 EUR.
Conclusion
The public side of Karatbars makes perfect sense. Buy gold, sell gold, get paid. That I have no problems with and it's all perfectly legitimate (at least on the surface).
Dig deeper however and things get incredibly murky with the compensation plan and affiliate side of things.
The first major red-flag within the Karatbars International compensation plan is the overall pay-to-play aspect of the business.
The compensation plan material (and no doubt affiliates pitching it) stress that Karatbars is free to join. That much is true, however earnings in the binary (including commission qualification itself) and the ability to buy the Bronze Director rank are directly tied into the purchase of a package.
When you combine this with the package bonus paid out on the purchase of one of the packages, things get even more problematic as we start to enter pyramid scheme territory.
You sign up to Karatbars International, buy your package and then recruit others who do the same. This build your points and units and pays you out a direct commission per affiliate recruited.
Packages come with "cards" which offer a discount on the top-tier VIP package, which suggests the company itself encourages this practice (at the VIP package level at least).
It is entirely possible to earn via the selling of gold to retail customers in Karatbars International, however as a business opportunity it's highly unlikely.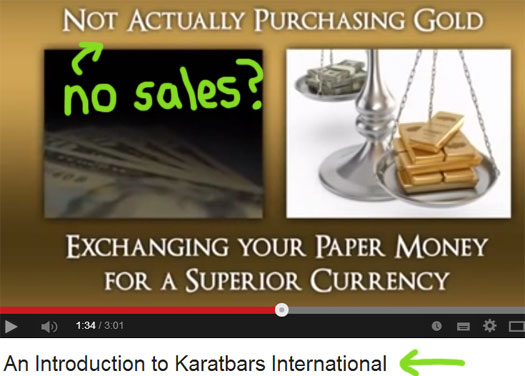 Prospective affiliates would be strong advised to check with their potential upline as to how much gold they are selling to non-affiliates each month. I suspect in most cases one will find it to be negligible, if anything at all.
In summary, there's nothing inherently wrong with investing in gold, or even building an MLM company around this idea (provided it's being sold in substantial quantities to non-affiliates). Tack on a recruitment-driven pyramid scheme that incorporates pay-to-play commissions however (and the buying of affiliate rank, which directly affects commission rates), and it's easy to see why the Canadian AMF issued their fraud alert a few months ago.
I honestly can't see why anyone other than affiliates would bother purchasing gold through Karatbars, and that's a problem.
Update 18th November 2015 – As per BehindMLM reader Raymond E Lee Carmichael, as of November 2015 Karatbar's VIP package has been "discontinued".