CashFX Group securities fraud warning from Spain

CashFX Group has received a securities fraud warning from Spain's Comision Nacional del Mercado de Valores (CNMV).
As per the CNMV's December 20th warning, CashFX Group
is not authorised to provide the investment services set out in Article 140 of the Spanish Securities Markets Act, which include(s) investment advice.
This is the equivalent of a securities fraud warning in other jurisdictions.
To date twenty jurisdictions have issued regulatory warnings against CashFX Group; the Dominican Republic, Singapore, Australia, Portugal, Sweden, Ireland, South Africa, the Philippines, Belgium, New Zealand, Jersey, Canada (New Brunswick, Manitoba, Saskatchewan, Quebec and British Columbia), Panama, the Bahamas, Norway and the UK.
Throughout 2021 CashFX Group has prolonged its inevitable collapse by delaying and restricting withdrawal requests.
Things came to a head in November, just prior to the holiday shopping season, when CashFX Group disabled withdrawals altogether.
As of early December CashFX Group withdrawals were still disabled.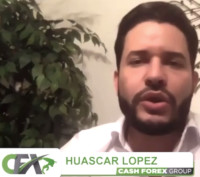 Around the time withdrawals were disabled, founder and CEO Huascar Lopez stated CashFX Group will be caught up on withdrawal requests by the end of Q4, 2021.
That's three days away and I believe CashFX Group withdrawals remain disabled.
Alexa traffic analysis reveals a steady decline in visits to CashFX Group's website over the past few months.
Current top sources of traffic to CashFX Group's website are Australia (19%), the US (17%) and Nigeria (14%).