CashFX Group exec lies about withdrawals, regulators… A.I.?

Against the backdrop of affiliate investor withdrawals being blocked, CashFX executives and top promoters went off on a cruise.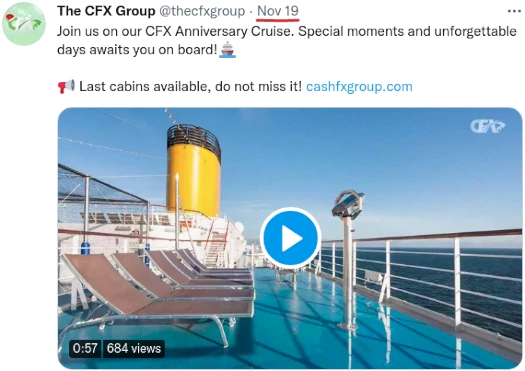 Those unable to withdraw can put two and two together to figure out how the cruise was funded.
That was late November, now it's back to facing the Ponzi schemes problems.
To that end CashFX Group Marketing Director John Kinnear fronted a Q&A on December 4th.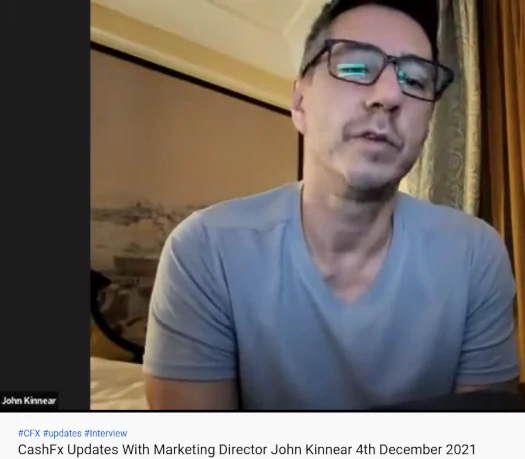 Topics covered include CashFX Group's withdrawals, regulatory problems, cryptocurrency and… A.I. trading?
When queried on CashFX Group's stalled withdrawals, Kinnear parroted the previous "we got hacked" excuse.
[11:38] When the security team has to manage something like that, all operations, essentially, except for trading operations, have to cease.

(This is) so the programmers are in total control of the backoffice space.

No withdraws are going out from the backoffice.
This of course makes no sense, because later Kinnear also parrots the claim that CashFX Group wasn't compromised.
[12:39] Whoever's behind them has significant funds, six figures or more and throw an awful lot of time and energy at trying to crack into this security.

You've also heard me mention many times that there's four separate firewalls around the CFX backoffice, and no one's ever breached the first of those four.

That still stands true. That's the case right now.
I'll reiterate the point I made in our original article covering the "we got hacked" excuse: it makes zero sense to claim withdrawals are disabled because of a hack, whilst simultaneously claiming the hack was unsuccessful.
It'd be like if BehindMLM was being DDOS'ed, so I pulled the site down to deal with the attack, which I claimed was unsuccessful.
To be clear I'm not suggesting CashFX Group was hacked. I maintain it's a Ponzi scheme that's been running out of money throughout 2021.
Huascar Lopez has publicly stated CashFX Group will be caught up on withdrawal requests by the end of Q4, 2021.
With respect to CashFX Group's YouTube channel disappearing, Kinnear blames "tHe HaTeRz".
[14:50] There's a team, there's a group on FaceBook, an anti-CFX FacBook group … they've thrown a wrench in the works of a few different things over the course of the last two and a half years.

And I think this was a combined effort by that particular group and soliciting and petitioning YouTube, to have the CFX YouTube site shut down.
Kinnear claims "the person who's in charge of" CashFX Group's YouTube channel has "reached out to YouTube to get that rectified".
I think it should be obvious that no number of complaints is going to get a YouTube channel deleted – as appears to be the case.
There has to be cause, a specific reason for YouTube to take action. And that's where Kinnear's scapegoating falls apart.
CashFX investors have also apparently noticed their daily returns are static from day to day.
Kinnear attributed this abnormality to the amount of money in CashFX Group, COVID-19 and risk management.
Moving onto the Q&A section of the video, one of the first questions Kinnear fields is CashFX Group operating in the US.
[19:02] I can tell you the strategy that's going to be used to get that done, in the US and Canada, is with the attorneys in Vancouver right now.

They and their counterparts in the US market … are putting the finishing touches on the strategy that's going to be used to get the market open.

I really like the strategy, I'm excited about it. I can't share.
This is of course baloney.
First off you can't lawyer away two and a half years of securities fraud.
Second, if you're an MLM company marketing a passive investment opportunity, you're offering a security.
There is no "strategy" for securities regulation in the US. You register with the SEC and provide audited financial reports. Canada is no different, with the exception you need to register in each province.
Kinnear is lying through his teeth on CashFX Group and securities regulation in the US and Canada.
He goes on to lie about securities regulation outside of the US and Canada.
[20:43] Yeah basically the Philippines market, there's also a very solid law firm there … and um they are holding off on one more license that's coming via Panama, to then be part of their meeting with the SEC in the Philippines to have that warning removed.
Kinnear is referencing the Philippine SEC issuing a securities fraud advisory against CashFX Group from April. The SEC also stated CashFX Group "shows indication of a possible Ponzi scheme".
No license from Panama or anywhere else will overturn this warning.
If CashFX Group wants to operate legally in the Philippines, they'll have to register with the SEC, same as anywhere else in the world.
Mining City is an MLM Ponzi scheme that thought they could overturn a Philippine SEC fraud warning.
They learned the hard way that the SEC wasn't going to be finessed. Mining City remains banned in the Philippines.
[21:06] And also once that's removed in the Philippines, the Canadian attorney feels they'll get the warnings removed in Canada.

And that's going to start a domino effect and see them start to get removed everywhere.
Again, that's not how securities regulation works.
Either you're registered with financial regulators and providing audited financial reports, or you're not. And getting licenses in hidey-hole jurisdictions like Panama doesn't equate to regulators in other countries dropping securities fraud warnings.
Looking forward, Kinnear talks up CashFX Group's "AI trading", and jumping on the crypto fraud bandwagon.
[9:50] How much is it going to increase our daily earnings?

When I asked Edwin, he just smiled and he winked.

[23:16] You're gonna see (a) cryptocurrency product.
CashFX Group's AI trading is supposed to go live Q1, 2022.
When asked for details on CashFX Group's trading brokers, Kinnear dodged the question.
According to his LinkedIn profile, Kinnear is based out of British Columbia, Canada.
The British Columbia Securities Commission issued a securities fraud warning against CashFX Group in December 2020.