CashFX Group securities fraud warning issued in Panama

Panama's Superintendency of the Securities Market (SMV), has issued a securities fraud warning against CashFX Group.
The warning from SMV is significant, as CashFX Group pretends to operate out of Panama through a local office.
CashFX Group is registered as a Panama shell company through Cash FX Group SA.
As noted by the SMV;
The company CASH FX GROUP, SA , registered in folio 155665763 of the Public Registry and that maintains the website cashfxgroup.com/about, is not and has not been the holder of a license or registration issued by the SMV, therefore that do not have authorization to carry out activities related to the stock market, including, securities brokerage business, investment advice, FOREX brokerage, investment manager in or from the Republic of Panama, within the regulatory framework enshrined in the Law of the marketc of values.

Under the above circumstances, the SMV warns the public, bearing in mind the content of this warning.
As I've emphasized above, the key take-away from SMV's warning is CashFX Group engaged in securities fraud.
As we covered in our CashFX Group review, the company commits securities fraud because it's a Ponzi scheme.
The SMV's securities warning creates a rather comical scenario.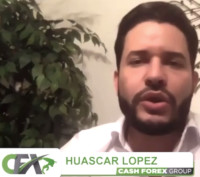 You have a Ponzi scheme run by Huascar Lopez from the Dominican Republic, primarily promoted by Justin Halladay and Luigi Bruni; US and Canadian residents respectively.
Outside of potentially being used to defraud banks and for money laundering purposes, the Panamanian shell company is meaningless.
Panamanian authorities could deregister Cash FX Group SA and go after local promoters, but I'm not sure what the cooperation between the SMV, Public Registry and Panamanian law enforcement is.
In any event CashFX Group pretending to be based out of Panama has been exposed for what it is, a ruse by scammers running a Ponzi scheme.
To date CashFX Group has received regulatory warnings in the UK, Norway, Canada and the Bahamas.
Whether US authorities launch a CashFX Group investigation remains to be seen.