CashFX Group securities fraud warning in Manitoba, Canada

CashFX Group has received a securities fraud warning from the Manitoba Securities Commission.
As per the MSC's March 3rd alert (click the "investor cautions" tab if you're visiting the link);
Cash FX, Cash FX Group S.A., CFX, and cashfxgroup .com are not (and never have been) registered in Manitoba to engage in the business of trading securities or advising anyone with respect to investing in, buying, or selling securities.
Manitoba is the fourth Canadian province to issue a CashFX Group securities fraud warning.
Over the past few months Sasktchewan, Quebec and British Columbia have all issued similar warnings. Quebec went so far as to add CashFX Group it's list of illegal investment companies.
Undermining the efforts of Canadian financial regulators however is top CashFX promoter Luigi Bruni.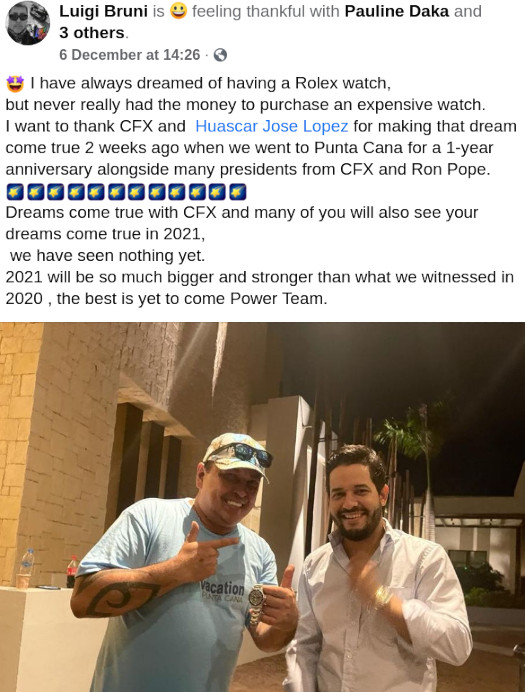 Bruni openly promotes CashFX Group from Montreal, Quebec.
Having identified securities fraud, Canadian authorities are yet to actually do anything to curb Bruni's flouting of the law.
In addition to Canada, CashFX Group has received securities fraud warnings from Norway, the Bahamas and Panama.
Alexa currently ranks the top sources of traffic to CashFX Group's website as the UK, the US and Nigeria.
Update 5th March 2021 – The Manitoba Securities Commission's website is a bit wonky, you have to click the "investor cautions" tab on the provided link.
Over time the CashFX Group fraud notice will be buried, so I've included a screenshot of it below: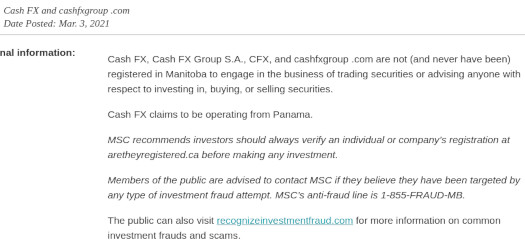 Thanks to the reader who wrote in with the suggestion (and also let me know I spelt Manitoba wrong!).