CashFX Group on Quebec's list of illegal investment companies

The Autorite Des Marches Financiers has identified CashFX Group as an "active platform in Quebec".
Consequently the AMF has added CashFX Group to it's list of "companies that solicit investors illegally".
When CashFX Group was added to the AMF's warning list is unclear.
The listing is immensely significant however, seeing as one of CashFX's top promoters is based out of Montreal, Quebec.
Together with Justin Halladay from the US, Luigi Bruni profits from what is believed to be one or more corporate CashFX Group accounts.
Back on December 6th Bruni took to Facebook to show off a Rolex he'd received from CashFX Group founder Huascar Lopez.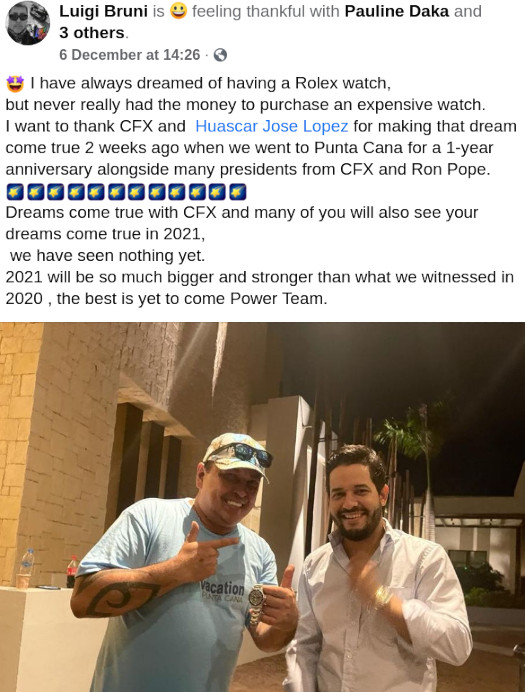 Having been up for a week, within 24 hours of BehindMLM publishing a screenshot of the post Bruni deleted it.
Whether authorities in Canada and US take further action against Bruni and Halladay remains to be seen. Authorities in the Dominican Republic have shown no interest in pursuing Huascar Lopez.
Quebec joins British Columbia, who issued their own CashFX Group securities fraud warning on November 10th.
Elsewhere in the world CashFX Group securities fraud warnings have been issued by the UK, Norway, Panama and the Bahamas.