Ted Nuyten and BusinessForHome stop shilling OneCoin

BusinessForHome's first article on OneCoin was published on April 1st, 2015.
Not a joke by any stretch of the imagination, in it Ted Nuyten reported on OneCoin's purchase of the Conligus affiliate-base.
This paved the way for victims who lost money in the original Conligus penny auction pyramid scheme to be double-scammed.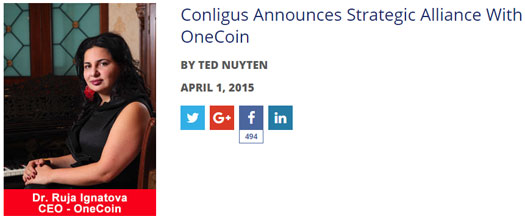 Rather than report on this disturbing development, Ted Nuyten simply parroted Aron Steinkeller's take and referred to it as a "strategic alliance".
After making millions off of recruitment of new victims into OneCoin over the next two years, Steinkeller and his brothers walked away from a reported $2.5 million a month income in May, 2017.
As for BusinessForHome, April 1st, 2015, marked a downward spiral in editorial oversight. Ted Nuyten, owner of the once-respected publication, would later justify this by claiming it was "impossible to answer" whether "OneCoin is legit or not".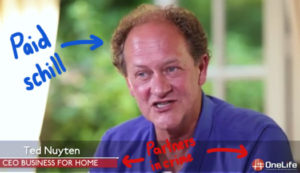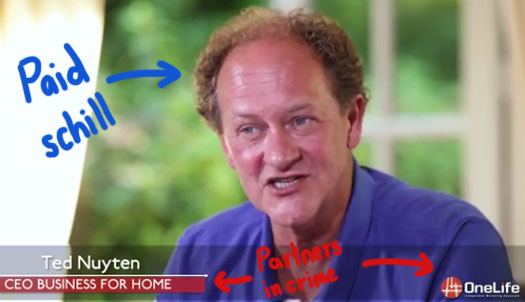 Since April, 2015, BusinessForHome has published articles on OneCoin at least once a month.
Any time there was a significant development with the company, typically regulatory warnings or banking issues, Ted Nuyten would have an article ready to go.
Typically these PR pieces boasted about a OneCoin affiliate in Steinkeller's OneDreamTeam downline earning hundreds of thousands of dollars or how much OneCoin as a company was fleecing from people each month.
After the Steinkeller brothers left OneCoin, Nuyten's coverage of OneCoin shifted focus to Igor Alberts and members of his downline. Nuyten also appeared in at least one OneCoin branded marketing video disguised as an interview.
This prompted speculation that either OneCoin, the Steinkeller brothers and/or Alberts were paying Nuyten to promote the scam.
Certainly none of the over a dozen OneCoin regulatory fraud warnings, bank account terminations, evidence of blockchain fraud, OneCoin affiliate arrests and the abrupt disappearance of key OneCoin personnel (including two CEOs), ever made it to BusinessForHome.
Instead Nuyten toed the line, everyone was making money all was well in OneCoin and anything to the contrary was "fake news".
In the fourth quarter there was a noticeable decline in BusinessForHome's OneCoin coverage. This coincided with a Bulgarian media report claiming founder Ruja Ignatova had been arrested.
Now in an article published earlier today, Nuyten claims Ignatova hasn't been seen since last October and that OneCoin is "out of control".
Friends, intimi, top distributors as corporate employees have not seen or heard about OneCoin – OneLife founder Dr.Ruja Ignatova since October 9 of last year.

Ruja Ignatova is the heart and soul of OneCoin – OneLife and has total control of the corporate operations.

As a direct result of the disappearance, the majority of active Top Leaders have recently left, disappointed, the company, pursuing other opportunities, as a ship without captain is unacceptable in Network Marketing.

As a result of the collapse of the network marketing arm of Onecoin – the Onelife network – we have decide to remove the top earners from the BusinessForHome ranks.
There is of course more as to why Nuyten is distancing BusinessForHome from OneCoin.
The second half of 2017 saw OneCoin management disappear and top investors flee the company, only to reemerge later as DagCoin affiliates.
These top investors have for the most part brought their OneCoin downline with them, resulting in a wave of victims now trying to "get in on the ground floor" of a new scheme.
As reviewed by BehindMLM in July, 2017, DagCoin is a OneCoin Ponzi clone launched by former investor Nils Grossberg.
The marketing pitch has technology behind the offering has changed slightly, however as with OneCoin none of that really matters.
There's money to be made convincing people to invest in DagCoin points, and so we have the same people responsible for millions of dollars in OneCoin losses pushing a new scam.
Ted Nuyten and BusinessForHome are seemingly on board to, following a January 8th article announcing Kari Wahlroos joining DagCoin.
After making millions on OneCoin recruitment and rubbing it in the faces of victims unable to cash out their money for over a year, Wahlroos ditched OneCoin for DagCoin in late 2017.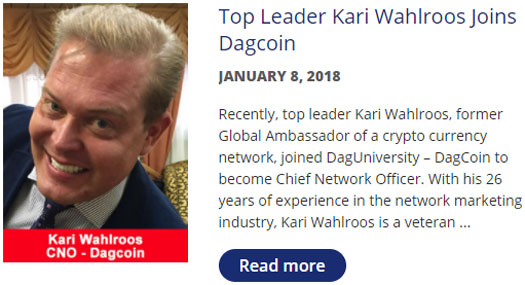 Nuyten was late to the party and still promoting OneCoin as of December 31st.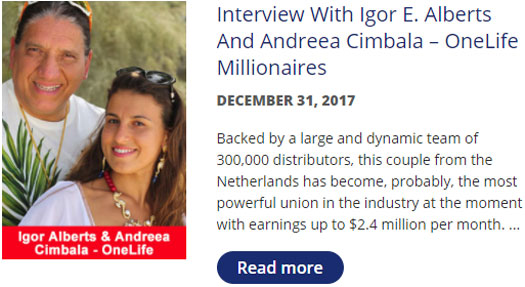 Point of interest: Igor Alberts has since also ditched OneCoin for DagCoin.
While it is true reload scams rarely do as well as their predecessors, the amount of OneCoin victims Kari Wahlroos, Igor Alberts and the rest of the European OneCoin clique have access to should not be underestimated.
Especially if they intend to have Ted Nuyten publishing "X makes $x million in DagCoin every month" spam on BusinessForHome again every few weeks.
As George Santayana famously wrote; Those who cannot remember the past are condemned to repeat it.
To recap OneCoin's brief history in the MLM underbelly;
OneCoin launched as an investment opportunity in late 2014, promising an ever-increasing ROI on invested OneCoin points.
Affiliates were only able to withdraw 60% of paid commissions, with the remaining 40% required to be reinvested into OneCoin points.
On the backend OneCoin set the value of a point, which only ever increased, and allowed affiliates to convert OneCoin points to real money through an internal exchange.
Thus affiliates were able to invest in OneCoin points and eventually cash them in for more money, funded by subsequent investment.
By January, 2017 OneCoin's ROI liability had spiraled out of control, prompting the company to suspend affiliate ROI withdrawal requests indefinitely.
While all this was going on, Kari Wahlroos, Igor Alberts, Sebastian Greenwood, the Steinkeller Brothers, Juha Parhiala and others at the top of the OneCoin affiliate genealogy, were being paid massive recruitment commissions.
This continued throughout 2017, although the suspension of ROI withdrawals had a severely negative impact on recruitment.
Despite flying around the world to speak at OneCoin events and promote the company, Ken Labine, known for disturbingly aggressive OneCoin marketing videos, recently confirmed he'd only been able to recruit two new investors into OneCoin in 2017.
I have not sold education package for OneLife for long time, I now decide to sell education for new university so i need to make it official, FYI I think I sold two education packages in 2017.
As of a few weeks ago Labine had also ditched OneCoin for DagCoin.
By the fourth quarter of 2017 OneCoin had all but collapsed. Ruja Ignatova took what probably amounts to hundreds of millions of dollars of invested funds and disappeared.
Ignatova's last known sighting was on or around October 21st, 2017, when she was seen sailing off the coast of Bulgaria in a $15 million dollar yacht.
The OneCoin faithful, having been promised access to their funds in late 2018, for the most part refuse to acknowledge they've been scammed.
Despite every indication pointing to Ignatova and co-conspirators doing a runner with their money, they'll likely only accept the inevitable after the October deadline has come and gone.
In the meantime DagCoin is now where OneCoin was back in early 2015. Once again investors, many of whom have accumulated staggering losses in OneCoin, are being encouraged to invest on the promise of cryptocurrency riches.
The same people who profited from their OneCoin misery, are now cashing in DagCoin recruitment checks each month.
Rather than acknowledge his role in enabling that and pledging to make editorial changes at BusinessForHome for the better, sadly it seems Ted Nuyten instead will once again be coming along for the ride.