Blockchain Dev: OneCoin using SQL database script to generate coins

Bjorn Bjercke refers to himself as "Mr. Bitcoin Norway" and works as a cryptocurrency blockchain developer.
As per his resume, Bjercke has
19 years experience with IT solutions, where of 12 years within the Banking and Finance sector.

In September 2013 my interest in Bitcoin sparked.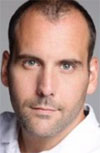 Bjercke (right) has been working as a "Project Manager / Bitcoin Block Chain Specialist" for Acando Norway since August, 2016.
Acando is a consulting company whose business concept is, in partnership with its customers, to create business value by enhancing and streamlining processes, organizations and digital solutions.

The Group has approximately 1,700 employees allocated over five countries. Acando had sales of more than SEK 2 billion in 2016 and is listed on the Nasdaq Stockholm.
Prior to Acando Bjercke was working as CEO of Right IT, a blockchain and bitcoin mining consulting company he founded in 2013.
It was during this time that Bjercke was approached by a recruitment firm, purportedly representing OneCoin, to develop a blockchain for them.
Bjercke claims he was approached by the recruitment firm Asenshia "about one year ago".
Asenshia is run by Nigel Chinnock and claim to be a 'specialist Executive Recruiter for the Direct Selling and Direct Marketing Industries'.
According to Bjercke, Asenshia approached him regarding a "C Level search".
We are currently working on a C Level search that may interest you. Can you suggest when you may be free for a call and the best number to reach you on?
A "C Level search" is recruitment jargon for trying to fill a high-ranking executive position.
Bjercke got in touch with Asenshia and learned they were looking for a blockchain developer.
Bjercke states the Asenshia representative "laid out all the details" of the position, but didn't mention it was with OneCoin till "the end" of the conversation.
If he accepted, Bjercke had been offered the position of Chief Technology Officer at OneCoin.
The 2.5 million figure triggered Bjercke's suspicions, which is what led to Asenshia's disclosing the company looking to hire was OneCoin.
As with most professionals in the cryptocurrency industry, Bjercke had already heard of OneCoin and considers it a scam.
Subsequently, Bjercke turned down the position.
That in itself isn't particularly of interest, but it provides the backstory for recent comments Bjercke made about OneCoin's cryptocurrency backend.
After recently coming across OneCoin affiliates promoting the scheme, Bjercke made the claim that at the time Asenshia reached out to him, OneCoin had no blockchain.
They are not mining coins but they are using a MS SQL server where they have scripted coin creation.
Bjercke's claim is based on his discussions with Asenshia, who explained to him the backend OneCoin was using at the time.
From what the rep. at ASENSHIA described, a non-technical person, it sounded much like a MS SQL, or could maybe but doubtful (be) Oracle DB, as that is way too expensive for this organization and without a credible CTO.

It was very clear from our conversation that they did not have a blockchain.
MS SQL is a
relational database management system (RDBMS) developed by Microsoft.

This product is built for the basic function of storing retrieving data as required by other applications.
SQL databases typically provide a backend for applications that require a lot of data storage. WordPress for example, the blogging platform BehindMLM runs on, uses a MY SQL database to store posts and comments published on the site.
A SQL database is certainly not something you'd be able to run a legitimate cryptocurrency on, much the less a blockchain.
OneCoin's use of a script to generate their cryptocurrency, as opposed to legitimate blockchain mining, has long been suspected.
It explains how the company is able to seize the OneCoin balance of any affiliate at any time, double affiliate OneCoin balances on a whim, increase the maximum number of mined coins, why "mining" of OneCoin was observed to be exactly ten minutes and why OneCoin is not listed on any public cryptocurrency exchange.
It is unclear whether, after Bjercke turned them down, OneCoin hired another individual or firm to develop a blockchain.
Last October the company doubled affiliate OneCoin balances at a promotional event in Thailand. At the event, OneCoin claimed they were launching a "new and enhanced blockchain".
To date OneCoin hasn't announced they've filled their vacant Chief Technology Officer position, at least not publicly.
The "new and enhanced" blockchain meanwhile still appears to be script-driven, following recent confirmation transactions between OneCoin affiliates do not show up on it.
In layman's terms, OneCoin not having an actual blockchain conclusively proves all they are dealing with are script-generated Ponzi points.
You invest money, OneCoin record an appropriate amount of OneCoins in their SQL database and when you cash out your OneCoin (based on an arbitrary value they set), pay you with subsequently invested funds.