OneCoin's Golden Gate Investments ICO is a sham

By definition, an ICO is
an unregulated means by which funds are raised for a new cryptocurrency venture.

In an ICO campaign, a percentage of the cryptocurrency is sold to early backers of the project in exchange for legal tender or other cryptocurrencies, but usually for Bitcoin.
Further differentiating itself from legitimate cryptocurrencies is OneCoin, who claim their planned 2018 ICO 'will not include or in any other way involve issuance of any currency'.
OneCoin's ICO in and of itself is a mess.
The initial plan was to "go public" back in 2015, when a certain number of premined Ponzi points had been distributed to affiliates.
That plan was thrown out the window (along with a planned US launch and public exchange listing), with OneCoin's "go public" date pushed farther and farther back since.
Earlier this year Ruja Ignatova encouraged affiliates to invest in OFC shares. This was on the promise of OneCoin as a company going public on an undisclosed stock exchange sometime in 2018.
That was scrapped within days of China announcing it was banning ICOs.
At the same time it was announced OneCoin would instead launch an ICO, with a goal of going public by October, 2018.
In the last twenty-four hours a website has emerged ("onecoinico.io"), purportedly sharing details of OneCoin's ICO plans.
Following tradition of OneCoin doing business through shady shell companies, the ICO appears to be branded "Golden Gate Investments".
No explanation about why OneCoin isn't launching an ICO under their own company name is provided.
In fact initially you might be forgiven for thinking the Golden Gate Investments website has nothing to do with OneCoin.
The OneCoin ICO website domain was recently privately registered on September 21st, 2017.
The website is hosted on the same CloudFlare name-servers as the official OneCoin and OneLife websites, strongly suggesting both are proxied through the same OneCoin corporate CloudFlare account.
Additionally, a footer message on the OneCoin ICO website reads;
OneCoin Ltd. was founded in 2014 with the vision to become the number one cryptocurrency in terms of coin utilization and number of users.
That should be enough to confirm the OneCoin ICO website was set up by OneCoin, despite the Golden Gate Investments branding.
Moving onto the ICO itself, the presented Terms and Conditions is where OneCoin's ICO falls apart.
As per the quote at the start of this article, OneCoin claim their ICO 'will not include or in any other way involve issuance of any currency'.
This is an odd claim to make, seeing as OneCoin have been insisting it's a bona fide cryptocurrency since launch.
So if OneCoin's ICO has is not the company issuing a cryptocurrency, what the heck is it for?
The tokens to be sold during the ICO are merely cryptographic tokens existent, that enables usage of and interactions with services enabled, if successfully completed and deployed.

Such tokens are not redeemable, associated with financial return or backed by any underlying asset or repurchase commitment and do not necessarily have market price.
Tokens? You mean the same Ponzi points OneCoin affiliates have been investing in since 2014?
Having already issued worthless OFC shares, OneCoin appear to be attaching them to an ICO, which itself isn't really an ICO.
Affiliates will still invest in OFC shares, which OneCoin are now referring to as OFC tokens.
Confused? Yeah… that's by design.
In a legitimate cryptocurrency, affiliates would invest in a OneCoin cryptocurrency. Once the ICO period is over, that cryptocurrency would launch publicly and whatever happens happens.
Instead, with millions of dollars invested in worthless Ponzi points OneCoin has represented are internally worth billions, they've come up with this mess:
Strictly speaking, the OneCoin cryptocurrency Coin Offering is not an INITIAL coin offering.
In a peculiar turn of events, OneCoin's ICO would appear to be funded by ethereum and bitcoin.
In case a Participant sends Etherium [sic] from a wallet where the participant does not possess the control private key for, then the Participant can not claim OFC (name of tokens) and a new ones can not be generated.

By using Bitcoin and/or Etherium [sic] to purchase the OFC (name of tokens) (…)
This isn't so unusual, save for the fact OneCoin affiliates won't be able to cover OFC shares with their Ponzi points (OneCoin know the points are worthless).
Oh and uh at one point OneCoin was marketing itself as the "bitcoin killer". Awk-ward.
So anyway, what happens next?
According to the OneCoin ICO website affiliates will be able to start investing in the ICO from October 25th, 2017 through to October 8th, 2018.
After October 8th the company will 'start converting OFCs into ONE'.
On October 8, 2018 all participants that own OFCs will be able to convert them into coins.

That means that OneCoin cryptocurrency will become publicly traded; second, that people who hold OFCs will be able to exchange them for OneCoin cryptocurrency.
Advertised investment amounts for OneCoin's ICO are
150 EUR for 1500 OFC
1100 EUR for 20,000 OFC
5500 EUR for 100,000 OFC
11,000 EUR for 300,000 OFC
This time around there's no "education materials" ruse or attempt to mask OneCoin affiliates are investing directly in Ponzi points.
Between now and October, 2018, if the sham goes tits up, OneCoin have included a clause wherein they attempt to conveniently wash their hands of any losses;
Anything related to the ICO or the OFC (name of tokens) could be updated, changed or modified at such time and in such manner as the GOLDEN GATE INVESTMENTS LLC may think appropriate.

In no event Golden Gate Investments LLC shall be liable for any claim, damages or other liability.
Oh and finally there's this gem:
 The OneCoin cryptocurrency is not pre-mined, meaning that the users create the market.
Which begs the question, what on Earth have OneCoin been selling affiliates for the past three years?
Claims of OneCoin running their "cryptocurrency" on a SQL database began earlier this year in February.
OneCoin confirming they don't and won't have a cryptocurrency script going till October, 2018 all but seems to confirm this.
Ultimately it seems OneCoin's latest ICO attempt is a distraction from the abrupt departure of CEO Pierre Arens.
Arens positioned himself as instrumental in OneCoin's future, but quit amid claims he had a 'lack of leeway as a leader.'
Or in other words, Arens wasn't able to run OneCoin as he saw fit.
The takeaway from that is this current OFC tokens/Ponzi points ICO that isn't an ICO plan wasn't something Arens signed off on. Such that he'd walk away from however much OneCoin have already paid him and no doubt millions of stolen investor funds had he stuck around.
And after everything you've just read, why Arens suddenly quit should be painfully obvious.
Ruja Ignatova meanwhile is believed to be hiding out in a $15 million dollar yacht off the coast of Bulgaria.
Update 26th October 2017 – In the few hours since I began researching this article OneCoin have already begun making changes to their ICO website.
The title of the website was initially "OneCoin ICO":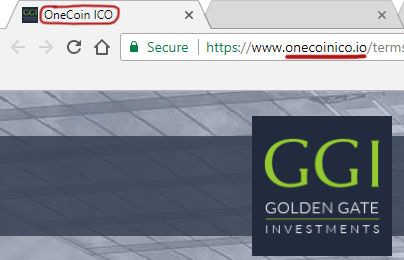 In the last hour or so this has been changed to "GGI Coin Offering".
The OneCoin LTD footer message cited in this article has also been changed to:
Golden Gate Investments LLC is a limited liability company, registered and existing under the laws of UAE, Dubai, possessing a commercial license in Dubai #789666 .

The Company is engaged in various activities, including but not limited to investment and management of commercial enterprises.
This suggests Golden Gate Investments is yet another shell company set up by OneCoin, likely in an attempt to circumvent the company's financial regulatory blacklisting.