OneCoin demotes Kari Wahlroos, Frank Ricketts returns?

Amid rumours Kari Wahlroos had, despite keeping up appearances, effectively left OneCoin, today the company announced he's been demoted.
Wahlroos joined OneCoin in 2015, after jumping ship from Wellstar.
The departure of Wellstar's "No1 and the most successful leader" didn't go down well, leading to a public spat between Wahlroos and Wellstar management.

Upon joining OneCoin Wahlroos was given a cushy position in the compensation plan. With a seemingly endless corporate travel budget, Wahlroos (right) was titled "Ambassador" and spearheaded OneCoin recruitment globally.
Wahlroos credits himself with hosting "466 events all over the world".
As at the time of publication, Wahlroos has thus far failed to explain what happened between him and OneCoin.
Questions from OneCoin affiliates on Wahlroos' social media profiles have gone unanswered, with Wahlroos stating only that he's "out".
After the brief disappearance of Wahlroos' "OneLife Ambassador" Facebook profile, OneCoin issued an announcement confirming termination.
Effective today, December 4, 2017, Mr. Kari Wahlroos, will no longer serve the role of OneLife Network European Ambassador.

This news follows a series of reports issued on his activities as an independent marketing associate.

Due to consistent miscommunication and misrepresentation of the OneLife Network operations and strategy, the management team of OneLife has taken the unfortunate decision to demote Mr. Wahlroos from all his activities and responsibilities for the Network.

The company has experienced serious legal consequences, following Mr. Wahlroos' behavior on and off stage, indirectly damaging its credibility and reputation.
While at first glance it might appear Wahlroos has been terminated, if you read again you'll find he's only been demoted.
Kari Wahlroos is not a complete idiot, he as much as anyone else can see OneCoin's growth phase is pretty much over.
At present all we've got to go on is an unconfirmed report that Wahlroos has attached himself to DagCoin, a OneCoin Ponzi clone launched by a former investor.
Be it DagCoin or some other company, at the very least Wahlroos appears to be positioning himself to begin promoting something.
Three hours ago Wahlroos declared on Facebook, "after successful meetings in Manila – next stop is Dublin!"
Perhaps the most intriguing aspect of Wahlroos' demotion however is his attitude towards it.
Wahlroos has been touting OneCoin as a gateway to riches for over two years now. Given he seems to have just lost access to that gateway, I'd say he's taking it rather well.
Like its recent other high-profile departures, the problem for OneCoin is that Wahlroos knows too much.
OneCoin can't stiff Wahlroos out of money as they might a lesser affiliate, because the likely backlash would destroy the company.
The only explanation for Wahlroos' attitude that fits is his demotion hasn't cost him much. In fact I'd even go so far as to say it paid off.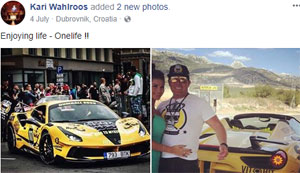 OneCoin has been very good to Wahlroos. Most of his earnings though are from recruiting (direct commissions) and an under the table salary.
Wahlroos probably has somewhat of a OneCoin point balance, although I don't think he's stupid enough to privately put any value on it. Had Wahlroos been making enough on recruitment commissions at the time of his termination, there'd likely have been an uproar.
Instead he's gone quietly, which means whatever Wahlroos was making, he hasn't been for some time. MLM "leaders" don't go looking for greener pastures unless commissions dry up.
As to why Wahlroos is being coy about his departure (OneCoin have after all blamed him for regulatory issues), I think that's likely due to a pay off (probably the same as Pablo Munoz and Pierre Arens).
Either that or Wahlroos spilling the beans would reveal mutual liability for himself and OneCoin.
In any event, Wahlroos' demotion has seen OneCoin dig up Frank Ricketts again.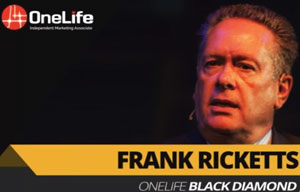 After selling off his The Opportunity Network affiliate-base to OneCoin in early 2016, Ricketts, was given a Black Diamond position in OneCoin's compensation plan.
Ricketts made an appearance at a few OneCoin events after the sale, and then retired quietly to live off passive OneCoin commissions.
With those commissions likely dwindling, Ricketts reemerged at OneCoin's recent Bangkok event.
In a peculiar speech, Ricketts was adamant on distancing himself from OneCoin management;
Last night, round about midnight, I actually accepted, after long talks, to take on the role of Global Network Consultant to and for Sebastian, and for all leaders around the world and for every member of OneLife, no matter where you are.

That is the role I'm taking on. [APPLAUSE]

I am NOT joining the company OneLife in management, administration or anything else.

I'm an independent individual with my own letterhead on my own personal company where in the past I have done a lot of consultancy work for various companies, also outside of the network marketing industry, and please make that very very clear that that is what this is all about.
Reading between the lines and given the timing, it's pretty obvious Ricketts is Wahlroos temporary replacement. Towards the end of the Wahlroos demotion announcement, OneCoin stated it was working on a "newly developed program" that will grow "a new generation of leaders and network marketing professionals".
Unfortunately whereas Kari Wahlroos presented OneCoin with a seemingly narcotic-induced level of enthusiasm, Ricketts has the personality of a sedated Santa.
The rest of the OneCoin "leaders" doing the rounds are nothing more than large investors in their respective locales, with OneCoin evidently unable to attract any well-known talent.
OneCoin's (part) owner Ruja Ignatova remains in hiding.
I believe Ignatova's last public appearance was the July, 2017, FAQ video, in which it was announced public trading was yet again delayed.
That was five months ago, with Ignatova not seen or heard from in public since.