Ruja Ignatova arrested in Germany, report Bulgarian media

Despite OneCoin being in turmoil following a disastrous ICO that's not an ICO announcement, there hasn't been a peep out of management.
With Pierre Arens walking out last month, it was expected that at some point Ruja Ignatova would come out of hiding to address OneCoin affiliates.
That hasn't proven to be the case, with a media report out of Bulgaria now claiming she was arrested in Germany a week ago.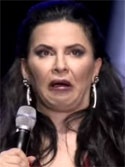 According to Nbox, Ruja Ignatova (right) was arrested by authorities as she tried to enter Germany.
Nbox claims Ignatova was arrested at Munich airport, following an investigation triggered by an unnamed German bank.
Nbox's anonymous source(s) claim the investigation was a result of alleged "financial manipulation", which saw the bank fined over €300 million EUR.
In mid 2016 Germany's top financial regulator announced they were investigating OneCoin. At the time OneCoin was laundering investor funds through German banks, which promptly ceased once news of the investigation broke.
Deutsche Bank continued to service OneCoin for two months after BaFin announced its investigation. OneCoin Deutsche Bank account was finally closed on or around August 19th, 2016.
By April, 2017, authorities in Germany had frozen an estimated €29 million EUR held in various OneCoin shell company accounts.
On April 5th IMS International Marketing, one of OneCoin's aforementioned shell companies, was issued a cease and desist and threatened with fines totaling €1.65 million EUR.
Finally in May, 2017, the Bielefeld Public Prosecutors Office confirmed an ongoing fraud investigation into IMS and OneCoin.
This isn't Ignatova's first run in with the law in Germany. A few years ago Ignatova and her father were
convicted of 24 counts of fraud in Germany, stemming from the 2012 bankruptcy of Waltenhofen Steelworks.

Ignatova and her father pled guilty to charges of embezzling money from employees and suppliers, bank fraud, fraudulent accounting practices and even attempting to unbolt machinery to ship back to Bulgaria.

She received a suspended jail sentence of one year and two months.
Nbox also claim Ignatova has been under surveillance in Bulgaria for some time, but fail to cite any specific sources.
Whether Ignatova remains in custody is unknown.
Last we heard she was holidaying off the coast of Bulgaria in a $15 million dollar yacht. Ignatova has purportedly been partying on the yacht, at the expense of OneCoin investors, since at least mid July.
Her arrest would certainly explain OneCoin management's silence over the past few weeks.
As far as I can tell Nbox Bulgaria is a reputable publication. I don't believe we have another Gerlach Report on our hands but the lack of cited sources is of concern.
Hopefully a clearer picture of the situation emerges in the coming week. Stay tuned…
Update 7th November 2017 – As of November 7th, official confirmation of Ignatova's arrest has yet to surface.
Update 9th November 2017 – The Munich General Police Commissioner and Bielefeld and Munich Public Prosecutor's Offices have each denied Ignatova was arrested last Saturday.