Steinkeller Brothers walk away from $2.5 mill monthly OneCoin income?

Siting atop the One DreamTeam OneCoin affiliate downline, the Steinkeller Brothers were purportedly taking home around $2.5 million dollars a month (so claims Ted Nuyten).
With an established group of victims in One DreamTeam doing most of the recruiting work, all the brothers had to do was put in appearance at OneCoin events and continue to bank millions of dollars.
In the midst of OneCoin promising all manner of things in 2018 (OneCoin going public and actual third-party acceptance of the coin etc.) and the value of OneCoin continuing to rise (as set by the company), the Steinkeller Brothers have announced they're abandoning ship.
Wait… what?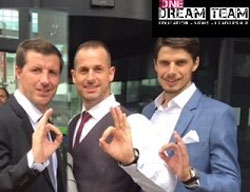 The Steinkeller Brothers walking away from OneCoin makes little sense on the surface.
These guys have been trying to crack it in the MLM industry for years (Conligus, Organo Gold) and what, now they've hit the big time they're quitting?
As per a press-release issued by OneCoin a few hours ago;
Christian, Aron, Stephan Steinkeller and Staffan Liback … have recently decided to devise a new leadership structure that will reflect better on their ambitions and goals for the next few years.

Aron, Christian and Stephan Steinkeller will retire from the network marketing business to go long-term on new exciting, confidential project, outside the MLM business.

"The time has come for a new change, we will make a full cut and not leave any bridges behind, in order to be able to focus 100% on the new projects to come.", the Steinkeller brothers shared.
According to the press-release, the lesser-known Staffan Liback has been given the reigns of One DreamTeam.
How much the Steinkeller Brothers have stolen from OneCoin affiliates since 2014 is unclear.
I can't imagine walking away from the company came cheaply though, although who paid off who to make it happen within the company is unclear.
Looking at the bigger picture, surely the irony of top affiliates purportedly making millions of dollars and preaching the future of OneCoin now abandoning the company isn't lost?
Why spend two and a half years building OneCoin up as the "future of currency" if all you're going to do is cut and run?
What, suddenly the Steinkeller brothers don't believe their OneCoin point balances are worth what the company says they are? Recruitment has dropped so much that they're getting out while they can?
A super-secret "confidential project" is clearly not why the Steinkeller Brothers left OneCoin.
One possible reason for the Brothers opting to disappear, and one which OneCoin to date has thus far failed to publicly address, is increased regulatory scrutiny surrounding the company.
Following recent arrests in India and a constant stream of regulatory action globally (Curaçao and Sint Maarten, Austria, Slovenia and Hungary all in the last month alone), the heat OneCoin's top affiliates are feeling must be incredible.
Indeed Juha Parhiala, who Ted Nuyten claims is making $4.8 million dollars a month, recently stopped using his own name to boast about his earnings. Parhiala now refers to his OneCoin business as the generically bland "World Wide Solution".
In the Steinkeller Brother's home country Italy, OneCoin was deemed a pyramid scheme and banned back in February.