USFIA MLM cryptocurrency Ponzi busted, OneCoin next?

If I was sure of anything MLM this year it was that by the end of the year, we'd see at least one MLM cryptocurrency offering busted by regulators.
That cryptocurrency was USFIA's GemCoin, busted earlier this week by the SEC.
As with the MLM penny auction craze sparked by Zeek Rewards a year back, MLM cryptocurrencies are now popping up all over the place.
Not that that in and of itself is a problem, but to date I've yet to see one that isn't just a rework of Zeek's Ponzi points business model.
Of the current crop of MLM cryptocurrencies, by far the most visible is OneCoin.
What with USFIA's GemCoin cryptocurrency revealed to be nothing more than a $32 million dollar Ponzi scheme, today I thought we'd take a look at the similarities between the two.
Both OneCoin and USFIA are based on the concept of affiliates investing in packages, in exchange for points.
GemCoins in USFIA and OneCoins in OneCoin.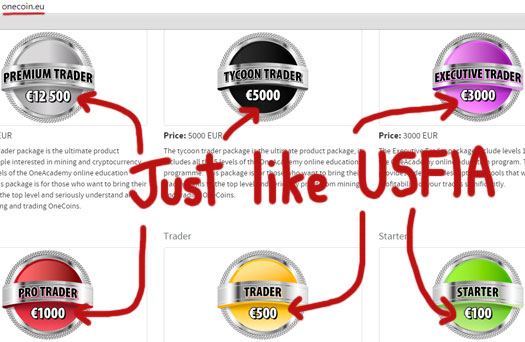 These points are numbers on a screen, allocated to affiliates based on their own investment and, through an MLM compensation plan, funds invested by their recruited downlines.
Both cryptocurrencies are private and subsequently not recognized by the wider cryptocurrency community.
Unfortunately it's a bit difficult to argue legitimacy when firstly nobody can actually use your cryptocurrency. And then even if they could, that nobody except your affiliate investors are even remotely interested in the coin is a problem.
To that end both USFIA and OneCoin have implemented their own responses to these problems.
USFIA attempted to frame GemCoin as having been bought into by the US government, with plans announced to roll out some 3000 GemCoin cafes and ATM machines around the US.
OneCoin have their coin generating process audited each month by a third-party, created a casino site nobody uses and listed OneCoin on their own exchange (again that nobody except OneCoin affiliates use).
None of those implementations however have resulted in the widespread acceptance and use of OneCoin outside of the affiliate network (income opportunity).
Thus the latest announcement from OneCoin is that they've recently acquired 180 global banking licenses.
(OneCoin) has acquired a hundred and eighty banking licenses, to legally own their own banks, their own branch and their own office, inside all one hundred and eighty countries that we operate in.
One of those countries is purportedly the US.
On that note though there is marked difference between OneCoin and USFIA that needs to be addressed.
USFIA were based out of the US and had US principals running the show. OneCoin have principals in the EU, with business operations believed to be based out of Asia.
Despite "officially launching in the US" earlier this year, OneCoin has no corporate presence in the US. For what by now should be obvious reasons.
A week before the SEC shut down USFIA, owner Steve Chen tried to siphon off what was left to a bank in Asia.
Why?
Because that's probably the last anyone would ever seen of that $7 million. Chen would have then disappeared shortly thereafter and at a later date, turned up in a country without a US extradition treaty.
Simply put, Ponzi regulation in Asia is nowhere near the level it's at in the US.
Thailand had a good crack at it with busting the uFun Club cryptocurrency Ponzi scheme earlier this year, but uFun management just renamed the scheme and retreated to Malaysia.
To this day they continue to scam people out in the open, with Malaysian authorities having not lifted a finger against them.
This despite Thai authorities estimating uFun Club has received over a billion dollars in investment from affiliates.
It is this lax regulatory landscape that Steve Chen sought to escape to, and from where OneCoin conduct the bulk of their operations.
By design, OneCoin evades markets it knows scrutiny of the scheme won't hold up in. And in the world of MLM and cryptocurrencies, that's the US.
Otherwise, there's really nothing differentiating USFIA's GemCoin from OneCoin.
Both solicit thousands of dollars (EURs in the case of OneCoin), in exchange for virtual points.
These points are advertised as only ever going up in value, with the value controlled internally by USFIA and OneCoin respectively.
Both schemes have no identifiable sources of revenue, other than affiliate investment, meaning it is these invested funds that are being used to pay off existing investors – based of course on accumulated points.
In the most paper-thin of attempts to appear legitimate, both USFIA and OneCoin bundle token products and services with invested funds.
USFIA gave investors worthless amber, OneCoin give investors access to worthless training. Neither of which have anything to do with the sustainability of the business, which relies solely on a constant stream of newly invested funds.
All that said and done though, OneCoin does have an affiliate presence in the US – and those affiliates are trying to get the scheme off the ground.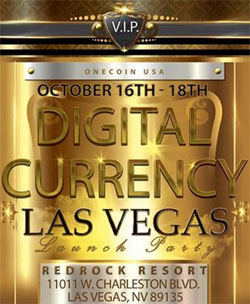 To that end there's a scheduled OneCoin US event on October 16th to 18th, purportedly taking place in Las Vegas the Red Rock Casino Resort & Spa.
Whether or not OneCoin corporate make a showing remains to be seen.
But even if they did, one event is probably not enough for US regulators to intervene. After the event OneCoin corporate will go back to EU and lie low.
What we haven't yet looked at though is a potential joint-operation between US and EU regulators, specifically those in Bulgaria.
By now OneCoin has probably hit well into the billions as far as financial fraud goes, and I suspect even as I'm writing this is triggering financial money laundering filters across the globe.
I don't know how much longer Bulgaria can continue to ignore pressure from financial regulators in other countries, but I suspect, at least on a rudimentary level, that investigations are currently underway.
OneCoin hasn't quite yet hit Zeek Rewards or TelexFree critical mass, but Alexa statistics show they are well on their way:

Like any crime, Ponzi scheme operation is most effective when simmered at just below the murky depths. A raging inferno of public spectacle is a one-way ticket to regulatory oblivion.
So what's the bottom line, where am I going with this, when are the SEC going to shut down OneCoin?
You'd have to be pretty clueless to not observe OneCoin's reluctance to establish itself in the US. And whereas investors in Asia might be more inclined to not ask questions, that's not going to be the case in the US.
Investors there are actively trying to build investment in OneCoin, but are currently hindered by being unable to answer why OneCoin are based in EU and relying on dodgy banking channels in Asia.
The Las Vegas event in a few weeks could trigger a turning point, but that's not going to happen as long as OneCoin is some distant opportunity you send your money off to and hope for the best.
US investors will want local management able to handle their queries in question.
That's a problem for OneCoin, because the recent shutdown of USFIA guarantees they'll share a similar fate if they integrate too much there.
Meanwhile OneCoin are running out of Asian countries to spread to, with early investors reportedly withdrawing millions daily.
That's a recipe for disaster and OneCoin know it. The bigtime Ponzi money is in the US and they need it.
The Alexa chart above shows traffic taking off in January, which ten months later, puts us right in the middle of crazy town – that point when Ponzi schemes of this magnitude start to come off the rails.
I suspect by the end of the year, April or so next year at the latest, we're going to see financial institutions start to clamp down. That of course won't be publicly advertised, with OneCoin affiliates unable to access funds the only sign it's happening.
Based on what happens after the Las Vegas event, we might see US regulatory intervention (on what though I'm not sure). Otherwise they'll just continue to observe.
Nothing's going to happen in Asia, for the same reason it won't in the US – OneCoin are only using the continent as a Ponzi piggy-bank, they're not actually based there.
Even without regulatory intervention though, the ROI liabilities OneCoin are generating with their "only ever increases in value" points are going to reach astronomical levels come 2016.
Due to the structure of the company, the question is not so much of just shutting it down, but how to ultimately minimize investor losses when the time comes.
My best guess is we're going to find out what the course of action is by mid next year at the latest.
The takeaway from the USFIA bust earlier this week is that MLM opportunities soliciting package investments in exchange for points, irrespective of whether those points are branded a cryptocurrency, constitute a Ponzi scheme.
That said, regulation of MLM cryptocurrencies is very much fledgling territory. I'm right here watching it unfold with the rest of you.