uFun Club Ponzi scheme rebranding as Unascos?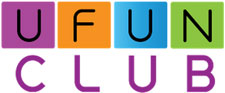 With over ten countries actively investigating the scheme, problems with payment processors and the scheme likely appearing on a number of financial fraud alert lists – day to day operations at uFun Club have ground to a halt.
The latest blow saw investors formed that the new backoffice platform, which was supposed to be launched on the 15th, had been "delayed until further notice".
Now, under the name "Unascos", it appears uFun Club are looking to rebrand themselves.
As of yet I haven't seen any official announcement, but the banner below is currently being circulated by uFun Club investors: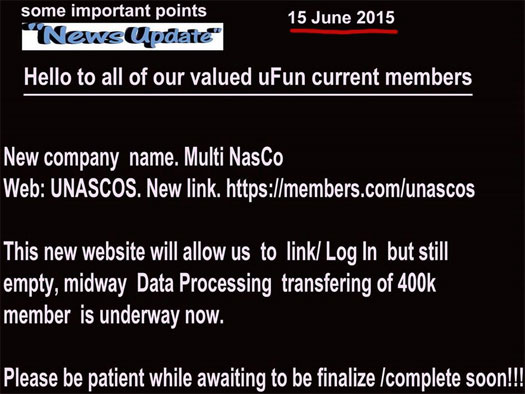 Yes it looks like it was put together in MSPaint, but there does appear to be some validity to the claim.
The domain "unascos.com" is currently live, but parked on a "coming soon" page: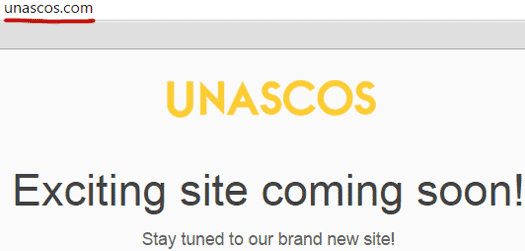 The domain itself was registered on the 19th of May. The registration itself is private however, so no further info there.
From what I've been able to gather, Unascos (sometimes referred to as "Multi-Nasco"), is being touted as uFun Club's stake in EcoLohas.
EcoLohas was featured in a series of presentations held in Chengdu, China over the last few days – which on the surface had nothing to do with uFun Club.
Trying to put all of this together, my guess is that with uFun Club synonymous with Ponzi fraud, management are having trouble laundering funds into shell companies.
So now you've got Unascos and Multi-Nasco, which may or may not have anything to do with EcoLohas, which will permit them to open up new banking channels.

That might work for a few days, maybe even a few weeks, but it's not going to take much for regulators to work out what's going on.
One possible reason for the Unascos platform delay might be the following "account suspended" message, currently appearing on the investor login: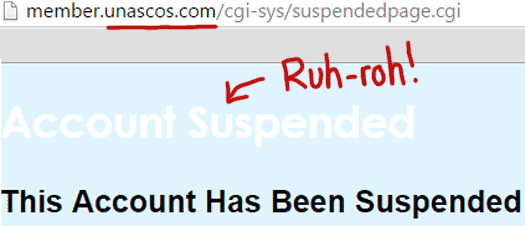 Currently I'm not sure who suspended uNascos' platform hosting or why.
In the meantime we can toss Unascos and Multi-Nasco onto the ever-growing list of hype-trains uFun Club are feeding their investors.
In the meantime expect a mountain of uFun Club investor spam touting Unascos and Multi-Nasco as as economic wonders, none of which will amount to anything.
On the regulatory front we still haven't heard anything out of Thailand regarding the criminal report which was supposed to be filed on Monday.
At this point I'm starting to think it might have been filed under seal, which would assist regulators in other countries with conducting their own investigations under the radar (Malaysia in particular if that's the case).
In any event, hopefully we hear something further on the status of the Thai criminal case by the end of the week.
Stay tuned…