Inside USFIA: Guns, Obama, amber, visa fraud & Wuo

The SEC's civil case against USFIA has finally been unsealed, with a declaration filed by SEC attorney spilling details on the investigation.
As per a declaration by Peter Greco, filed on September 28th;
In November 2014 the SEC began to receive information from individuals claiming to have invested in, and been defrauded by USFIA.

The matter was assigned to me for investigation.
It was in these initial stages of the investigation that the SEC became aware of a concurrent FBI criminal investigation.
At about the same time, I was informed that the FBI was conducting its own undercover investigation into USFIA.

I had several conversations and meetings with representatives of the FBI to discuss coordination of our respective investigations.
At the forefront of these discussions was concerns from the FBI that an overt SEC investigation might compromise criminal proceedings.
The criminal authorities were concerned that overt investigatory efforts by the SEC might compromise their undercover investigation and alarm one of the subjects of that investigation, whom they believed to pose a flight risk.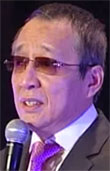 The individual referenced above is almost guaranteed to have been Steve Chen, owner of USFIA (right).
Taking the FBI's concerns under advisement, the SEC struck a deal with the agency that would see them take a back seat.
Accordingly, an agreement was reached that the SEC would, at least temporarily, refrain from issuing subpoenas or taking other overt investigative action, and the criminal authorities would share bank records and other documents and information it obtained in the course of its investigation.
Had the FBI of not been investigating, we might have seen regulatory action taken against USFIA much sooner. On the flip side though, the FBI were given additional time to put together a concrete criminal case against Chen.
Greco's declaration goes on to identify several top promoters of GemCoin, based out the various countries it solicited investment in:
Wendy Liu (USA) – owner of alliancefinancialgroupusa.com and ahomeusa.com (used by Steve Chen to offer EB-5 visas to USFIA investors)
Richard Mertz & Numora International Inc. (USA) – owner of gemcoin-usfia.com
Phillippe Dupuis (France) – owner of gemcoin-investment.com
Tze Hong Sim (Singapore) – owner of investgemcoin.com
Ethan Zhang (Canada) – owner of 1gemcoin.com, identifies Yan Chen (Steve Chen's brother) as the purported owner of an amber mine in the Dominican Republic
Sebastian Catusse (Switzerland) – owner of gemcoin.ch and usfia.ch
Also detailed specific experiences by USFIA investors, detailing the spectacular claims used to market USFIA and the ultimate collapse of the scheme.
Between August and September 2015, five USFIA investors were interviewed by FBI, SEC and IRS investigators.
Their experiences, as recounted to US regulators, provide a fascinating first-hand account of what it was to be a USFIA GemCoin investor.
Investor A first learned of USFIA from his friend, YuTing "Sharon" Sun.

Sun had taken part in a beauty contest sponsored by USFIA, won some prize money and invested it in USFIA.

A few days after learning of it from Sun, in or about September 2014, Investor A visited USFIA's offices in Arcadia.

He met individually and collectively with four individuals during that visit: Steve Chen, Kevin Hsiao and another male and a female whose names he did not recall.

Hsiao told Investor A that USFIA was going to open about 3000 coffee shops in the next three years.

He also told him that if Chen invested $30,000, he would receive $60,000 worth of GemCoins – twice the usual amount, as he was eligible for an "early investor bonus" – as well as $30,000 worth of amber.

Hsiao compared GemCoin to BitCoin, with which Investor A was familiar, and told him that USFIA had approximately $50 billion in assets, which included amber mines in the Dominican Republic.

One of the individuals he met with – he did not recall which one- told him that he would be able to withdraw or sell his GemCoins 60 days after investing.

When Investor A met one-on-one with Steve Chen, Steve Chen was sitting at his computer.

Steve Chen looked up from the screen and told Investor A that GemCoins were currently valued at 5.46 cents apiece.

In September 2014, Investor A invested a total of $30,000 in USFIA.

Investor A's primary reason for investing was that he believed in the potential for appreciation in the value of GemCoins. Although he received amber as well as GemCoins, the amber was a secondary consideration.

Sixty days after investing, Investor A was able to auction his GemCoins on the members-only portion of USFIA's internet website.

It was at this time that he was told for the first time that he could only auction 5 to 10% of the value of his original investment at a time, and further, that he would receive only 75% of the sales proceeds.

The remaining 25% would automatically be reinvested as GemCoins.

This limitation on his ability to sell his GemCoins had not been disclosed to him prior to investing.

In 2015, Investor A received from USFIA a 2014 form 1099-Misc indicating that he had received a total of $9,598.98 in "employee compensation".

The amount indicated exceeds the sum of four checks he received from USFIA for the only GemCoin sales that he completed.

At one point, the USFIA website indicated that Investor A's account held about $200,000 worth of GemCoins.

In late 2014, USFIA blocked investor accounts from auctioning GemCoins and refused to honor withdrawal requests.

Kevin Hsiao told Investor A that it was a temporary interruption caused by efforts to upgrade their internet connection, and advised him to sell once te upgrade was completed because the price of GemCoins would increase.

In early 2015 the auction feature still had not been restored, and Investor A went to USFIA's office to redeem his investment.

USFIA refused to honor his request.
Investor B's experience goes back even further, pre-GemCoin when USFIA were selling investment units.
In December 2014 a friend invited him to dinner at USFIA headquarters in Arcadia.

After the meal Kevin Hsiao and Jason Ning made a presentation about USFIA to the 20 or so potential investors in attendance.

Hsiao and Ning made the following statements:

USFIA was going to have an initial public offering of its stock within the next six months, and was currently offering investors the opportunity to purchase pre-IPO stock in the form of units of USFIA.
Someone investing $10,000 in USFIA would receive 10,000 units in USFIA.
USFIA units were guaranteed to increase 64 times in value when USFIA went public.
USFIA owned 70% of the amber mines in the Dominican Republic.
In addition to receiving units, investors in USFIA would receive amber.
A person investing $10,000 would typically receive $3,000 worth of amber in addition to 10,000 units, but they were in a bonus period during which a person investing $10,000 would receive $7000 worth of amber instead, in addition to 10,000 units.
The amber was guaranteed to increase 64 times as well.

Investor B was not convinced he should invest in USFIA at that time.

As a result, he attended another presentation at USFIA's offices the following week.

At that presentation, Kevin Hsiao spoke again and was joined by Steve Chen.

Chen repeated the same claims about an investment in USFIA that Hsiao and Ning had made at the prior presentation.

In addition, he made a number of new statements, including:

USFIA was led by U.S.-China Consultation Association (UCCA), which consisted of Steve Chen, John Wuo, Solomon Yang and Kun Jiang.
John Wuo (right with Chen), is a Councilman and former mayor of the City of Arcadia. He has consistently denied involvement in USFIA or their GemCoin scheme.
UCCA had been formed by the government of the United States and the People's Republic of China (PRC) to serve as a conduit between the two nations and to resolve conflicts between them.
UCCA had brokered an agreement between the USA and PRC to allow to exportation of shale gas extraction techniques, commonly referred to as "fracking", by the USA to the PRC.
UCCA reported to the presidents of the USA and PRC.
UCCA reported to the White House through Leonary Johnson, it's vice-president, who is the younger brother of the White House Chief of Staff.
The USA and PRC wanted to fund UCCA, but that Steve Chen had refused their offer because he wanted to maintain its independence.
Steve Chen had once been the under-secretary to the PRC's Secretary of State.
Steve Chen had founded China Unicom, brought it to a successful IPO in the United States, and would use the experience he had acquired doing so in bringing USFIA to an even more successful IPO.

Investor B was impressed with Chen's presentation and, a few days later, decided to invest.

The most important factor in his decision to invest was Chen's assertion that the United States government had endorsed UCCA, and by extension, USFIA.

In total his family invested $40,000 in principal and $22,000 in credits received for referring other investors.

At one time Investor B's personal account was reported to be worth more than $250,000.

Investor B's principal motivation for investing was to acquire pre-IPO stock in the form of units, which he anticipated would increase greatly in value when USFIA went public.

Chen and others at USFIA had represented that upon the IPO, each unit in USFIA would be converted into a share of USFIA common stock.

Investor B considered the amber to be a bonus for investing rather than a primary reason for doing so, and he suspects that most investors felt the same way.

But in early to mid-2014, USFIA began to describe its offering as the purchase of amber with a "gifting" of units.

And in August or September 2014, USFIA began calling the units "GemCoins" and began describing its offering as the purchase of GemCoins with a "gifting" of amber.

When Investor B made his initial purchase of units, he was told that he could sell or "auction" them for cash on the USFIA website, within 60 days.

But when he tried to do so, no sale occurred.

He complained to USFIA and was provided multiple explanations for the delay and multiple dates by which the sale of units and withdrawal of the corresponding sales proceeds would commence, but all of those dates came and went and he has never been able to do so.

He currently has 1.5 million units but is unable to sell or convert into cash any of them.
Investor B also revealed some insight into the cult of Steve Chen, further emphasizing claims made by GemCoin investors that they had been subject to threats of violence and intimidation.
The degree of security around USFIA in general and Steve Chen in particular is alarming.

Visitors to USFIA's offices in Arcadia must pass through a metal detector and/or be patted down by security guards.

Steve Chen is almost always accompanied by armed security guards.

The atmosphere there is intimidating, and not conducive to questioning USFIA's use of investor monies.
Investor C also got involved in USFIA pre-GemCoin, dating even farther back to 2013.
In September 2013 a friend showed him an advertisement for USFIA in the World Journal, a Chinese-language newspaper, and asked Investor C whether he thought it would be a good idea to invest in USFIA.

The newspaper ad did not provide sufficient information to decide, so Investor C made several trips to USFIA's offices in Arcadia, where he attended several presentations to potential investors and also met individually with Coco Ke Xu, Star Wu and/or Yan Chen, Steve Chen's brother.

Investor C remained unconvinced about the merits of investing in USFIA, so he returned again to meet directly with Steve Chen.

During this discussion, Chen made the following representations:

USFIA owns an amber mine in the Dominican Republic.
USFIA is a subsidiary of U.S. China Consultation Association (UCCA), which is a joint venture between private parties and the U.S. and Chinese governments.
USFIA's mining profits directly benefit the families of President Obama and the People's Republic of China's president and premier.
USFIA vice-president Leonard Johnson is related to President Obama.
Steve Chen was formerly (a) the Chinese Secretary of State and (b) the CEO of China Unicom.
Steve Chen had $50 billion in total assets
Steve Chen was a major player in China's jade market, and China's jade market had grown 230 times since Chen took a major interest in it.
Investor C's experience is the first we hear of Solomon Yang meeting with USFIA investors.
Steve Chen introduced Investor C to Jian Jun "Solomon" Yang, whom he identified as being involved in UCCA and USFIA.

It is Investor C's understanding and belief that Solomon Yang is the son of Baibing Yang, who was a powerful and influential member of the People's Republic of China's military.

It is also his understanding and belief that Solomon Yang is extremely wealthy.

The involvement of Solomon Yang provided a great deal of credibility to USFIA and the representations that Steve Chen made about it.

Steve Chen told Investor C that eight years after first arriving in the United States he took China Unicom public.

Chen told Investor C that as a result of taking China Unicorn public, he knew all of the major players on Wall Street, and that he would use his experience and his contacts to take USFIA public sometime in 2014.

Investor C told Chen that he had experience and training in direct marketing.

Chen asked Investor Cto work for him, and offered him a 5% commission on the amount that Investor C raised from investors in USFIA.

Chen told Investor C that he should be able to raise $200 million, and thus earn $10 million in commissions.

As inducement, Chen gave Investor C a total of $10,000 of pre-IPO units in USFIA without requiring Investor C to invest any of his own money.

Chen told Investor C that the cost of units would be satisfied by the amounts invested by those whom Investor C recruited.

Investor C also invested about $10,000 of his own money when he decided to join USFIA in 2013.

He did so by providing two deposits of cash to Coco Ke Xu. But Ning had these amounts credited to the accounts of people below him in his multilevel marketing pyramid, rather than directly to Investor C's account, in order to obtain the referral bonuses that would entitle Investor C to additional pre-IPO units in USFIA.
This practice of rigging a downline is commonly referred to as "pay it forward" in MLM circles.
Investor C disseminated the information that Steve Chen had provided to him to potential investors whom Investor C recruited for USFIA.

The points Investor C emphasized about USFIA, and which Investor C thinks had the greatest impact on investors, were that it was going to go public in 2014 and that Chen had $50 billion in assets backing it.

The USFIA offices in Arcadia are extravagant and luxurious. There is a restaurant inside and plaques on the wall bearing Chinese scriptures written by the Chinese President.

Investor C brought potential investors there to see the lavish accommodations and to attend presentations at which Steve Chen spoke.

He was a very convincing speaker and often persuaded those whom Investor C brought in to invest.

Investors in USFIA received units in USFIA. These units would be convertible to USFIA common stock, on a 1:1 basis, when USFIA went public.

Chen told Investor C that when USFIA went public, its common stock would be worth at least $20 per share.

The units were identified as "points" in the investor accounts maintained by USFIA on its computer system.

Investors were also provided with amber, the amount of which varied with the amount invested.

Several investors told Investor C that they later determined that the amber USFIA had provided was worth a fraction of the amount represented. But the promise of amber was never really the reason for investing.

Initially, it was to acquire pre-IPO units in USFIA; later it was to acquire GemCoins.

Most of the investors Investor C recruited purchased their units in cash. Chen told Investor C that he preferred cash.

In December 2013 USFIA presented Investor C with a new 2014 Mercedes S550, as a reward for his outstanding contribution in bringing investors to the company, in a presentation made to an audience of investors and reporters.

Cheng urged Investor C to tell potential investors that the car demonstrated how well USFIA was doing.

Investor C later discovered that the car had been leased, and that while USFIA had made a $30,000 down payment on it, Investor C was to assume the lease payments of $1600 per month.

Chen initially promised that USFIA would go public in April 2014.

In April 2014 however, Chen stated that USFIA's computer had been hacked and that the IPO would be delayed until July 2014.

At about this time, Investor C expressed his doubts about the legitimacy of USFIA to Chen, and Chen offered Ning $10,000 per month to keep quiet about its problems.

Investor C subsequently went to Chen's office to discuss withdrawing his account balance.

Baoping "John" Zhang", a Chen bodyguard, was also at that meeting.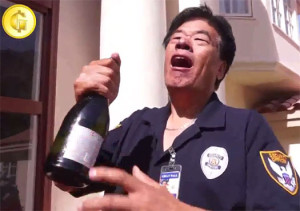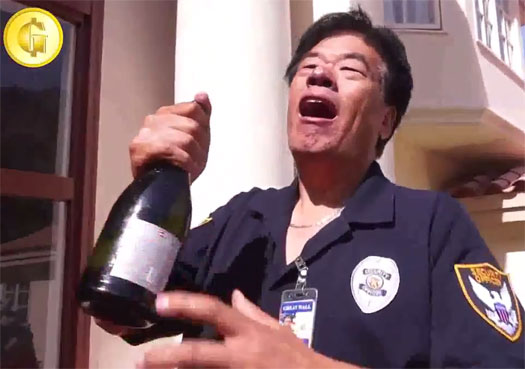 Baoping Zhang (right) is a staple of Chen's retinue, with his frequent appearances earning him the nickname "Mannix" by BehindMLM readers.
At one point Zhang pointed a gun at Investor C's head and told Investor C that Zhang could have him killed in either the U.S. or China.

Chen did not refund Investor C's money.
Investor C's interview also reveals the sham that USFIA's purported amber mining operations in the Dominican Republic were.
In 2014, Investor C was one of 22 people who traveled to the Dominican Republic to visit USFIA's amber mines.

Steve Chen, his brother Yan Chen and Wei Wen ("Wayne") Zhao, whom Investor C believes is also related to Steve Chen, led Investor C and 18 other USFIA investors.

Zhao gave each investor an additional piece of luggage to take from Los Angeles to the Dominican Republic.

Each piece of luggage contained low-quality amber which, Zhao told Investor C, USFIA had purchased in Mexico and was bringing to the Dominican Republic for processing, so that it could be resold in the United States as a higher-quality amber "originating" in the Dominican Republic.

The trip to the Dominican Republic lasted three days and two nights.

During that time they visited a small factory that produced amber.

They also visited a mine that was a 60-foot deep hole. Only one person could go down the mine at a time.

A worker was lowered into the mine with a rope and emerged with a bag of polished blue amber.

Yan Chen said that the mine produced two bags of blue amber per day.

Steve Chen told them that he had purchased the mine 14 years ago for $150 million, and that USFIA had other mines in the Dominican Republic but that they were too difficult to visit.
Investor C's account of what happened pre-GemCoin is also eyebrow-raising:
In July 2014 Chen announced that the U.S. government had deemed USFIA's units to be illegal, and that the IPO could not proceed as planned.
Naturally, why the planned IPO was deemed illegal was not disclosed.
In September 2014, USFIA converted investor "points", which had represented pre-IPO units in USFIA, into "points" in GemCoin.

Chen claimed that GemCoin was an electronic currency equivalent to that offered by BitCoin, but that they were backed by his and USFIA's considerable assets.

Chen told USFIA investors that the U.S. government had purchased 70% of the GemCoins in circulation and that the remaining 30% belonged to him.
Death threats or no, the GemCoin farce was the last straw for Investor C.
When USFIA converted units to GemCoins, Investor C began warning investors about USFIA.

Investors whom Investor C warned began demanding the return of their money.

USFIA told several of them that they could only receive 40% of their investment amount because the units never publicly traded.

Chen terminated Investor C's units shortly thereafter.
Investors D and E provided regulators with insight into John Wuo's involvement with USFIA, dating back as far as late 2013. They also shed light on the visas Chen sold to entice Chinese citizens to invest in USFIA.
In September or October 2013, Investors D and E attended a party at the USFIA office in Arcadia because circus performers they knew were performing there.

Investor D was given two brochures – one about USFIA and the other about UCCA.

The UCCA brochure contained a picture of John Wuo, whom Investor D recognized as a member of the Arcadia City Council

Wuo was also at the party and Investor D spoke with him.

Wuo told Investor D that Steve Chen was a prominent business and that USFIA was involved in various business ventures.

When the performance was over, about 20 people were led to a conference room where Jason Ning, Kevin Hsiao, Alicia Xie, Coco Ke Xu and Steve Chen made a presentation about USFIA.

Ning stated that Steve Chen had been the secretary to a high-ranking government official in the People's Republic of China, was the founder of China Unicom and was now the owner of USFIA, which owned mining rights in the Dominican Republic and held about $50 billion in global assets.

Hsiao described the investment offered by USFIA as offering two distinct ways to make money: One was to purchase equity shares in USFIA in the form of "units", which would increase in number exponentially every two months or so.

Coco Ke Xu advised that investors would receive amber equal in value to 30% of their investment principal.

In addition, for a limited time USFIA was offering new investors an iPad Mini – but there were only 500 slots available for new investors investing $10,000, and those slots were quickly being filled.

Xu described Chen as having a solid business background and said that people who had invested in Amkey with Chen had made a lot of money.
Amkey was a precursor scam in China that Chen ran prior to USFIA. It's collapse saw Chen flee China.
Alicia Xie described how to recruit new investors.

Steve Chen said that he had been operating Amkey for the past seven years and that Amkey would soon issue publicly-traded stock.

Chen described how he had taken China Unicorn to its initial public offering.

Chen said USFIA owned the rights to 75% of the amber mines in the Dominican Republic, including exclusive rights to certain gemstones such as blue amber.

He stated that USFIA's mining right were for 100 years and that they were part of USFIA's $50 billion in global assets.

Chen said that individuals who invested $10,000 in USFIA now would become millionaires when USFIA held its initial public offering in six to twelve months.

Investors D and E visited the USFIA office frequently over the next two weeks before committing to investing.

Arcadia City Council member John Wuo was there every time, which seemed to Investors D and E a demonstration of the company's stability.

On one of those visits, Steve Chen told Investor D that USFIA vice-president Leonard Johnson was a member of Barack Obama's family.

Investors D and E invested in USFIA in October or November 2013.

For each of them, the most important reason for investing was the opportunity to own stock in a company that would soon go public.

Investors D and E invested about $13,000 and $11,000 respectively, via their credit cards.

When Investor D received his monthly credit card statement several weeks later, he noted that the receipt indicated that his monies had gone to Amkey instead of USFIA.

This surprised Investor D, who asked Xe about it.

Xe told him that it did not matter, because both USFIA and Amkey were together.

After investing, Investors D and E received the amber they had been promised as part of their investment.

Investor D had the amber that USFIA had told him was worth $26,000 independently appraised, and was told that it was worth less than $100.

Every two months, the number of units in Investors D and E's online accounts increased tenfold, as did the total value of the account holdings, which were denominated in US dollars.

But even after 60 days investing, Investor D was unable to sell or otherwise convert into cash any of his unit holdings.

In April 2014, Investor D was told that persons associated with USFIA had been arrested in the People's Republic of China, and Investor D attempted to withdraw his money from USFIA, without success.

In September 2014 Investor D attended a USFIA conference at which Chen announced that USFIA units had been converted to GemCoins.

By that point Investor D had about 800,000 units in USFIA, which became 800,000 GemCoins.

Chen said that the conversion was necessitated by a U.S. Government policy change that would delay USFIA's IPO by about two years.

Chen reassured attendees that he was still working on the IPO, and when USFIA went public investors could use their GemCoins to purchase USFIA stock.

In the meantime, Chen told conference attendees that they would be able to trade GemCoins on USFIA's online trading platform in November.

Chen also told attendees that if they did not want to have their units converted into GemCoins, they could receive a buyout for 20 to 30% of the amount they had invested.

In addition, they would have to return all of the amber that they had received.

At that point an investor challenged Chen on the difference between the price at which USFIA valued its amber and the price at which it had been independently appraised, and Chen responded that the amber was just a gift, and if the investor did not like the amber he could dispose of it.

In November and December 2014, Investor D made two successful attempted to sell GemCoins, realizing sales proceeds of less than $1000 total.

Investors D and E received $30,000 to $40,000 in commissions for referring new investors to USFIA.

Investor D also received a $26,250 bonus for referring Jun Wu, a Peoples' Republic of China citizen who invested $300,000 with USFIA for the purpose of obtaining an L1 US immigration visa, followed by EB-5 immigration.

It is Investor D's understanding and belief that no US visa or EB-5 immigration was granted to Wu and that Wu remains in China.

Since May 2015 Investor D has been receiving anonymous phone calls in which the caller threatens dire physical harm to Investor D if he continues to speak disparagingly about USFIA.
Threats of violence are evidently a common occurrence within USFIA, with investors in China and Malaysia discussing the assassination of USFIA investors who spoke with regulators.
The SEC brought emergency action against Chen following his attempt to siphon $7.5 million out of the country:
On September 17th, 2015, Chen had spoken with the Arcadia Police Department that day about complaints it had received from outraged USFIA investors, and immediately after doing so, he went directly to Bank of America and attempted to wire overseas the contents of the accounts he controls for USFIA and other related entities.

Chen attempted to wire out $7.5 million but was able only to wire out about $3.5 million before the bank imposed its own temporary freeze, and that about $4 million of investor funds remain.

This information precipitated the emergency action taken by the SEC to freeze for the benefit of defrauded investors whatever remains of their hard-earned monies.
The current status of Chen and the FBI criminal investigation into his USFIA GemCoin Ponzi empire meanwhile is unknown.
There are rumors going around that Chen and some thirty top USFIA investors have fled the US, but I have yet to see anything official confirming as much.