uFun Club Ponzi boss poses with Malaysian Deputy PM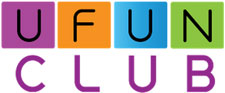 While questions about why Malaysian authorities refuse to investigate and arrest the ringleaders of a $1.17 billion dollar Ponzi scheme, more evidence has surfaced linking uFun Club management with Malaysian politicians.
Haivng surfaced sometime over the last twenty-four hours, the following image shows Daniel Tay, head of uFun Club (now Unascos), and current Malaysian Deputy Prime-Minister, Ahmad Zahid Hamidi.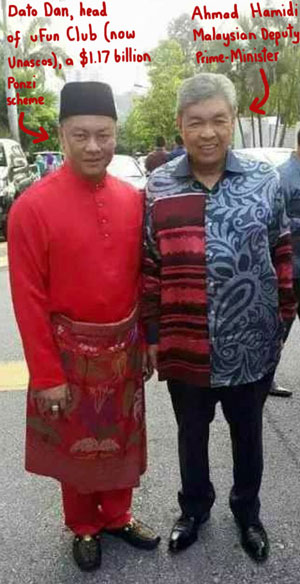 Hamidi was appointed Deputy Prime Minister just yesterday, after Malaysia PM Najib Razak fired his previous deputy for daring to criticize him.
Razak also fired Attorney General Abdul Gani Patail, head of a major investigation into Razak's involvement in a $700 million political scandal.
The context of the Tay-Hamidi image is not currently known, but nonetheless only strengthens the apparent ties between uFun Club and Malaysian politicians.
BehindMLM has previously reported on links between uFun Club executives and the Malaysian Prime Minister's son, Mohd Nazifuddin. We also uncovered links between Malaysian royalty and uMatrin, a spin-off scheme launched by uFun Club co-founder, Warren Eu.
In response to our coverage, Tengku Sulaiman Shah of the Malaysian royal family threatened BehindMLM with a fine and jail time.
Along with schmoozing Malaysian politicians, Unascos management are also busy donating stolen Ponzi funds to Malaysian charities.
The latest effort has seen a promotional video showing uFun Club ringleader Eddy Tan, donating a "mock check" for 70,000 MYR ($18,300 USD) to a local charity.
uFun Club (Unascos) and uMatrin Founder Liew Kok Hong was also in attendance.
As Malaysia struggles with rife corruption throughout its political system, Unascos executives are meanwhile free to attend gala events and flout their ill-gotten gains.