OneCoin claim they are going to open a US bank

After OneCoin's US launch flopped, the latest sees the Ponzi scheme claim to have "bought a bank".
First order of business? Register with the SEC and open up a bank in the US.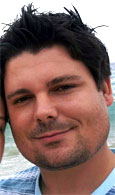 In a September 15th OneCoin USA affiliate call, during which it was claimed OneCoin want to announce they've taken in $1.2 to $1.4 billion in a few days, Sal Leto (right) revealed:
Their goal is to be the only company, in the history of human existence, that's ever done a billion dollars or revenue in their first year.
Leto goes on to claim 'that's going to attract the attention and respect of anyone in this world'.
Not sure about respect, but if OneCoin's banking channels have indeed processed a billion dollars this last year, then that's no doubt got the attention of regulators.
Which made Leto's next claim all the more bizarre:
(OneCoin) has acquired a hundred and eighty banking licenses, to legally own their own banks, their own branch and their own office, inside all one hundred and eighty countries that we operate in.
Which bank OneCoin has bought was not disclosed on the call, but Leto did go on to claim
One of those countries is the United States of America, right?

Right now (OneCoin) is going through the Securities and Exchange Commission approval process, of having their banking license inside the United States approved.
Uh, two things – first is that the SEC has nothing to do with the regulation of banks.
Secondly, the SEC (along with every other US regulatory agency) do not approve businesses of any kind.
But um right. Don't let facts get in the way of OneCoin opening 180 banks around the world.
Now we're playing with the big boys.

Because they just purchased their own bank, now their licensing has gone to a whole other level and their going to play a much higher level.

So we gotta be much more professional in the way we represent OneCoin.

And the company will definitely keep us up to date on if there's anything we need to do in the field, to make sure that their licensing approval process goes very smoothly.

That's going to be a huge announcement and obviously for us to state that we're a hundred percent approved by the SEC, that we have our own bank inside the United States, we might even have an office inside the United States… who knows, right?

Just be expecting some kind of address from the company regarding the US market.
All aboard the Ponzi hype train!