James Merrill denied bail, Carlos Wanzeler surfaces in Brazil

A bail hearing for James Merrill, co-owner of the $1 billion dollar TelexFree Ponzi scheme, was held last Friday in Massachusetts. Taking the matter under advisement, Magistrate Judge David Hennessy made a decision yesterday to keep Merrill in custody.
Citing that 'the Government has met their burden' in establishing why Merrill should not be granted bail, Judge Hennessy ordered he be 'remanded to the custody of the US Marshals' until further notice.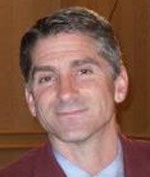 Supporting evidence provided by the government against Merrill (right) included
a binder containing letters from TelexFree affiliates
phonecall logs
a corporate profile of TelexFree Canada Inc. and
evidence collected from the Facebook page of "TelexFree Canada"
The nature of the phonecall logs or what relevance TelexFree Canada has to the case against Merrill were not disclosed.
In related news, further information has been revealed detailing the arrest of Katia Wanzeler (TelexFree co-owner Carlos Wanzeler's wife).
On the 14th of April the US Attorneys Office learned that Katia Wanzeler was 'booked on a flight from John F. Kennedy airport in New York to Brazil at 9:30pm (that) evening. American airlines confirmed the ticket was one-way and purchased with cash "from someone in Brazil".
Arguing that this was evidence enough that it was now "impractical" that a subpoena alone would ensure Wanzeler appear as a material-witness in the criminal case against her husband.
The US Attorneys Office asked that they be permitted to arrest Wanzeler and have her 'held until she is called as a witness'.
Katia Wanzeler is of particular interest to the US Attorney's Office due to
"significant sums of money" being deposited from TelexFree bank accounts into personal accounts belonging to her
her lying to agents who raided her home on April 17th as to the whereabouts of her husband (Katia told agents Carlos Wanzeler was staying in a hotel, when in reality he had fled the US for Canada by car, with the intention of then flying to Brazil)
her assistance to James Merrill regarding the withdrawal of over $27 million dollars in checks (one check for $2 million was made out to "Katia B. Wanzeler")
Granted under seal, as it was likely that if Katia Wanzeler found out her arrest was imminent she'd try to flee covertly like her husband, the US Attorneys Office got their arrest warrant and Katia was picked up at the airport that night.
Derek Bergman, a special Agent with Homeland Security Investigations, filed this report:
On May 14th, 2014, at approximately 9:00 pm, the defendant Katia Wanzeler arrived at Terminal 8 of John F. Kennedy International Airport in Queens, New York.

While boarding American Airlines flight no. 973 destined for Rio de Janeiro, Brazi, via the jet-way, Customs and Border Protection conducted an outbound currency exam of the defendant.

During the exam, the defendant signed the CBP 909 inventory form "Katia Wanzeler".

Following the exam, Katia Wanzeler was arrested at the airport by HSI agents who were in the vicinity.
Katia was denied bail the following day May 15th and ordered to be transferred to Massachusetts. Wanzeler was purportedly "in tears" as she was led from the court.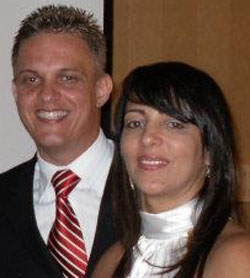 Meanwhile her husband, Carlos Wanzeler (right with Katia), has finally surfaced in the Brazilian state of Espírito Santo.
TelexFree and Wanzeler have recently hired attorney Antonio Carlos de Almeida Castro to represent them in Brazil. Castro, who also goes by the name "Kakay", appears to have a history representing defendants in high-profile criminal cases.
Arguing that Carlos Wanzeler fleeing the US before an arrest warrant was issued, Castro yesterday told Brazilian media
(Carlos Wanzeler) did not come here (a) fugitive, and (he) is in Espírito Santo. I have a meeting (with him) in Vitória tomorrow [Wednesday] and I imagine he will participate.

There has been no request (to arrest) Wanzeler (in Brazil), (and) no criminal charges (have been filed) against the founders of Telexfree in Brazil (either).
Carlos did not address the arrest of Wanzeler's partner James Merrill or his wife Katia, but was quick to inform the media that
(Wanzeler) is Brazilian born, is (a) resident in Espírito Santo (and there's) no chance of extradition.
Brazilian media outlet Globo contacted Brazilian Federal Police to enquire whether or not US authorities have requested their assistance in tracking down Wanzeler, but thus far had received no response.
The recent hiring of Castro by Wanzeler appears to be a direct response to US authorities thwarting his wife's escape plans. Addressing his firms priorities in the case against his client, Castro went on to tell Globo:
The defense's priority is to work for the release of the Brazilian. "(Katia Wanzeler) is stuck and is not accused of anything at all." (Carlos) also said that is exchanging information with the Telexfree lawyers in the United States.
Whether or not Castro is aware that Katia Wanzeler has been remanded in custody until she can appear as a witness in the case against her husband is unclear.
As the case progresses, one would imagine sooner or latter the issue of why Carlos Wanzeler is content to hide out in Brazil, despite being fully aware an arrest warrant has been issued against him and his partner in crime and wife are behind bars, will be raised by a Judge in a US court.
Given the circumstances of Wanzeler's fleeing, his subsequent disappearance and reluctance to turn himself in, it's unlikely to play out well for him when the time comes.
Looking forward, the SEC have agreed to a proposed extension by TelexFree that gives them until June 20th to reply to the civil case filed against them. I've yet to see a date set for the Grand Jury trial in TelexFree's criminal case.
Footnote: My thanks to Don @ ASDUpdates for providing the court case files cited in this article.