OmegaPro exit-scam complete, Broker Group reboot

Following OmegaPro's collapse earlier this month, the Ponzi scheme has also now completed its exit-scam.
In an "urgent client communication" sent out a few hours ago, OmegaPro informed investors it had sold its investor database to Broker Group.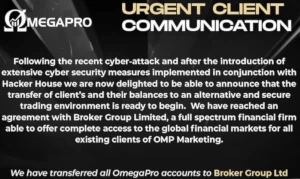 As per OmegaPro's exit-scam communication;
Following the recent cyber-attack and after the introduction of extensive cyber security measures implemented in conjunction with Hacker House we are now delighted to be able to announce that the transfer of client's [sic] and their databases to an alternative and secure trading environment is ready to begin.

We have reached an agreement with Broker Group Limited, a full spectrum financial firm able to offer complete access to the global financial markets for all existing clients of OMP Marketing.

We have transferred all OmegaPro accounts to Broker Group Ltd and you will be able to access their platform by using the same Username and Password you have been using for OmegaPro.
Broker Group has been set up at the domain "broker-group.com", registered back in 2019 after going dormant for a few years.
The domain was for sale until November 2022, when it was acquired by its current owner(s) on or around November 16th.
This is the same month OmegaPro disabled withdrawals.
Broker Group is a hastily put together website built with Elementor on WordPress. Certain parts of Broker Group's website remain non-functional.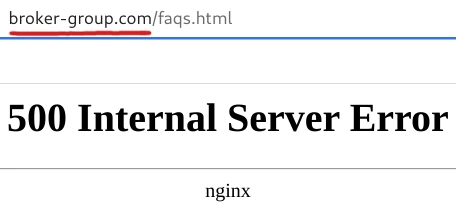 Supporting Broker Group PDF documents suggest the website was only put together on or around December 20th, 2022: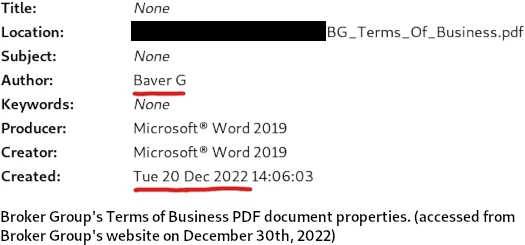 I wasn't able to establish who "Baver G" is with respect to OmegaPro and Broker Group.
Broker Group itself operates through Broker Group Limited, a shell company set up in Panama.
As opposed to OmegaPro's "invest and get a passive return" business model, Broker Group is a MetaTrader trading platform. Needless to say this isn't what OmegaPro investors signed up for.
OmegaPro's "Broker Group" reboot follows the Ponzi scheme disabling withdrawals in early November.
Shortly after, OmegaPro's first attempt at an exit-scam was the bungled XPL token launch. That went nowhere, prompting OmegaPro to pull out a "we got hacked!" ruse.
BehindMLM called OmegaPro's collapse on November 27th.
OmegaPro was run from Dubai by Andreas Szakacs (Sweden), Mike Sims (US) and Dilawar Singh (Germany).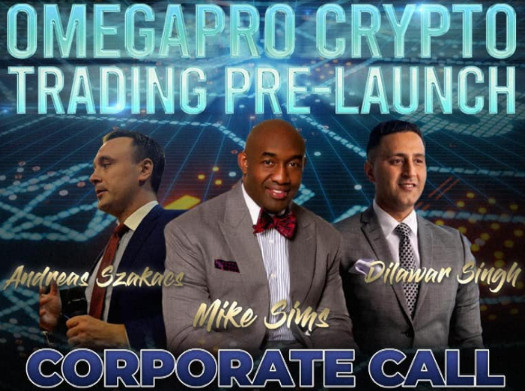 I don't believe any of them have publicly addressed OmegaPro's collapse.
I believe OmegaPro's co-founders knew the company was heading to collapse as early as Q2 2022. This prompted the hiring of Eric Worre as Official Strategic Coach in May 2022.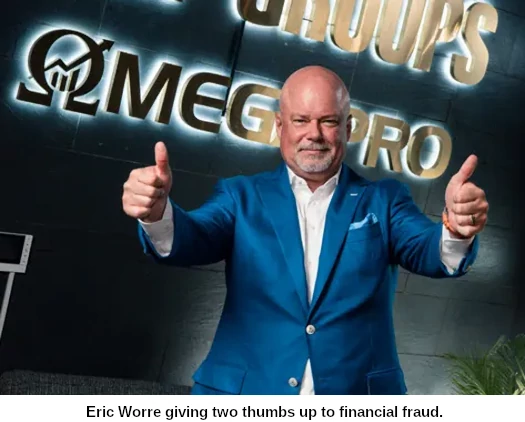 As an OmegaPro executive, Worre featured heavily in OmegaPro marketing and attended marketing events.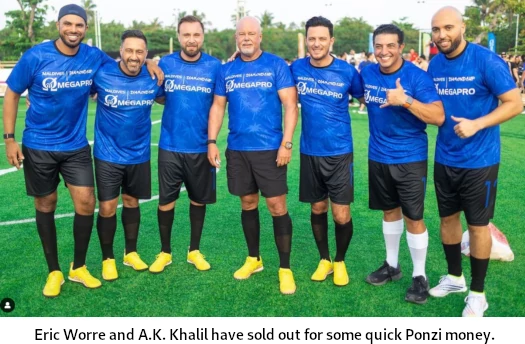 Unfortunately for OmegaPro, Worre's name and "Go Pro" brand recognition wasn't enough to sustain investor recruitment.
Worre is based out of Las Vegas in the US. When it became OmegaPro was collapsing, Worre sought to distance himself from his OmegaPro executive position.
How much Worre was paid as an OmegaPro executive remains unclear. The disgraced MLM coaching veteran has also not addressed OmegaPro's collapse.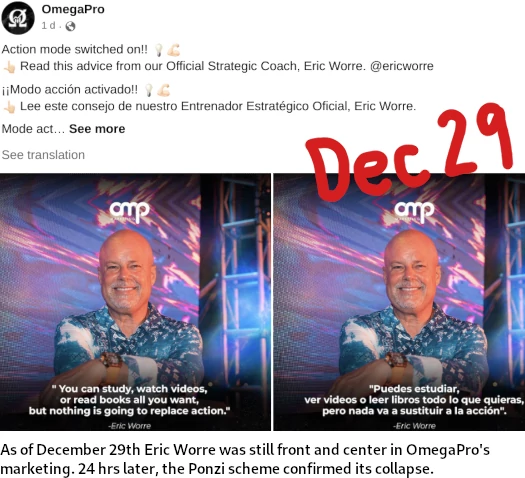 OmegaPro being based out of Dubai is not a coincidence. The emirate is the MLM crime capital of the world and home to many MLM Ponzi schemes and Ponzi scammers.
In other words, don't expect any action from Dubai's authorities.
In an attempt to avoid the DOJ and SEC, OmegaPro geo-blocked US-based investors from accessing their website. This pseudo-compliance however was easily circumvented through the use of a VPN.
Of the 2.9 million visits to OmegaPro's website it tracked, SimilarWeb currently ranks top sources of traffic as Colombia (39%), Argentina (16%) and France (9%).
Thus far OmegaPro has received securities fraud warnings from Peru, Congo Republic (multiple arrests), Spain (two fraud warnings), Mauritius, Argentina, Colombia, Chile, Nicaragua, France (added to fraud blacklist twice) and Belgium.
Whether authorities in these countries will take further action against OmegaPro is unlikely but can't be ruled out. Failing which, total OmegaPro victim numbers and their losses remain unclear.
Update 14th January 2023 – Further details have come out about Broker Group, namely how the site itself was an unauthorized copy and paste job.