OmegaPro securities fraud cease and desist from Argentina

OmegaPro has received a securities fraud cease and desist from Argentina's Comision Nacional de Valores.
After receiving two consumer complaints, the CNV launched its own investigation into OmegaPro.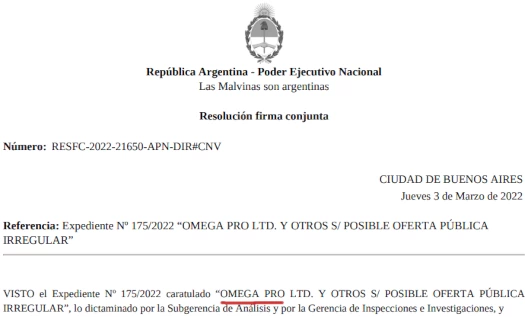 On March 3rd regulator confirmed the Ponzi scheme was offering
exorbitant rates of return ranging between 300% and 400%, all within a period of 16 months and in US dollars.
This is higher than the 200% ROI rate BehindMLM noted in our 2019 OmegaPro review.
The CNV's investigation revealed OmegaPro is "making a public offer of unauthorized marketable securities".
OmegaPro and Messrs. SZAKACS, SIMS, SINGH and REYNOSO are not registered as qualified or in any of the categories of agents provided for in Law No. 26,831.

OmegaPro and Messrs. SZAKACS, SIMS, SINGH and REYNOSO, are carrying out a public offer of negotiable securities listed on foreign markets, which do not have authorization from
public offering of the CNV.
This is the equivalent of a securities fraud warning in other jurisdictions.
The CNV also called out OmegaPro's "restricted jurisdictions" pseudo-compliance, namely the US and St Vincent and the Grenadines.
Curiously, in clause 7.3. of (OmegaPro's) T&C (it) mentions a number of restricted countries to operate with POs, among which which is the United States of America and paradoxically, the same nation that would have authorized it as broker, Saint Vincent and the Grenadines.
The CNV notes OmegaPro represents it is based out of St Vincent and the Grenadines, but it in fact run by Andreas Szakacs, Mike Sims and Dilawar Singh.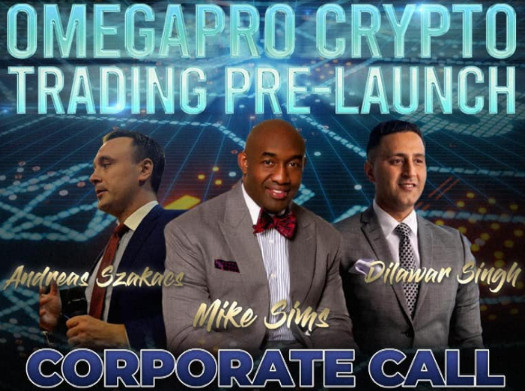 Szakacs, Sims and Singh operate OmegaPro from Dubai.
Dubai provides a safe-haven for scammers due to non-existent regulation and limited extradition treaties. It is the MLM scam capital of the world.
The CNV also references Juan Carlos Reynoso, identified as OmegaPro's Manager for Latin America.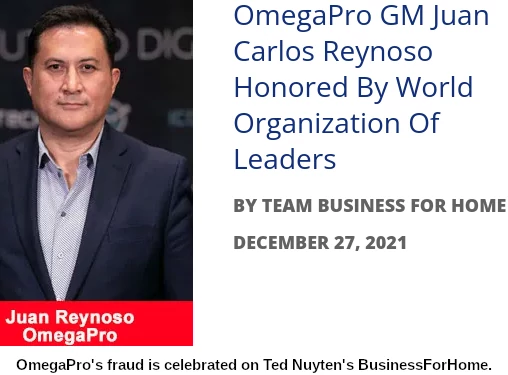 Reynoso is believed to be a Mexican national with ties to the US.
The CNV goes on to order OmegaPro and its executives to cease and desist operating in Argentina immediately.
The CNV … notifies OMEGAPRO LTD. and Messrs. Andreas SZAKACS, Mike SIMS, Dilawar SINGH and Juan Carlos REYNOSO to immediately cease their conduct as a preventive measure.
Argentina is the seventh jurisdiction to take regulatory action against OmegaPro.
The CNV's warning follows similar fraud warnings from Colombia, Spain, France, Peru, Belgium and Chile.
Alexa ranks top sources of traffic to OmegaPro's website as Colombia (20%), Japan (17%) and Nigeria (10%).