Alcor Trade collapses, Antares Trade 2.0 reboot announced

Aleksey Zhirovkin's Antares Trade Ponzi is set to reboot for the third time.
In a video uploaded to Alcor Trade's official YouTube channel on February 10th, Zhirovkin, playing fictional CEO Alex Richter, revealed "Antares 2.0".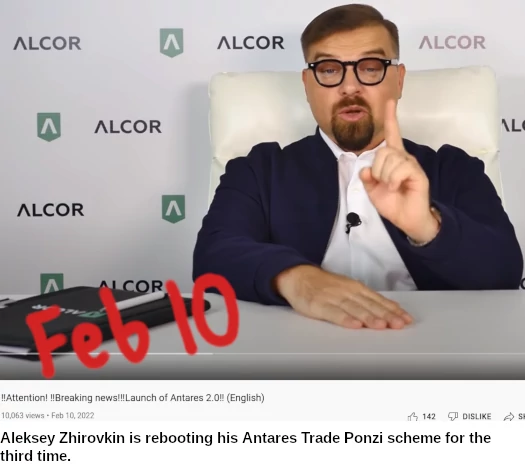 The cover story Zhirovkin is running with is a continuation of Antares Trade's fictional regulatory issues.
To be clear, Antares Trade does have regulatory issues – but they have nothing to do with Zhirovkin's fiction.
Zhirovkin pulled the plug on Antares Trade last August. As part of the exit-scam, Zhirovkin claimed
regulators will need up to 60 days to conduct verification of the company.
The regulators, only identified as "the regulator", has, six months later, now purportedly finished its audit.
Here's how Zhirovkin put it in his latest Alcor Trade video;
Just yesterday, on February 9th 2022, the regulator completed the audit of Antares.

And the results of this audit, as I expected, turned out to be extremely positive …

The regulator allowed the Antares platform to continue working, but under certain conditions.

Firstly, the regulator revealed some violations of financial legislation for investment platforms, and issued us a fine of $7 million dollars. Which we must pay before returning to work.
Evidence of any of this? Nope.
The next condition for Antares to start working is a change in the work format.

Antares was banned from working with intermediary companies. And now the process of generating investment income must go through Antares' own financial department.

Simply put, we must earn income investment for our investors on our own …
This part of the lie falls apart by asking if Antares Trade was able to generate external revenue, why go through intermediaries to begin with?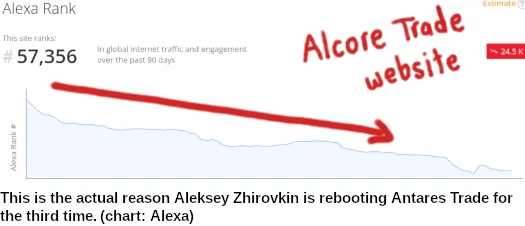 When Richter exit-scammed Antares Trade, victim losses were written off (he kept the money).
That money is of course gone. But if he wants to convince rubes to invest in his rebooted Ponzi, Richter needs to address the issue.
Investor's money will still be frozen for a short time, since investor's money is on the accounts of intermediary companies.
Zhirovkin doesn't address Alcor Trade investment balances and/or owed withdrawals.
Zhirovkin is planning to launch Antares 2.0 on March 4th.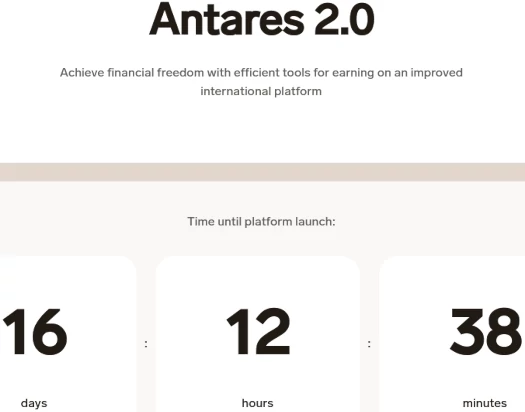 Antares Trade launched in 2020 as a simple AND Ponzi points scheme. In mid 2021 Antares Trade collapsed, prompting the Alcor Trade reboot.
As of September 2021, Zhirovkin was soliciting investment into Alcor Trade on the promise of a 200,000% ROI.
Obviously nobody made anything close to 200,000% in Alcor Trade.
Zhirovkin, who as previously stated plays fictional CEO Alex Richter, is a Russian fugitive hiding in the Dominican Republic.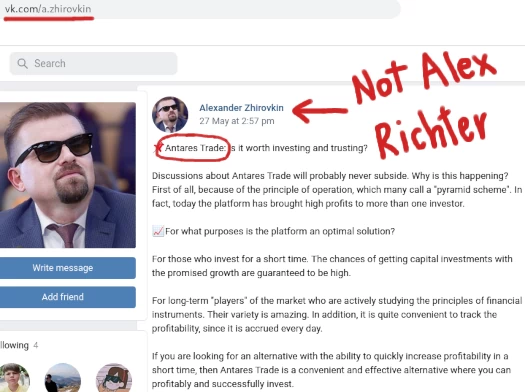 Antares Trade and Alcor Trade fraud warnings have been issued by Russia (Antares and Alcor), Canada (Antares and Alcor), Belgium, Spain,
Authorities in the Dominican Republic have taken no action to curb Zhirovkin's Ponzi scheme.
Alexa currently ranks top sources of traffic to Alcor Trade's website as Egypt (20%), Madagascar (19%) and Vietnam (5%).
Authorities in those countries haven't taken any regulatory action either.
Update 4th May 2022 – Antares Trade 2.0 is chugging along but Zhirovkin has found new victims to scam in Africa.
As such you've got Alcor Trade still going with Antares Trade 2.0 simmering in the background.
Update 15th May 2022 – Antares Trade 2.0 and Alcor Trade have collapsed.