Alcor Trade pyramid scheme warning issued in Russia

Alcor Trade, dba Alcor Limited, has received a pyramid scheme fraud warning from the Central Bank of Russia.
As per the Central Bank's September 14th warning, Alcor Trade exhibits "signs of a pyramid scheme".
BehindMLM confirmed as much in our September 7th Alcor Trade review, noting that pyramid fraud was secondary to Alcor Trade operating as a Ponzi scheme.
Alcor Trade is a reboot of the collapsed Antares Trade Ponzi scheme.
The Central Bank issued a similar pyramid scheme warning against Antares Trade in early June.
Both Antares Trade and Alcor Trade are run by CEO Alex Richter, played by Russian national Aleksey Zhirovkin (aka Alexei Mikhailovich Zhukovkin and Alexander Zhirovkin).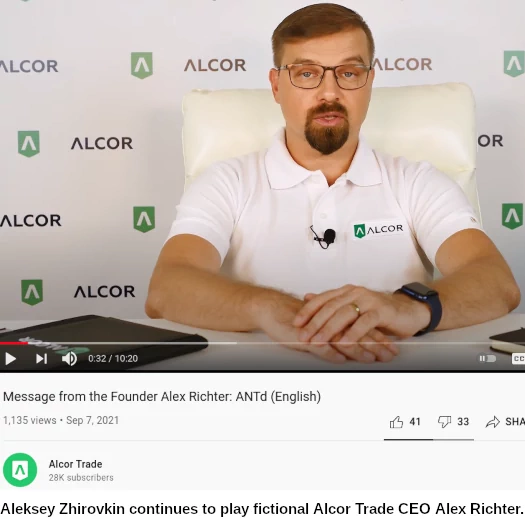 Desperate for new investment, Zhirovkin is promoting Alcor Trade on the premise of a 200,000% ROI.
Zhirovkin has been wanted by Russian authorities since 2012. He fled Russia following his implication in a 3.5 million ruble heist.
Zhirovkin is currently hiding out in the Dominican Republic. To date Dominican Republic authorities have failed to take any action.
Whether Russian authorities have approached their Dominican Republic counterparts for assistance is unclear.
Alexa traffic estimates reveal Alcor Trade's victims are primarily from Egypt (27%), Madagascar (14%) and Saudi Arabia (7%).
None of these countries are known for actively regulating MLM fraud.