Antares 2.0 reboot is a mess (refunds? Alpin Launchpad?)

Aleksey Zhirovkin's Antares 2.0 Ponzi relaunch is a mess.
A Hong Kong regulatory cover-story has been introduced, refunds are being offered through an inhouse recovery scam and Zhirovkin's also launching something called Alpin Launchpad.
Zhirovkin, a fugitive from Russia and better known by his Boris CEO persona "Alex Richter", left investors bagholding worthless AND Ponzi points in August 2021.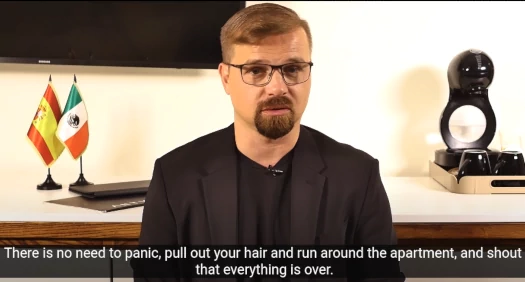 The official cover story for Antares Trade's collapse was regulatory action in Hong Kong.
Antares Trade exists in Hong Kong through the shell company Antares Trade Limited. Neither Antares Trade or Zhirovkin have any physical presence in Hong Kong.
Making a mockery of his own collapse ruse, Zhirovkin rebooted his Ponzi as Alcor Trade. Alcor Trade was essentially a clone of Antares Trade, switching out ANT Ponzi points for ANTd Ponzi points.
Amid declining traffic to Alcor Trade's website, Zhirovkin began Alcor Trade's exit-scam mid February. This coincided with the announcement of Antares Trade 2.0, since shortened to just Antares 2.0.
Antares 2.0 operates from the original Antares Trade domain. Presently two AND Ponzi points investment plans are offered:
Binar Profit Team –  invest $100 to $100,000 in AND points and receive 2% a day for 200 to 400 days
Union Profit Team – invest $50 to $50,000 in AND points and receive 22% to 57% a month for 1 to 6 months
MLM "marketing plans" are mentioned by no specifics are provided.
Looking forward, Antares 2.0 has marked eight additional investment plans, to be released periodically from April 6th.
The footer area of Antares 2.0's website showcases three banners:

Alcor Trade is the previously referenced original Antares Trade Ponzi reboot.
Alpin Launchpad is scheduled for launch in just over ten days: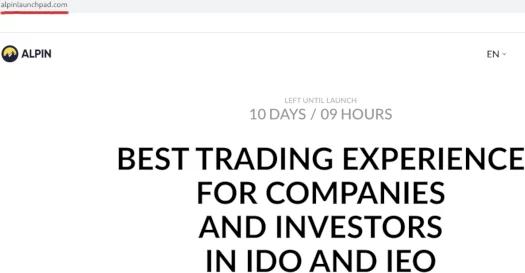 As per its website, Alpin Launchpad
was created to list tokens of various cryptocurrency projects in the Initial Dex Offering and Initial Exchange Offering format.

With the help of Alpin, companies can participate in IDOs and IEOs by listing tokens on our platform, and investors can purchase them in private and public rounds, earning from the growth in the price of purchased tokens.
In other words it's a shitcoin factory…
Multi-level referral program based on a linear marketing plan

Additional rewards from the sale of tokens listed on the platform in your affiliate structure.
…with an MLM compensation plan.
Antares Refund is marketed as a "service to recover losses incurred on the Antares Trade platform".
If you're wondering why Zhirovkin doesn't just refund his original victims;
Alcor's PR department has received a notice from the Hong Kong Monetary Authority to stop Antares Refund's activities on the platform.

It has been proposed that the program should operate as a separate infrastructure that is not legally related to Alcor's activities.

This request is based on Hong Kong's financial laws since the funds received through Antares Refund cannot be used to invest in the platform's programs.
More baloney about Hong Kong. Even if Zhirovkin's nonsense about Hong Kong regulators is taken at face value, stopping Ponzi scheme's refund process makes no sense in light of, y'know… the Ponzi scheme itself.
Zhirovkin is using the Hong Kong Monetary Authority as an excuse to sequester Antares Trade victims from the Antares 2.0 reboot.
I suppose it doesn't look great for your Ponzi reboot when you're addressing victims of the first one on its homepage.
As to what Antares victims are getting back, it's not much:
The percentage of the amount of loss on Antares to be unfrozen will be increased from 5% to 7.5%, which will significantly speed up the refund process on the platform.
Assuming anything is paid out to begin with, this is just math. It's hard enough to keep the second and third reboots of a Ponzi going. Paying out to victims of the original scheme further strains invested funds.
Antares Refund is scheduled to launch on April 4th.
So who's falling for this nonsense?
With recruitment into Zhirovkin's Ponzi empire having mostly collapsed around the world, he's found new victims in Africa.
Alexa currently pegs the Democratic Republic of Congo and Egypt as making up 68% of traffic to Antares 2.0's website. Morocco comes in third at just 3.2%.
Zhirovkin himself operates his Ponzi scheme from South America. I'd initially tied him to the Dominican Republic but a reader recently claimed he's in Mexico.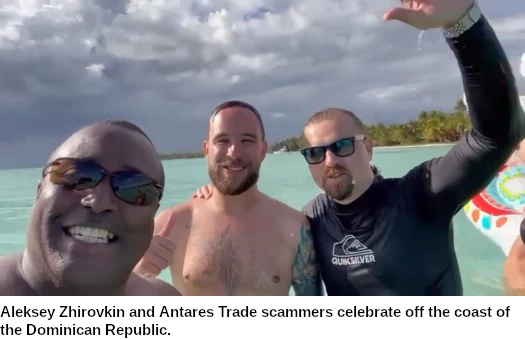 I've been unable to verify that claim.
Antares Trade lasted just over a year. The Alcor Trade reboot lasted around five months. Antares 2.0 is likely to continue that trend and collapse even sooner.
Update 15th May 2022 – Antares Trade 2.0 and Alcor Trade have collapsed.