Konstantin Ignatov denied release, will stay locked up till OneCoin trial

Despite a last-minute letter desperately attempting to diminish his role within OneCoin, Konstantin Ignatov has been denied pre-trial release.
At the time of publication Ignatov's case docket only contains a June 28th minute entry update.
The entry states Ignatov's "bond application (has been) denied".
In a June 28th letter response to the DOJ's opposition filing, Ignatov's lawyer attempted to downplay his role in OneCoin.
Mr. Ignatov's position at OneCoin was as his sister Ruja's lowly assistant until her disappearance at the end of October, 2017.

Ruja … hired her brother at the very end of June 2016 for the most menial of clerical tasks.

Ruja cop(ied) the defendant on orders for clothing, jewelry, and household items/ her being upset with not having tickets for Fashion Week, as well as requests for the defendant to schedule meetings for her.

(In) one email from September 2017 … Ruja direct(s) an individual to "send [her] brother the invoice," for an order of handbags.

In yet another email, Ruja berates him for maintaining a disorganized filing cabinet and for OneCoin's purchase of
cheap blue and red pens.

Our point in describing these emails is that Konstantin's major OneCoin responsibilities of picking up his sister's earrings and arranging for ceramic flowers to be delivered to her home in October of 2017 somehow morphed into his becoming a "high level executive" by December of 2017 and rising to "the top leadership position in mid-2018."

It is simply unrealistic to believe that the defendant could and would take over his sister's position as the leader of OneCoin, an alleged multi-billion dollar global fraud, with hundreds of employees and moving parts, seemingly overnight.
Yet that's exactly what happened.
Here's Konstantin on stage at a company event in Thailand, representing OneCoin's "Sofia head office management group".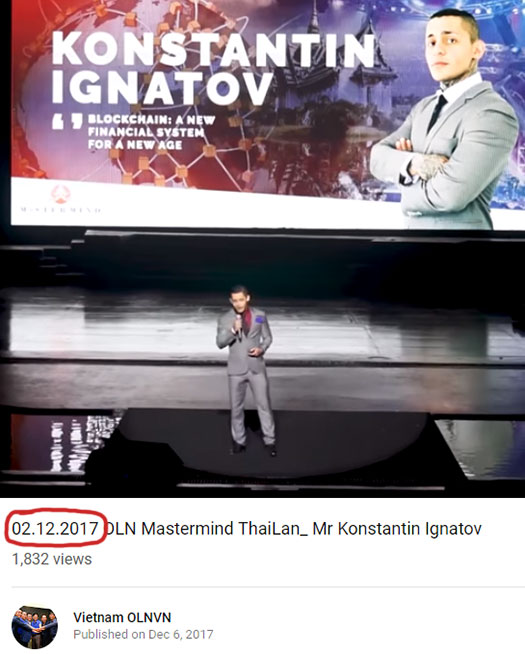 The event was held on December 2nd, 2017; barely a month and a half after Ruja went into hiding.
None of this was of course spur of the moment though. Ignatova began working on her exit-scam while she was still planning "trashy coin" with Sebastian Greenwood.
Inner City Press appear to have had a reporter live at the court house as Ignatov's release motion was argued.
In a published June 28th article, Inner City Press report;
New York Judge Edgardo Ramos questioned the source of the bail money that Ignatov was offering to put up, as well as issued raised about the propriety of "private prisons".
The fact that Ignatov's release would likely be funded by OneCoin Ponzi victims, was brought up yesterday by both the DOJ and myself.
 Ignatov's lawyer Jeffrey Lichtman noted that Bernie Madoff got bail, and that the government could not show any contact between Ignavov and his sister Ruja, indisputedly higher up in the OneCoin scheme.

But Judge Ramos, after more than an hour of argument, was not convinced.
Sounds like the DOJ argued their case well and the Judge made the right call.
At this stage I'm not sure if there'll be an accompanying order with further details or whether we'll get a transcript of the hearing itself.
Either way the take-away from yesterday's hearing is that Konstantin Ignatov will remain behind bars until he stands trial.
Now that Ignatov's had a reality check, maybe he'll start squealing to authorities.
I mean, he was just the guy in charge of buying pens for OneCoin's office right? Why would he take the fall for Ruja?
As always, stay tuned…
Update 7th September 2019 – A status conference was held on September 6th, at which a pretrial conference was scheduled for November 7th.