Apex Review: Investview launches $13,750 five year ROI opp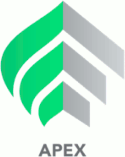 Apex first appeared on BehindMLM's radar a few months ago, as part of our ongoing Kuvera securities fraud coverage.
(Apex) will teach you how to make a passive income.

You make a one off investment and get paid every single month for the next five years.
That was back in May and since then, Apex has launched as a stand-alone opportunity.
Today we take a look at where Apex fits into Investview's investment opportunity stable.
Apex's Products
Apex has no retailable products or services, with affiliates only able to market Apex affiliate membership itself.
Apex's Compensation Plan
Apex affiliates invest in units, on the promise of an advertised monthly $500 ROI.
Apex pays $500 a month per unit invested in for five years. This equates to a total return of $30,000.
Apex units cost $11,000 without a principal guarantee and $13,750 with.
Apex marketing represents the principal guarantee will pay out $11,000 if anything goes wrong during the five-year investment contract period.
Apex Affiliate Ranks
There are ten affiliate ranks within Apex's compensation plan.
Along with their respective qualification criteria, they are as follows:
Affiliate – sign up as an Apex affiliate
L1 – sell at least one Apex investment unit
L2 – recruit and maintain two investing affiliates
L3 – personally recruit three affiliates and generate a downline of at least twenty investing affiliates or generate fifty downline Apex unit investments
L4 – personally recruit four affiliates and generate a downline of at least fifty investing affiliates or generate one hundred and twenty-five downline Apex unit investments
L5 – personally recruit five affiliates and generate a downline of at least one hundred and fifty investing affiliates or generate three hundred and seventy-five downline Apex unit investments
L6 – personally recruit six affiliates and generate a downline of at least two hundred and fifty investing affiliates or generate six hundred and twenty-five downline Apex unit investments
L7 – personally recruit seven affiliates and generate a downline of at least five hundred investing affiliates or generate one thousand two hundred and fifty downline Apex unit investments
L8 – personally recruit eight affiliates and generate a downline of at least one thousand investing affiliates or generate two thousand five hundred downline Apex unit investments
L9 – personally recruit nine affiliates and generate a downline of at least two thousand investing affiliates or generate five thousand downline Apex unit investments
Note that across ranks L3 to L6, no more than 40% of required qualification criteria can come from any one unilevel team leg.
For ranks L7 to L9, this qualification cap is decreased to 30%.
Recruitment Commissions
Apex pays commissions on unit investment down two levels of recruitment:
$500 on level 1 (personally recruited affiliates); and
$100 on level 2 (affiliates recruited by your level 1 affiliates)
Residual Commissions (matrix)
Apex pays residual commissions via a 3×2 matrix.
A 3×2 matrix places an affiliate at the top of a matrix, with three positions directly under them: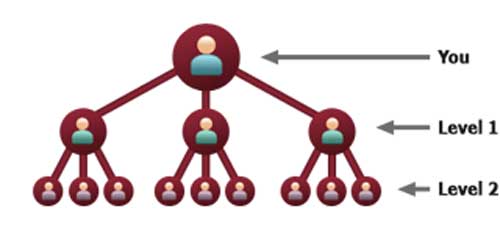 These three positions form the first level of the matrix. The second level of the matrix is generated by splitting each of these first three positions into another three positions each (9 positions).
In total, a 3×2 matrix has twelve positions to fill.
Positions in the matrix are filled via direct and indirect recruitment of Apex affiliates.
For each unit invested by affiliates placed into the matrix, a $40 a month residual commission is paid out.
Residual Commissions (unilevel)
Residual unilevel commissions appear to extend residual commissions beyond an Apex affiliate's 3×2 matrix.
A unilevel compensation structure places an affiliate at the top of a unilevel team, with every personally recruited affiliate placed directly under them (level 1):

If any level 1 affiliates recruit new affiliates, they are placed on level 2 of the original affiliate's unilevel team.
If any level 2 affiliates recruit new affiliates, they are placed on level 3 and so on and so forth down a theoretical infinite number of levels.
Apex caps residual commissions at nine unilevel team levels.
Although not explicitly clarified, I believe Apex affiliates have to unlock unilevel levels by qualifying through ranks L1 to L9 (refer to rank qualification criteria above).
$30 is paid out per month per unit invested by an affiliate across these nine levels.
Residual unilevel commissions expire at the end of the five year unit investment contract they are paid out on.
Check Match Bonus
Apex appears to pay the Check Match Bonus on residual commissions earned, down four generations.
Apex defines a generation when an affiliate is found in a unilevel team leg who has filled their 3×2 matrix.
If such an affiliate exists in a unilevel team leg, they cap off the first generation for that leg. The second generations begins immediately below them.
If a second affiliate who has filled their 3×2 matrix is found deeper in the leg, the second generation is capped off and the third begins.
If no such affiliate exists, the second generation extends down the full depth of the leg.
Using this generational structure, Apex affiliates can earn a 10% Check Bonus Match on up to four generations per unilevel team leg.
to unlock one generation match an Apex affiliate must have filled their 3×2 matrix
to unlock two generations match an Apex affiliate must have one personally recruited affiliate who has also filled their 3×2 matrix
to unlock three generations match an Apex affiliate must have two personally recruited affiliates who have filled their 3×3 matrices
to unlock four generations match an Apex affiliate must have three personally recruited affiliates who have filled their 3×3 matrices
Quarterly Bonus Pool
Apex takes an undisclosed percentage of company-wide invested funds and places it into the Quarterly Bonus Pool.
To qualify for a share in the Quarterly Bonus Pool Apex affiliates must fill their first 3×2 matrix.
An additional Quarterly Bonus Pool share is awarded on the first affiliate who fills their first 3×2 matrix in each unilevel leg.
When an Apex affiliate recruits an affiliate they create a new unilevel team leg.
Affiliates recruited by that affiliate, affiliates those affiliates recruit and so on are placed in that leg.
There is no limit to the number of unilevel team legs an Apex affiliate can create.
Quarterly Bonus Pool shares pay up to $15,000 per share per quarter for five years.
Note that Quarterly Bonus Pool shares don't pay out until 12 months after they are earned (4 quarters).
Joining Apex
Apex affiliate membership is free.
Full participation in the attached income opportunity requires a minimum $11,000 (no principal insurance) or $13,750 (with principal insurance) investment.
Apex also offers a "4 and free" bonus pack, in which affiliates invest in four units and receive a fifth for free.
Investment, returns and commissions within Apex are paid in either USD or bitcoin.
Conclusion
Apex affiliates invest $11,000 or $13,750 a pop on the promise of a five-year $500 a month ROI.

Supposedly Apex affiliate investors are buying "proprietary modular technology" hardware from SafeTek, who then leases back the machines from the affiliate for 60 months.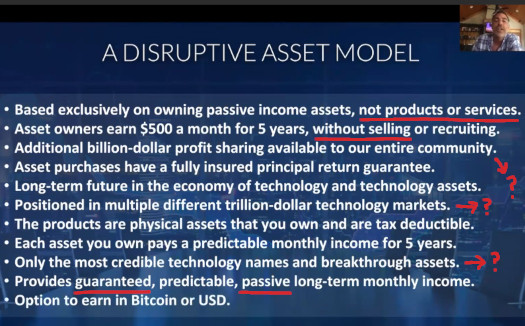 SafeTek purportedly generate external ROI revenue by using the hardware on
Artificial Intelligence, Blockchain Technology, Virtual Reality, 3D Rendering, Cryptographic and Data Mining, Financial Technology, Health Technology, and more.
SafeTek is owned by Investview and, as disclosed in SEC filings, up until recently was WealthGen Global, LLC.
SAFETek, LLC (formerly WealthGen Global, LLC) is a new addition that we are currently establishing for expansion plans in the high-speed processing computing space.
WealthGen Global was part of Investview's failed cryptocurrency mining operations.
This is important, because according to a JVA between Investview and a number of other companies (more on the JVA later), all Apex affiliates are doing is buying bitcoin mining hardware.
The hardware itself is purchased from Bitex Sales LLC and hosted with FiberTek Hosting LLC.

James Wolfgramm is the CEO of both companies.
As per the JVA, the hardware is referred to as "cards".
Hardware is defined as a Data Processing Card which will have a Wholesale price extended to the Client of $6,500.00 U.S.D. starting upon the 1st order placed by the Client and continuing for 1 year.

Each card is capable of a maximum output which can vary between the equivalent of 750 k/sols to 1200 k/sols, depending on manufacturing control.

Historically, Fibertek overclocking data processing cards can increase throughput up to 750 Ksols without liquid cooling, up to 1200 ksols with liquid cooling, or equivalent hashrate per card, and on average 200 ksols or equivalent hashrate for non-overclocked cards.

If an equivalent hashrate is not possible, the host will always overclock to maximum capacity.

The mining profits earned by the mining services rendered by the Host on the Client's Equipment shall be paid to the Client on a monthly basis up until April 1st, 2019 and thereafter on a daily basis.
Despite the AI, blockchain tech, virtual reality etc. etc. spiel, all Apex are doing is mining bitcoin through a third-party.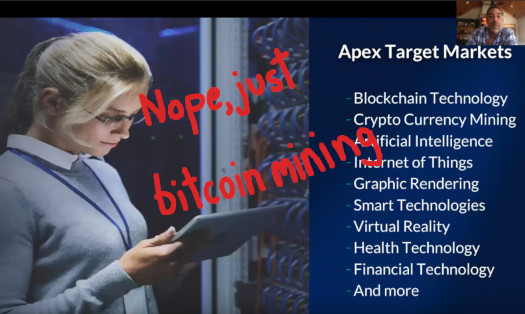 In other words, Safetek is doing exactly what WealthGen Global, LLC was supposedly doing. All that's changed is the name.
Back to Apex's investment opportunity…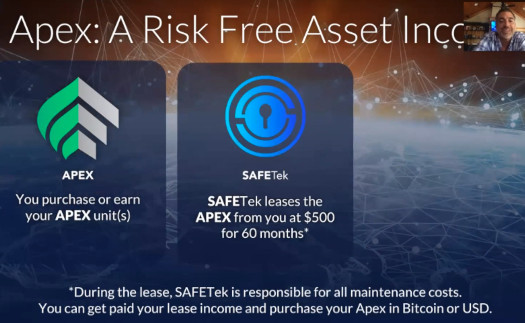 With respect to the MLM industry, securities offerings are identified as per the Howey Test.
This involves establishing whether or not an investment contract is present
As defined by the Howey Test, an investment
an "investment contract" for the purposes of the Securities Act (is) a contract, transaction or scheme whereby a person invests his money in a common enterprise and is led to expect profits solely from the efforts of the promoter or a third party.
In Apex, affiliates invest funds in a common enterprise (Apex itself), because they are "led to expect profits solely from the efforts of" Apex itself (via bitcoin mining).
Apex affiliates do nothing towards generating returns other than handing over thousands of dollars.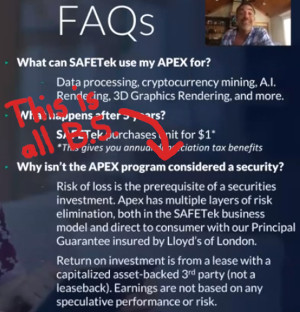 Despite clearly being a securities offering, Investview is adamant it isn't because… well, for reasons that have nothing to do with the Howey Test or securities regulation.
Risk of loss and "but it's a lease!" pseudo-compliance have nothing to do with MLM opportunity securities regulation.
If you're dumping money into an MLM company on the representation you'll make passive returns, that's a security. Period.
So naturally Investview hasn't reported their Apex securities offering to the SEC.
There's enough third-parties involved to suggest Apex isn't a blatant Ponzi scheme. But the fact remains they're hedging viability on generating more than $500 a month via bitcoin mining.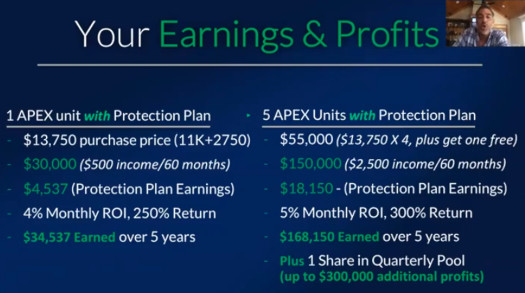 If Apex and all the companies attached to it don't cover their costs and generate $500 to pay out on each unit, what then?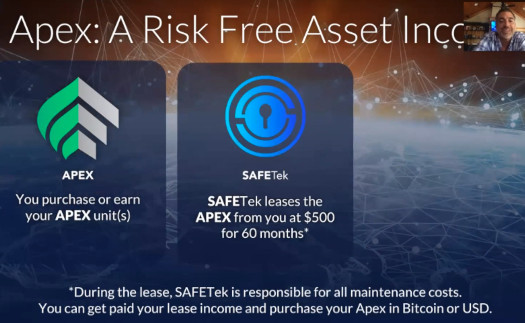 There's also the $2750 protection plan, which in itself is also a passive securities offering: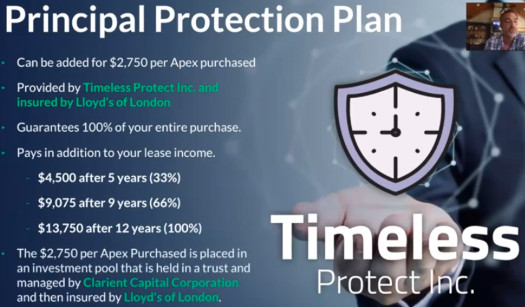 All of this sounds like something the SEC should be looking into. Then again, we've been reporting Investview's dodgy securities offerings since 2015.
The CFTC investigated and fined Investview a $150,000 last year, but since then nothing. That's despite Investview going on to launch several questionable unregistered securities offerings.
One last thing I want to touch on is the source of some of the screenshots above. We got them from an Apex presentation Jeremy Roma did on or around June 1st, 2019.
Last we heard of Roma was in late 2018. At the time he was following Holton Buggs into the failed IQ Chain Ponzi scheme.
A joint venture agreement filed by Investview back in March reveals Roma is heavily involved in Apex.
Roma, along with Investview executives Ryan Smith and Annette Raynor, and AI Data Consulting, seemingly a shell company incorporated in the UAE and owned by Carlos Benvenuti, are listed as Managing Members of Safetek.
Roma also owns Freedom Enterprise LLC, one of the companies pertaining to Investview's filed joint venture agreement.
Both Benvenuti and Roma are former Organo Gold distributors, which appears to be their personal connection.
The bitcoin mining hardware Apex affiliates are investing in are purchased from Bitex Sales LLC.
Carlos Benvenuti and Jeremy Roma, through their respective companies, have a master purchase agreement with Bitex.
Possibly also in violation of securities law, none of this is disclosed by Roma in his Apex presentation.
Update 17th October 2019 – Readers in the comments below revealed that the JVA cited in this review has since been terminated. This prompted me to take a closer look at Investview's recent SEC filings.
Investview indeed terminated its JVA with AI Data Consultancy LLC (Carlos Benvenuti) and Freedom Enterprise (Jeremy Roma) on September 15th.
Surviving the JVA termination is a revenue share agreement between Investview and Freedom Enterprise.
The revenue share agreement reveals Jeremy Roma has set up Freedom Enterprise as a UAE shell company.
The address used is the same as AI Data Consultancy, suggesting Roma and Benvenuti set up their respective shell companies around the same time.
The revenue share agreement notes the creation of Apex Tek, which is another renamed Investview company (formerly Razor Data LLC).
APEX TEK will market and sell the product known as APEX and SAFETEK will lease back and deploy the equipment in a variety of data processing environments and applications.

The Parties have worked closely to establish the program, companies and structure. Both entities are in operation and the APEX product was officially launched through the joint efforts of the parties on August 31st, 2019.
The agreement positions Jeremy Roma as Vice Presdient of Apex Tek and President of Safetek.
Whereas the previous JVA disclosed the nature and source of bitcoin mining rigs used to fund returns, Roma's revenue sharing agreement isn't specific.
APEX TEK will source, purchase and re-sell the components required for the APEX program.
Where Apex Tek is getting their hardware from is unclear and not disclosed to either the SEC or Apex affiliate investors.
What we do know is Roma is scooping up former OneCoin scammers to front Apex.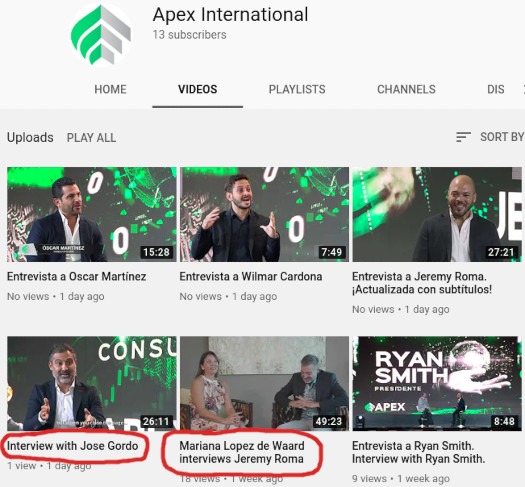 Mariana Lopez and Jose Gordo up until recently were prominent OneCoin promoters.
The pair focused on targeting South American investors, and together likely made off with a sizable chunk of OneCoin victim's money.
The DOJ allege OneCoin is a $4 billion dollar Ponzi scheme. Criminal proceedings have subsequently been initiated against several OneCoin executives.
None of this seems to bother Jeremy Roma, Apex or Investview though.
One final interesting tidbit I came across in Investview's filings is their precarious financial position.
Since inception through to March 31st, 2019, Investview has incurred operational losses of $25,096,983.
Throughout 2019 the company has gone on to lose several more millions.
Isn't it strange that a company who continues to launch questionable investment opportunities itself can't turn a profit?