The witness testimony of Konstantin Ignatov

If you ever wondered what day to day life was like in a $4 billion dollar Ponzi scheme, Konstantin Ignatov's witness testimony is probably your best bet.
BehindMLM reader WhistleBlowerFin has graciously made available transcripts from Scott's trial late last year.
In addition to his pre-trial testimony and live reporting from the Inner City Press, the following testimony is from Mark Scott's November 2019 trial.
Konstantin Ignatov was questioned by the DOJ and cross-examined by Mark Scott's attorney Arlo Devlin-Brown.
I've done my best to quote the transcript with minimal editing. There is some overlap between Konstantin's pre-trial testimony and Inner City Press' reporting, but I've done my best to minimize it.
When combined, I believe all three sources make for compelling reading to anyone who's been following OneCoin.
OneCoin's blockchain audit reports were fraudulent
Despite evidence to the contrary, OneCoin long held it's blockchain was audited.
An audit report was made available on OneCoin's website. Naturally no specifics were provided, with the report coming off as little more than an "everything is legit" rubber stamp.
As part of his defense, Mark Scott's attorneys wanted to present the jury with a copy of one of the audits.
The day prior, Konstantin Ignatov testified that the audit report was "fraudulently prepared".
Didn't Mr. Ignatov testify yesterday that this report was prepared, it was fraudulently prepared, and it was put up on the website?

MR. FOLLY: Your Honor, he did.
Note that the topic of audit legitimacy has come up before, following subpoenaed emails revealing fake coins were part of OneCoin's fraud.
Despite the provided blockchain audit report being fake, ultimately the court allowed the defense to admit it as evidence (with respect to Scott's state of mind, not whether the report was legitimate or not).
After Ruja Ignatova disappeared OneCoin's IT staff, cited as "Momchil and Ivan", confessed to Konstantin 'that the blockchain is not exactly what it should be.'
During an afternoon of drinking at the office a few months later, Irina Dilkinska told Konstantin that OneCoin had "distributed more coins than were mined".
Dilkinska likened soliciting investment from OneCoin investors to "selling people air".
Konstantin Ignatov faked contact with Ruja after her disappearance
After Ruja Ignatova disappeared in October 2017, her brother Konstantin took her place as the head of OneCoin.
In this role, Konstantin regularly claimed to be in contact with Ignatova. This lead to multiple excuses covering up her disappearance.
In his testimony, Konstantin admitted he lied about having contact with his sister.
Q. During this time period (after Ruja disappeared), were you in touch with Ruja?

A. No.

Q. Did you make representations that you were in touch with Ruja?

A. Yes, I did.

I was, for example, presenting at OneCoin events, mentioning that I'm still in touch with Ruja, that she's still in the decision-making process involved.

Q. Why did you make those representations?

A. In front of the network so that everybody thinks that everything in the company is still going, and everything is okay.

Q. Who did you make those representations that you were still in touch with Ruja to?

A. To everybody except my parents.
After a fraud conviction in Germany, Ruja fled to Bulgaria
About ten years ago Ruja and her father owned a metal plant in Germany. The business collapsed due to fraud, and Ruja and her father were prosecuted.
A. The metal plant had to close down, and afterwards, Ruja and my father got prosecuted by law. And Ruja got in the end — excuse me — probation because of fraud.

Q. Did there come a time when your father and Ruja were both charged with criminal charges connected to that business?

A. Yes, in the end.

Q. Was the nature of those charges involving fraud?

A. Yes.

Q. Can you describe what happened after your father and your sister were charged with those crimes?

A. My sister went immediately to back to Bulgaria to live there, and left my parents alone in Germany, which led to a lot of death threats, a lot of violence against things that my parents have, like the apartment, or the car.

In the end, this led to a very hard heart attack of my father, and he became very sick.
Konstantin claims he had to drop out of university to care for his father.
OneCoin investor dissatisfaction lead to Konstantin being kidnapped at gunpoint
Ruja Ignatova's 2017 disappearance saw existing dissatisfaction among OneCoin investors reach fever pitch.
In early 2018 Konstantin started receiving death threats on his phone.
In March Ignatov claims he was kidnapped at gunpoint.
in March 2018 when I wanted to go back to my car after working.

Somebody put a gun in my back and I was forced into a minivan.

Then I was taken out to the suburbs of Sofia where I got beaten up, a finger of mine was broken, and a gun was pointed out me.

And I was told if Ruja disappeared with the money, that these people would come back and kill me. And if I go to the police, that they will cut a body part out of me.
Later in 2018 Konstantin
got a call from a person who identified himself as a high-ranking member of the Hells Angels telling me I have to come to Zurich, Switzerland, to answer him and his business partners' questions. And if I don't come, he said that this will have a bad ending for me.

So I went there, where I ended up with them in a hotel room.

Again, a gun was pointed at me. This time, it was stuck into my mouth.

And I was told that I have to make sure that every promise that is made to them has to be fulfilled, and they told me that the money they invested into the company is far more worth than my life.
As part of his plea agreement with the US, Konstantin, his girlfriend and newborn will be entering witness protection.
After claiming the government stole his belongings, Konstantin threw his laptop in the trash
When Konstantin landed in the US in late February 2019, he was stopped by border patrol.
Border patrol confiscated Ignatov's phone and laptop. The laptop was returned but they kept the phone.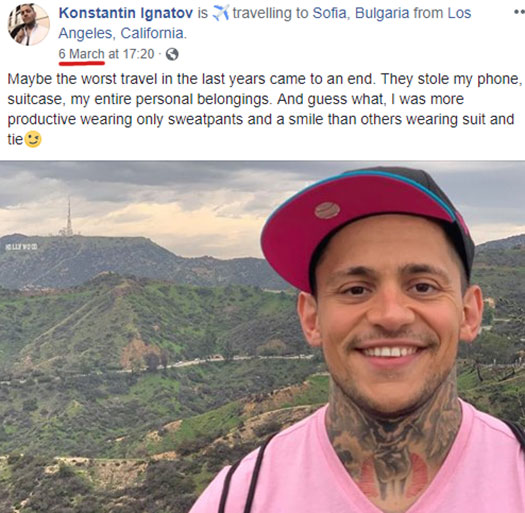 Konstantin hung on the laptop till he got to Las Vegas.
A. When I was in Las Vegas, I put it into a paper trash bag with other trash items, and I took it to a trash bin on a busy place in the Las Vegas Strip, and I threw it into the trash bin there.

Q. Why did you do that?

A. Because I was afraid that somebody might find more evidence connecting me to OneCoin.
In Vegas Konstantin met with OneCoin investors.
Q. What did you do while you were in Las Vegas?

A. I had some meetings with people from the OneLife network. And then I attended two meetings that were intended to be about the future of e-commerce in the U.S.A., but in fact, in the end it was shown that these people that I met just wanted to implement a new Ponzi scheme in OneCoin.

Q. What was the nature of the new Ponzi scheme they wanted to implement?

A. It was called pump the volume. And it is promising the OneCoin members that already have packages in coins, that their money will increase thousand fold if they put some more money as an investment into the company.
At the time Konstantin claimed the three days he spent in Vegas were "very productive".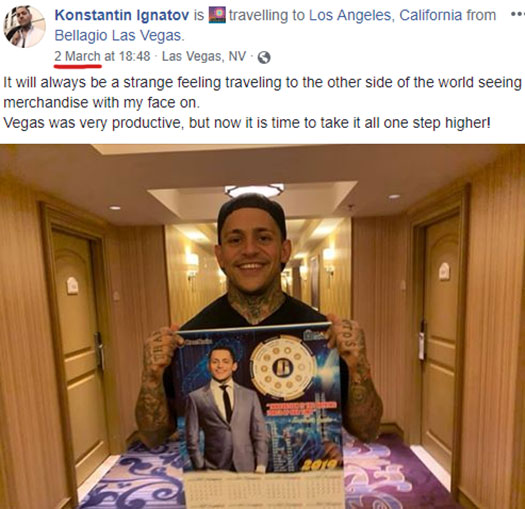 He was arrested a few days later as he attempted to leave the country.
Konstantin snitched on Ruja and his mother
As of December 2019 Konstantin had met with the government "around 20 times".
The meetings were a combination of preparing to testify at Mark Scott's trial, as well as gathering of OneCoin related information.
Part of that gathering process saw Konstantin snitch on his sister Ruja, and mother Veska Ignatova.
Q. What type of information did you provide the government with?

A. About the crimes I committed, and every information I had about OneCoin, and the people related and the crimes that were committed in there.

Q. Did some of those crimes that other people committed relate to members of your own family?

A. Yes, to my sister and to my mother.
Veska Ignatova wrote a letter supporting Konstantin's release from prison following his arrest. She was instrumental in the operation of OneCoin and remains at large.
Fernando Rys worked as Ruja Ignatova's OneCoin money mule
It's common knowledge that Ruja Ignatova was fond of spending OneCoin investor funds.
Q. What properties did Ruja buy during the time period between 2015 and 2017?

A. The London penthouse we were talking about yesterday. She bought another penthouse in Dubai. A mansion in Dubai.

A big mansion at the seaside of Bulgaria. Big mansion for her husband in Frankfurt, Germany, and various mansions in Sofia, Bulgaria.
Outside of her real estate empire, Ruja funded shopping sprees with the assistance of local money mules.
Fernando Rys was a OneCoin investor and manager of the company's Hong Kong office.

He was also Ruja Ignatova's personal money mule when she visited the country.
A. One time, it was in Hong Kong, I've seen Fernando Rys bringing her a backpack full of cash.

Q. Can you describe what happened when he brought that cash?

A. It was in the Ritz Carlton in Hong Kong. Ruja told me that Fernando will come because he owes her some money.

And then he came with his assistant and his bodyguards, and he left there a big backpack that was full of cash.

Q. Approximately how much money was inside of the backpack?

A. It was more than one million Hong Kong dollars.

Q. What did Ruja do with the money?

A. She went shopping in a luxury mall.

Q. Was it common or rare for Ruja to go shopping? A. It was very, very common for her.

Q. What types items did she buy?

A. Clothes only from the most expensive designers, a lot of jewelry, but she also bought a lot of cars, she had a lot of mansions and a yacht.

Q. You mentioned that Ruja would buy jewelry. Do you know how much any of the jewelry cost that she purchased?

A. I know that the most expensive items she owns are more than one million each.
Details on Rys are sketchy. His current status and whereabouts are unknown.
Update 14th March 2020 – I was initially unable to find anything on Rys because of a typo in the filed transcript.
The transcript misspells Rys' surname as "Rhys". Using the correct spelling reveals Rys' OneCoin history.
Ruja named her daughter Davina
This tidbit came courtesy of exhibits of Ruja's daughter's christening party.
Q. Mr. Ignatov, do you recognize those?

A. Yes, this is a Christening party of Ruja's daughter Davina in Ruja's property in Sozopol at the seaside in Bulgaria.
Ruja was quite fond of the name, opting to name her Bulgarian yacht after her daughter.
As part of efforts to protect her daughter, Ignatova purchased an armored Lexus.
Q. What types of cars did Ruja buy?

A. She had a Rolls Royce, a Bentley, a Porsche, and an armored Lexus.

Q. The last one you mentioned was an armored Lexus. Is that right?

A. Yes.

Q. Did you have any conversations with her about that car?

A. Ruja was always very afraid that somebody might kidnap her daughter.
Neither Ruja or Konstantin invested any of their money into OneCoin
Not that this should come as a surprise, but for all the talk of "future of money" etc., turns out neither Ruja or Konstantin invested a dollar into OneCoin.
Q. Approximately how much money did Ruja make from OneCoin before she disappeared?

A. Over 500 million.

Q. Where did that money come from?

A. From OneCoin investors.

Q. Did Ruja make any of that money by investing herself into OneCoins?

A. No.

Q. Did you make any money yourself by investing into OneCoins?

A. I never invested into OneCoin.

Q. Did she ever invest in OneCoins?

A. No.
One of OneCoin's legal rubber stamps might have been tied to sex
One of the vehicles Ruja Ignatova used to launder OneCoin investor funds was RavenR.
RavenR had an office in London. Konstantin claims the company was staffed by
Duncan Arthur, Joanna Allinson, Gary Gilford, Max Bon Arin, Najib Kassis, and two Russian gentlemen, Anton and Anatoly.
Gary Gilford was RavenR's office manager. Konstantin claims he was "supervising every project" and "getting legal opinions".
One of those legal opinions was obtained through the law firm Hogan Lovells.
Did you have any discussions with your sister Ruja about Gary Gilford and that work with Hogan Lovells?

A. She mentioned he got either a legal opinion or a license, I can't recall completely. With sleeping with an employee of Hogan Lovells.
The language is a bit odd, but Konstantin seems to be inferring Gilford was sleeping with one of Hogan Lovells' employees.
BehindMLM reader Semjon commented last November that Hogan Lovells'
representatives went to the Sofia office, investigated it with "fine-tooth comb", made some recommendations but ultimately gave their blessing to OneCoin.
Whether Gilford's alleged relationship played any part in Hogan Lovells rubber-stamping OneCoin is unclear.
Konstantin also identified Martin Breidenbach (Breidenbach Rechtsanwalte) and Steven Schulenberg (Schulenberg & Schenk) as German lawyers "she worked with on OneCoin business".
Both Breidenbach's and Schulenberg's firms published legal opinions rubber-stamping OneCoin.
Viktor Rashev, a Bulgarian lawyer, is also cited as being "in charge of Ruja's properties".
Sebastian Greenwood made off with over a hundred million after Ruja disappeared
According to Konstantin, Ruja Ignatova stashed "hundreds of millions" in apartments in Dubai, Hong Kong and South Korea.
Q. Approximately how much cash was stored in those apartments?

A. Hundreds of millions.
After Ruja Ignatova disappeared, Konstantin claims Greenwood emptied out Ignatova's South Korean and Hong Kong apartments.
We're aware of $7.1 million of Greenwood's stash being seized in China.
Beyond that we haven't heard anything since his late 2018 Thailand arrest and reported extradition to the US.
Mark Scott had armed security during his visits to Bulgaria

In 2016 Mark Scott (right) made a trip to Bulgaria.
Phone messages between Scott and his wife Lidia Kolesnikova reveal he was chauffeured around by armed security.
The first message is from Scott, Mark Scott to Lidia Kolesnikova. It says: Just showered. Off to see R.

The response from Lidia Kolesnikova is: Is G there?

Mark Scott writes in response: In the morning. Nothing yet. And G tomorrow.

There's a question from Lidia Kolesnikova: How is Sofia?

Mark Scott writes: Busy driving to Hilton soon and then dinner at 8 p.m.

Getting used to driver and security. I like it. And then there appear to be some emojis below that.

Then in the final message from Mark Scott he writes: Funny how people look at you that way.

They can't carry guns on belt so they all have a sleek type of Man purse hanging around their necks with weapons. Everyone know. Even police is polite. LOL.

And X6. Cheyenne Turbo S Class. And always two guys. Ruja more. And they stay outside of hotel.
As per Konstantin's alleged assaults, apparently when he took over he wasn't offered the same protection.
When things went wrong, Ruja Ignatova screamed at people on the phone
Prior to Ruja Ignatova's disappearance OneCoin had many set backs, most of which we've documented here after they happened.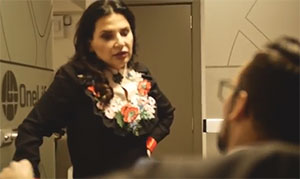 In real time, Ruja Ignatova doesn't appear to have taken failure well.
In one particular example remembered by Konstantin;
I heard her screaming on the phone. I think it was to Maya Antonova.

And she called, excuse me, my language now, Mark Scott an idiot, that he fucked totally up and that he's useless.
This was a few months after Scott's 2016 visit to Sofia, for a meeting held so that 'Scott understood everything that has to be or he has to do'.
Irina Dilsinka sat in on the meeting. She later told Konstantin it went on for "a long time".
Outside of OneCoin's Sofia office, Ruja held "important" business meetings at The Residence.
Q. What is the Residence?

A. The Residence is something like a club for the rich people in Sofia where Ruja always liked to have her business meetings that are important.
On its website, The Residence pitches itself as a 'one of a kind elite private club in Bulgaria'.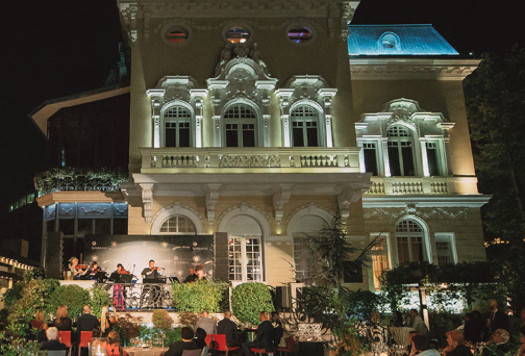 The Residence is an exclusive private club based on the careful selection of its members and the concept of spiritual and social communication in a cozy and peaceful environment.
Another instance saw either Irina Dilkinska or Maya Anatova (from Onecoin accounting),
getting screamed at from Ruja because money got frozen. I think it was in Germany.
Mark Scott wasn't worried about getting caught
In January 2017 Ruja Ignatova began to worry about the ill-gotten wealth she'd accumulated.
On another visit to Sofia, Scott picked up on this.
Text messages between him and his wife however suggest, at least as far as his own involvement in OneCoin went, he didn't share Ruja's concerns.
On January 11, 2017 Mark Scott writes: By the way, please look around a bit for investment property. I need to diversify into real estate. Maybe a couple of places for 750 to 1.0 mio each.

The following day he writes: In Sofia now, with what appears to be a fire emoji. And another text message on the same date.

Mark Scott writes: We had stuff to discuss. I think she is nervous a little and wants to split up her money. Does not matter to me baby. As long as I make mine.
OneCoin was "dead" after Ruja's October 2017 disappearance
As recounted by Konstantin;
after Ruja disappeared the company was more or less dead. There was no money left.

And we were searching for sources where other companies that has some funds.

And Irina said that, for example, there are still funds with Mark Scott and Amer Abdulaziz.
This is significant because after Ruja disappeared, OneCoin's top net-winners began to leave the company.
Those that started up or joined other scams often trotted out cock and bull stories.
In reality why they left OneCoin was much simpler; after Ruja disappeared there was no money in it.
The DOJ gave the leaked presentation to something called "Operation Satellite"
Frank Schneider, head of OneCoin's money laundering operations, also had connections in law enforcement.
It was Schneider who tipped Ruja off that she was under investigation.
This was learned via details of a DOJ presentation to an up till now undisclosed party, being leaked to Schneider.
Up until now we've had no specific details on who the DOJ gave the presentation to.
As per an email exchange between Schneider and Konstantin (who used the screen name "ieatflowers"), the name of the group the DOJ presented to is "Operation Satellite".
The e-mail reads: Sorry, I answered a little too quick. There is a potential problem with Mark that you need to know.

When we saw the presentations that the US authorities gave to an international working group called Operation Satellite in January 2017, they identified targets and target entities.

The US new about Fenero, the transfers to Ireland and presumably also the transfers to Dubai.

The presentations mentioned GA, SG, R, various structures and companies, Singapore accounts, etc. But there was no mention of MS, none.
The context of the email was what US authorities knew about OneCoin, and suspicion that Mark Scott might be a rat.
I've had a search on Operation Satellite and haven't turned up anything.
The name has been used in a few unrelated investigations, but nothing OneCoin specific.
If I had to guess "working group" refers to an international joint-task of law enforcement who, at the time, were working together on investigating OneCoin.
Konstantin refers to Frank Schneider as a "very well connected person (with) informants everywhere."
As at the time of publication Schneider remains at large.
Sebastian Greenwood slept with Ruja Ignatova's PA
Sometime between late 2016 and early 2017, Sebastian Greenwood had an affair with Ruja Ignatova's PA at the time, Denitza Godeva.
Upon learning of the affair, Ruja Ignatova fired Godeva.
I don't recall Greenwood being married, so I believe it was Godeva who was cheating.
After firing Godeva, Ignatova approached her brother Konstantin about taking the role.
Ruja told Konstantin "she couldn't trust other people".
After thinking about it for a bit, Konstantin left his forklift driver position at Porsche to work for his sister.
Ruja bought Konstantin
clothes from more expensive brands because she said she doesn't want to be embarrassed anymore when (he was) around her friends and business partners.
Ruja Ignatova and Sebastian Greenwood had a "strange" relationship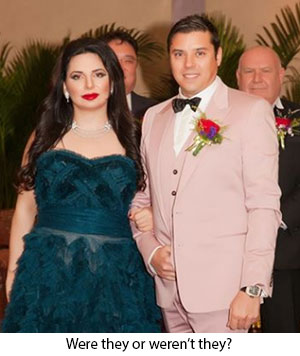 It's no secret Sebastian Greenwood and Ruja Ignatova were close.
The pair founded OneCoin and, during the company's heyday, were seemingly inseparable.
We know Greenwood was banging Ruja's PA, but was he banging Ruja herself?
Konstantin doesn't confirm as much, but does state their relationship was "strange".
Q. So Sebastian Greenwood and Ruja Ignatova you believe had a romantic relationship at some point?

A. I don't know. Nobody ever told me.

Q. Well didn't you tell the prosecutors or the agents that you believed they had a romantic relationship?

A. They had something strange going on. They called themselves once brother and sister. Then you see them hugging. Then you see them holding hands. Then you see them — each other.

Nobody ever told me. It's just a strange relationship they had.
Will the mystery of Ruja Ignatova and Sebastian Greenwood's relationship ever be solved?
Frank Ricketts advised Ruja Ignatova on how to evade law enforcement
In exchange for a top position within OneCoin, Frank Ricketts sold his pyramid scheme SiteTalk to Ruja Ignatova.
Ricketts also owned International Marketing Services (IMS), which was used to launder OneCoin investor funds through.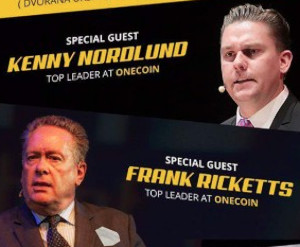 According to Konstantin, Ricketts helped Ignatova launder money with the help of 'his business partner Kenny Nordland, also his wife'.
As part of the SiteTalk deal, Nordlund also got a cushy position within OneCoin.
In addition to assisting with financial fraud, Ricketts also consulted Ignatova on
how she can avoid law enforcement, and how she can avoid prosecution.

Because Frank Ricketts himself had a lot of problems with prosecutions, but never really got in jail for it, and always got away with it.
Konstantin claims Ricketts was "very proud" to be advising Ignatova on how to evade authorities.
Ricketts is believed to currently be hiding out in Thailand. His latest gig is the Cloud Horizon Ponzi scheme.
Irina Dilkinska's post-arrest meltdown
Irina Dilkinska worked closely with Mark Scott to set up shell companies to launder OneCoin investor fund through.

After news of Mark Scott's arrest reached Sofia, Dilkinska (right) had a meltdown.
A. Maybe again two days later Irina came to the office, in Sofia, and she was panicking a lot and she told me that — sorry my language — she's fucked now.

Because she's in all papers with Mark Scott, and when they got him they will also get her.

Q. Where did that conversation with Irina Dilkinska take place?

A. In the Sofia head office of OneCoin.

Q. What was Irina Dilkinska's demeanor during that conversation?

A. She was panicking, she was really going crazy.

Q. What did she say to you?

A. She said that she's fucked. And that she's in all of the documents with Mark Scott, and that when they got him, they will also get her. So that she's got a lot of problems now.

Q. After this conversation in the OneCoin office, did you have any additional discussions with Irina about Mark Scott's arrest?

A. A few days later, at the office of the law firm that is providing services to OneCoin, Irina came in and she was again very panicking, but this time she was very demanding.

And she demanded the lawyers to hand her out all of the documents of OneCoin so she can find every document that she's in with Mark Scott, so that she can destroy them like she destroyed the documents she had at home.

Q. You referenced that she had destroyed documents at her home. What, if anything, did she say to you about that?

A. She said that she burned them all.

Q. What was your understanding of what documents those were?

A. These were documents where Irina was also mentioned to be in some companies with Mark Scott.

Q. What was your understanding of what Irina wanted to do with the documents that were at the law firm?

A. She wanted to go through all the documents to find the ones that she is in with Mark Scott, and I think she wanted to burn them too, like the ones she did that she had at home.

Q. Did that in fact happen?

A. No. The lawyers told her that they moved the documents to somewhere where they have a safe.
Irina Dilkinska remains at large. Her current status and whereabouts are unknown.
Konstantin's Power of Attorney over Ruja Ignatova is likely fake
Part of the evidence cache collected during Konstantin's arrest, was a power of attorney document pertaining to his sister, Ruja.
To date I don't think anyone has challenged the document, but how Konstantin received it lends itself to being fraudulent.
Q. When you were arrested the government discovered you had a power of attorney from Ruja Ignatova, right?

A. Yes.

Q. And a power of attorney is something that gives you rights to do things that Ruja Ignatova previously had rights to do or in addition to what rights she has, right?

A. Well this power of attorney was given to me by Irina Dilkinska and I'm not sure if this is real.

She told me that she got it via chain of people, that Ruja gave it to her.

But later on I learned that Irina Dilkinska is trying to get our fake power of attorney to Ruja's money.

So I don't know if this is a real power of attorney and I never used it.

Q. So you believe Irina made a fake power of attorney?

A. She did it before.

Q. When did she do it before?

A. She did it, I don't know exactly the month, but I was told that she did it to get the money from Amer Abdulaziz.
It should be noted that Dilkinska likely also has fake passports in her possession. A fake Power of Attorney notice isn't much of a stretch.
OneCoin's cringey "haterz" defense came from the top
BehindMLM first sounded the OneCoin alarm in our 2014 published review.
Since then we've faithfully covered and continue to cover OneCoin developments.
When confronted with our research, or in fact anything suggesting OneCoin is a scam, proponents of the Ponzi scheme dismissed it because it came from "haterz".
This has become a bit of a cliche, used ironically to preemptively describe how what's left of OneCoin will dismiss new developments (such as this article).
As Konstantin himself learned, OneCoin's cringey "they're just haterz" culture spread top down.
Q. At times when you were working there I believe you saw rumors on websites suggesting there were problems with OneCoin; is that right?

A. Yes.

Q. And you told Ruja that in some cases that you had seen these things?

A. Yes.

Q. And she told you it's haters and it's not real and what we're doing is real, right?

A. Yes. This is the main answer I always got.
Unfortunately after it collapsed, OneCoin scammers spread far and wide.
"Haterz" has become the default response when information that is detrimental to the promotion of scams can't be explained away.
Despite being MIA for two and a half years, in some ways Ruja's legacy lives on.
Konstantin's plea agreement might spare him additional prison time
Having plead guilty, Konstantin is yet to be sentenced.
As revealed in cross-examination, part of Konstantin's plea deal is the possibility the DOJ will submit a "5K Letter".
Q. And the big advantage of a cooperation agreement is there's a possibility of the government writing what's called a 5K letter to the judge before sentencing, right?

A. If I testify truthfully, yes.

Q. And the 5K letter gives you a potential, right, for a much lower sentence?

A. Yes.

Q. You could be sentenced to as little as time served, right?

A. Yes.

Q. No guarantees, of course?

A. No.

Q. It's up to the judge?

A. Yes.
As at the time of publication, Konstantin's sentencing hearing has yet to be scheduled.
Update 25th September 2021 – Mark Scott's retrial letter motion has revealed that Konstantin didn't throw away his laptop, as alleged above in his witness testimony.
Rather he gave the laptop to Duncan Arthur, who traveled with it out of the US.
Upon travelling to OneCoin's head office in Bulgaria, Arthur handed the laptop over to Konstantin's mother, Veska.