Alex Jones and InfoWars sign up as Jeunesse distributors?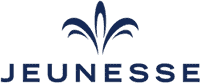 Regardless of where you fall on the political spectrum, you've probably heard of Alex Jones.
Gay frogs, crisis actor claims, getting banned from pretty much every significant social media network for terms of service violations over the past month?
Yeah, Jones is an undeniably divisive personality in the political discourse sphere who's hard to miss.
But I'm not here to dissect the fictional character Alex Jones plays on the internet. What caught my attention is Jones having signed up as a Jeunesse distributor.
Jones is branding his Jeunesse distributorship as "InfoWars Yes". And the first thing you see when you visit Jones' Jeunesse site is a marketing pitch for autoship, both retail and recruitment.

As of yet there's no Jeunesse products featured on the InfoWars Store page. When they do appear, Jones will sell Jeunesse products alongside Lung Cleanse, True Alpha Male Pack, Ultimate Bone Broth, Brain Force Plus, The Real Red Pill and other supplements.
Product links on the InfoWars Yes website redirect to Jeunesse Global, under the distributor accounts "infowars", "infowarsyes" and "infowars01".
Why Jones needs three Jeunesse distributor accounts, I have no idea. Maybe he received one of Jeunesse's infamous secret backroom deals.
Again, without getting into Jones' politics, here's a few thoughts that come to mind.
First and foremost InfoWars is a brand unto itself. Jones is an individual for sure, but his Jeunesse distributorship is clearly being pushed through multiple InfoWars accounts.
How are individual Jeunesse distributors going to compete with a corporate entity with an established nation-wide audience of potential leads?
To what extent will retail the be the focus of Jones' Jeunesse distributorship? We've already covered the general lack of retail focus within the company, so is Jones looking to recruit his audience primarily as customers or distributors on autoship?
This is pertinent, because if the opportunity is going to be pushed then there's a major problem with Jeunesse's autoship-centric approach.
Clearly evidenced by the fact they recently settled a distributor class-action and are simultaneously facing another.
If Jones' Jeunesse distributorship takes off, will he be invited to speak at Jeunesse events?
How will the rest of the Jeunesse distributorship feel about that? Heck, how do they feel about Jones signing up InfoWars as a Jeunesse distributor altogether? What about their customers?
On the InfoWars website it's hard to miss the positioning of buying Jeunesse products or signing up under InfoWars as directly supporting Jones (and by extension InfoWars content).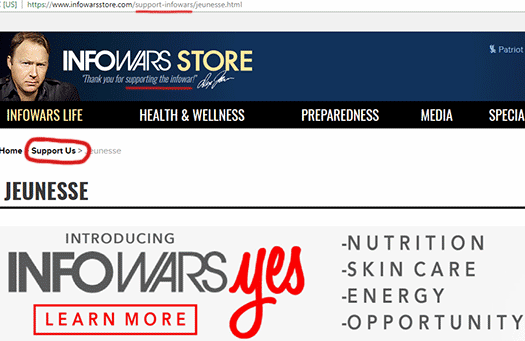 Having recently lost his primary marketing avenues (social media), presumably Jones will market Jeunesse products alongside his regular content.
For their part I'm assuming Jeunesse aren't ignorant of the InfoWars distributorship, but how do they feel as a company about the prospect of Jeunesse products being associated with some of Jones more "out there" content?
At this stage there's a lot of questions but not too many answers. Definitely something I'll be keeping an eye on going forward though.
In the meantime any Jeunesse distributors want to weigh in?