DOJ wants to keep Ignatov behind bars pending OneCoin trial

Konstantin Ignatov's hopes of a smooth pre-trial release have been dashed, following a damning opposition filing.
According to the DOJ, there are no bail conditions that would assure Ignatov won't flee the US.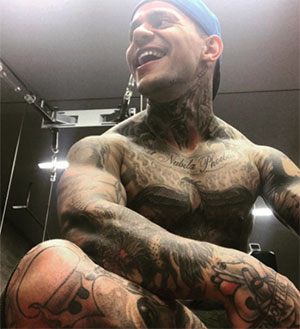 Reasons cited by the DOJ for their position are that Ignatov (right):
has no ties to the US;
possesses citizenship and has ties to countries with no extradition treaty with the US;
has plenty of international travel experience; and
has access to "massive foreign financial resources" (read: stolen OneCoin investor funds).
(Konstantin Ignatov) simply cannot be trusted to comply with any conditions set by the Court, having already lied to U.S. border agents, investigating case agents, and even the very Pretrial Services Officers tasked with evaluating appropriate bail in this case.
I had thought the proposed pre-trial release conditions suggested by Ignatov were pretty strong, but there were some caveats.
Namely that Ignatov would apparently be funding his pre-trial release with stolen OneCoin investor funds, and that his supporters were likely all beneficiaries of stolen OneCoin investor funds in one way or another.
On extradition, while Germany does have an extradition treaty with the US, under German law their citizens cannot be extradited to a foreign country.
This includes defendants that were arrested offshore and then later fled to Germany.
The DOJ also points out Dubai, which it states OneCoin has "significant ties to" and no extradition treaty with the US.
Finally, given that the OneCoin fraud scheme continues to operate to this day, and that the defendant recently traveled to the United States to participate in meetings related to the operation of OneCoin in this country, his release would also endanger the economic safety of the community.
As to Ignatov's proposed release conditions, the DOJ states
a defendant's lack of ties to the United States, and corresponding significant ties to foreign jurisdictions without extradition weigh heavily in favor of detention.

A defendant's access to substantial financial resources may also weigh in favor of detention, especially when those assets are located abroad.
One of the key components of Ignatov's pre-trial release bid is a self-funded apartment staffed by 24/7 armed security guards.
The DOJ equates the proposal to an "'elaborate replicat(ion of) a detention facility without the confidence of security such a facility instills."
The guards themselves have a conflict of interest, as they are being paid by the inmate they are guarding.
Ignatov's armed guards would also not be accountable to the government should he escape.
Additionally, courts in this district and other districts have denied virtual private jail solutions and ordered detention where defendants have failed to reveal how the arrangements would be funded.
No doubt it'll be hidden behind a slew of shell company transactions, but at the end of the day the Ignatov family has been living off OneCoin investors for almost half a decade.
Ruja Ignatova and Konstantin Ignatov have no recorded source of revenue outside of OneCoin.
Records obtained by the Government show that, between the fourth quarter of 2014 and the third quarter of 2016 alone, OneCoin Ltd. generated €3.353 billion in sales revenue and earned "profits" of €2.232 billion.

The defendant has been employed by OneCoin for approximately four years, having started in approximately 2015 as the personal assistant for his sister Ruja Ignatova ("Ruja"), who founded OneCoin with a second individual (their mother).

During that period, he was responsible for, among other things, controlling OneCoin-related cash proceeds drop-offs at OneCoin Ltd.'s Sofia office, often hundreds of thousands of euros at a time, and sometimes even more.

The defendant's mother, Veska Ignatova—who submitted a supporting letter as to the defendant's bail application—is also heavily involved in OneCoin Ltd., having served as a manager or director of certain corporate entities directly connected to OneCoin Ltd.

Following Ruja's disappearance in or about October 2017, the defendant ascended to a high-level executive position at OneCoin Ltd. In that position, he has had direct access to foreign bank accounts holding huge sums of money.

For example, evidence found on the defendant's cell phone reveals that the defendant possessed account opening statements and transactional data for purported UAE investment fund accounts into which at least €185 million of OneCoin fraud proceeds were deposited, and that the defendant referred to the funds in the accounts as "our $."

Indeed, the defendant's access to massive financial resources is confirmed by statements he made during his CDCA PTS interview.

Specifically, the CDCA PTS Report indicates that the
defendant told the interviewer that "bail is not an issue, as his family can wire any amount to cover it"
Yup, the Ignatov's are certainly flush with cash alright. Stolen OneCoin investor cash.
Notably, outside of OneCoin fraud proceeds, the Government is not aware of any source of income for the defendant and his family.

Given the incredible fraud related wealth possessed by the defendant and his family members, there is every reason to believe that the defendant would use these resources to flee prosecution in the United States by any means necessary.
The DOJ also leans on the fact that Konstantin has repeatedly lied to US law enforcement, even after his arrest.
That Konstantin lied to US immigration officials upon landing in California is already documented.
The DOJ reveals that after his arrest, Konstantin also told case agents
he was visiting the U.S. on vacation and that he still served as his sister's "personal assistant," while at the same time acknowledging that she disappeared in 2017.

He further claimed that he had not communicated with her since her disappearance, despite the fact that a border search of his laptop revealed a form granting the defendant power of attorney over his sister Ruja's affairs, signed by Ruja and dated February 8, 2018.
Well, I suppose Konstantin at least acknowledged Ruja has gone into hiding.
It seems the "maternity leave death threats" nonsense OneCoin was feeding investors has been officially dropped.
At his pre-trial services interview though, Konstantin fed more lies to US authorities.
Among other lies, with respect to his financial resources, the defendant claimed that he owned a residence in Sofia, Bulgaria, valued at approximately €200,000, and that he paid a monthly mortgage bill of €300.

In fact, the Government's investigation has established the Ruja purchased a home for the defendant worth over €3 million using OneCoin proceeds, and that the defendant has no mortgage obligation with respect to the house.

The defendant also claimed to CDCA PTS that, with respect to his use of drugs and alcohol, he tried marijuana once when he was about 16 years old.

In fact, the Government's investigation has revealed that the defendant had a long-time substance abuse problem in the past, and that he was a regular user of alcohol, cocaine, and methamphetamine, among other drugs, during that period.

And contrary to the defendant's assertion that he earns only €3,000 per month at OneCoin Ltd., the Government's evidence indicates that even when he was serving in the capacity as Ruja's personal assistant, he earned as much as €10,000 to €20,000 a month in salary.
Gee, I wonder why none of Konstantin's supporters brought any of this up in their letters?
The DOJ cites the sentence Ignatov is facing as a reason to flee.
Given the massive loss amount associated with the OneCoin scheme, the applicable Guidelines sentence associated with the single wire-fraud conspiracy count … is equivalent to the statutory maximum sentence on that count, 20 years' imprisonment, even considering a reduction of three levels under Section 3E1.1 were the defendant to plead guilty.
Yep. It seems even if Ignatov strikes a plea bargain, he'll still be facing twenty years in prison.
Moreover, as it has already informed the defendant, the Government will very likely supersede the Information with additional charges, including one or more money laundering offenses, resulting in a significantly higher applicable Guidelines sentence.

Thus, the defendant has every reason to take advantage of the massive OneCoin-generated wealth at his disposal to violate any conditions set by the Court in order to flee prosecution to Germany, the UAE, or elsewhere, where he will be safe from extradition.
And finally, the DOJ also addresses the elephant in the room (no pun intended);
The factors above would be more than sufficient to support a finding that no conditions would reasonably assure the defendant's appearance in this case.

But here, the Court has an unprecedented additional reason to deny this defendant bail.

The defendant's own sister, Ruja, herself successfully staged a total disappearance almost immediately after sealed charges were filed against her by the United States, a fact left entirely unaddressed by the defendant in his Bail Letter.

The Government's investigation revealed that Ruja and other OneCoin principals acquired unauthorized access to otherwise confidential information regarding law enforcement operations.

Shortly after her indictment under seal in the U.S. on October 12, 2017, Ruja departed Bulgaria, not to emerge publicly again.

The Government's investigation has revealed the Ruja had an escape plan all along in case of trouble with the authorities.

A September 2016 message chain between Ruja and the second founder of OneCoin regarding Ruja's concerns about being arrested when travelling through the Frankfurt airport demonstrate that the defendant was himself aware of that plan. ("If [something] happens. My brother knows what to do and will inform you.")

Moreover, the February 2018 power of attorney form found on the defendant's laptop establishes that—contrary to the claims that he made during his post-arrest statement—the defendant has in fact communicated with Ruja since her October 2017 disappearance.

In short, this is not a case where the Court need merely speculate about the possibility of the defendant's flight were he to be released.

There is ample evidence that as operators of a massive international fraud scheme that raked in billions of dollars in criminal proceeds, members of the defendant's family actually have the resources and wherewithal to mount an international escape plan.
One interesting aspect of Konstantin's potential release the DOJ brings up is the likely "false narrative" it would create.
Here at BehindMLM we, along with our readers, have been debunking OneCoin's false narratives since 2015.
Citing potential harm to consumers, the DOJ quotes a statement issued by Denis Murdoch in relation to Konstantin's arrest.
Arthur was brought on to work on OneCoin's DealShaker platform, which the DOJ alleges has defrauded "thousands of victims" out of "tens of millions of dollars".
Immediately after the defendant's arrest on the Complaint, OneCoin Ltd. issued a press release incorrectly stating that "Mr. Ignatov has not been formally charged with a crime".

Moreover, in early June 2019, OneCoin issued a press release claiming that a Swedish investigation into OneCoin was closed;
the release ended with the following statement:

"We sure hope the fact that all allegations against OneCoin in Sweden have dropped serves as an example to the public that there are many rumors, circulating online, and they should definitely be disregarded."

The defendant's efforts to further expand OneCoin's business in the United States just before he was arrested in March 2019 and OneCoin Ltd.'s efforts to cast doubt on the charges as
the fraud scheme continues to operate suggests that the defendant's release would seriously jeopardize the economic safety of the community.

Even under strict bail conditions, the defendant could surreptitiously continue his marketing efforts in support of OneCoin Ltd., especially with cooperative monitoring guards.

Moreover, the very fact of his release, would likely further embolden OneCoin Ltd. and its promoters, providing fodder for a false narrative to additional victims that the defendant and OneCoin have been exonerated.

Accordingly, the Court should also detain the defendant on the ground that no series of conditions would protect against ongoing economic danger to the community.
That part in bold I certainly have to agree with. One need only look to Facebook or Igor Krnic's OneCoin forum for abundant examples of false narratives being pushed.
It is quite amazing how paranoid the US financial elite are about OC.

this is shown by the way they are reacting to K`s bail petition. "public danger" – what absolute nonsense.

with ankle bracelet and GPS monitoring, there is no way K can go to the toilet without the authorities knowing about it.

no, this is clearly an intimidation tactic. if US banking elite thinks they can stop OC they are dead wrong.
That was from just a few hours ago.
All in all the DOJ has presented a pretty convincing response to Ignatov's pre-trial release motion.
The parties are currently scheduled to square off at a hearing sometime later today (June 28th in the US).
I can't guarantee we'll have an update for you before the weekend but we'll certainly keep our eyes peeled.
Update 29th June 2019 – Konstantin Ignatov has been denied pre-trial release.