Frank Ricketts' German OneCoin money laundering trial begins

Frank Ricketts has finally fronted a court in Germany.
Ricketts and two other defendants have been charged with OneCoin money laundering offenses.
Their criminal trial began earlier today.
Frank Ricketts is behind the IMS Marketing Services money laundering empire.
Through IMS and a host of related shell companies, prosecutors allege that Ricketts laundered over 320 million euros for OneCoin.
Owing to OneCoin being a multi-billion dollar Ponzi scheme, the actual figure is likely much higher.
Funds laundered through IMS were transferred through the Cayman Islands to Sofia, Bulgaria, London and Dubai.
German prosecutors allege Ricketts ran IMS with the assistance of his wife, Manon Hubenthal.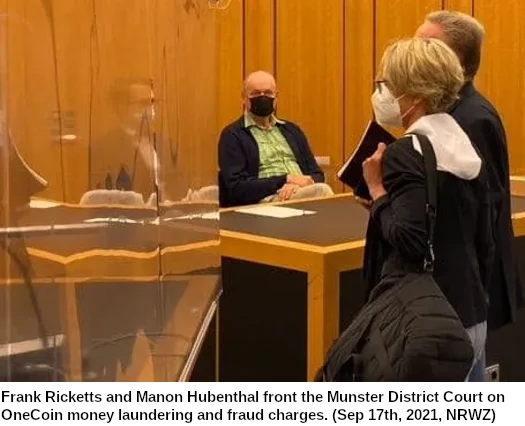 The pair were initially charged by Bielefeld prosecutors with money laundering. The Munster criminal chamber later added an additional aiding and abetting charge.

Ricketts was assisted by Martin Breidenbach (right).
The Munich lawyer is said to have helped. He is said to have sent e-mails to critical inquiries bank employees to conceal the origin of the funds, 75 million euros were thanks to his help in the Cayman Islands.
Breidenbach served as OneCoin founder Ruja Ignatova's personal attorney.
Ricketts and Hubenthal are represented by the notorious law firm SBS Legal.
In November 2020, defense attorney Stephan Schulenberg stated one of his clients (believed to be Ricketts) wasn't aware of required financial permits.
Schulenberg's other client (Hubenthal) "acted in good faith".
At the time, the attorney representing Breidenbach claimed there was insufficient evidence to proceed.
The case against Ricketts, Hubenthal and Breidenbach spans over 15,000 pages. The indictments alone are over 1000 pages in length.
Owing to this the trial has been allocated fifty days in court. A verdict is expected in May 2022.
The case against the defendants has origins in a 2017 investigation opened by the Bielefeld Public Prosecutors Office.
That investigation was in turn triggered by BaFin banning OneCoin across Germany in April 2017.
In November 2020 Bielefeld Public Prosecutors indicted Ricketts, Hubenthal and Breidenbach.
The case was approved for trial in June 2021.
Securing a guilty verdict against Ricketts, Hubenthal and Breidenbach hinges on whether Prosecutors can prove they knew OneCoin was fraudulent.
Mark Scott faced similar charged in the US. He was accused of laundering over $400 million for OneCoin.
Scott was found guilty in November 2019. He is currently awaiting sentencing.
Update 18th September 2021 – There's been some shakeups to the defendant's respective legal teams.
As per WhistleBlowerFin in the comments below;
Ricketts is now represented by Michael Heuchemer who is famous for defending a child murderer Magnus Gäfgen.

Moritz Braun from SBS-Legal is representing Martin Breidenbach.

I'm sure these will become more clear as the case goes on. They all have 2 lawyers according to info.
Like myself, WhistleBlowerFin has been tracking OneCoin for years. I consider his intel reliable.