Judge suggests Frank Ricketts pleads guilty in OneCoin trial

The Judge hearing Frank Ricketts' OneCoin trial in Germany has suggested he plead guilty.
The recommendation was made after the Judge heard evidence against Ricketts, and on the basis
a confession in the early phase of a procedure could have a mitigating effect. If it comes later, it melts down to a very small part.
It is still early days in Rickett's 50 day trial.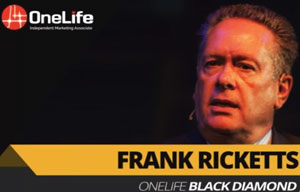 Ricketts (right), his wife Manon Hubenthal and Munich attorney Martin Breidenbach, stand accused of OneCoin money laundering offenses.
The prosecution's case against the defendants is 15,000 pages long.
As reported by Martin Himmeltrager for NRWZ, on the fifth day of the trial email and video exhibits were entered.
Defense attorneys objected to the emails but were overruled.
The emails were provided by the DOJ as part of their own investigation into OneCoin.
They consisted of damning correspondence between OneCoin founders Ruja Ignatova and Sebastian Greenwood.
Ricketts and Hubenthal are presenting themselves as ignorant of the charges laid against them.
As part of this defense strategy, the pair are fronting court as a casually dressed frail elderly couple.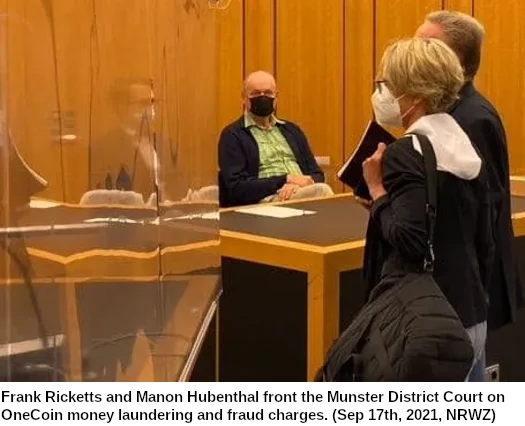 This is of course baloney. Ricketts has been at the center of pyramid and Ponzi related fraud dating back to SiteTalk.
After OneCoin Ricketts would continue to launder money for several similar Ponzi schemes.
Judge Pfeiffer's suggestion Ricketts and Hubenthal plead guilty, followed evidence tendered with respect to OneCoin's non-existent blockchain.
Pfeiffer looks at the two defendants. "We heard the two experts." The two 500 watt servers would have indicated something like a blockchain to the customers, but there were no increasing algorithms.

The puzzle to be solved was so simple that it was solved in 400 milliseconds.

"What did the customers think, what did the defendants think?" Do you need a technical understanding?

When financial service providers like Frank R. and Manon H. are there, you don't have to look, no computers are bought, no electricity bills are paid.

"The money goes overseas for completely different things. Don't I have to ask myself: 'Am I participating in a really big dizziness?' " (auto-translated)
That was on October 20th. On October 26th Himmeltrager reported on the sixth day of the trial.
Thirty-four witnesses have been called, representing 60,000 German residents who sent money to Rickett's company IMS Services on behalf of OneCoin.
The Bielefeld public prosecutor's office counted around 88,000 transfers with a total of 320 million euros.
For the second time, Martin Breidenbach's attorney requests an official translation of one of Ruja Ignatova's emails.
Evidently Ignatova telling Greenwood they'll "tell their victims shit" to deceive them isn't clear enough for him.
One of the witnesses is a member of the Bielefeld Public Prosecutor's Office. He asserts he
examined another company's report on (OneCoin's blockchain and compared the screenshots (of one of the witnesses).

When compared against the report and data from OneCoin, he found most of the data missing.
Another witness, a OneCoin investor, claims when he asked "where the profits come from, the answer was evasive."
At the end of March 2016, he decided to buy because of the prospects for returns and transferred 1030 euros to IMS.

He didn't know anything about cryptocurrencies or blockchains.

"The decisive factor was the prospect of returns." He was not interested in the training materials.
Launched initially as a simple fraudulent investment opportunity, OneCoin later introduced education packages for pseudo-compliance.
Another witnesses lamented OneCoin's DealShaker e-commerce platform, another pseudo-compliance initiative, was full of "junk".
He didn't look at the training packages, they were too boring, only for academics.

The tokens were added to the educational packages as bonuses.

But it was clear to everyone that this was a sham to avoid the legal cliffs. "In reality, we were all keen on the tokens."
At the end of the sixth day, Judge Pfeiffer again suggested the defendants consider pleading guilty.
Unlike on Tuesday, he gives his message more emphasis.

In view of the amount of damage, there is "in any case" a penalty of more than two years. So a "no longer probable prison sentence".

He asks those involved to "think it over again in peace" and closes the meeting.
Pending a change of plea, Rickett's trial is expected to end in a verdict sometime in May 2022.