OneCoin scammer Muhammad Zafar arrested in Pakistan

Muhammad Zafar, one of OneCoin's top earners, has been arrested in Pakistan.
Zafar is facing fraud charges in relation to his promotion of "OneCoin and others".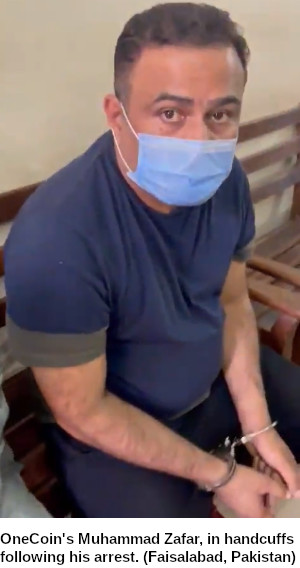 Zafar, better known as "Dr. Zafar" within OneCoin, was reported to authorities in August 2020. The complaint lead to a First Information Report (FIR), filed on April 28th, 2021.
As per the FIR, Zafar first contacted the unidentified complainant over Facebook.
Dr. Zafar allured complainant to invest in cryptocurrency and OneCoin and earn huge profit.

Dr. Zafar made verbal contract with the complainant regarding SEO marketing for his company.
The complainant is cited as running "one of the largest software house(s) of Faisalabad".
Complainant started the work of marketing such as video editing/logo promos/publicity stunt for Dr. Zafar's group, namely "Diamonds Club", for which alleged person Dr. Zafar paid Rs. 150,000 to complainant's software house.
Rs. 150,000 PKR comes to just shy of $1000 USD.
Confident level built between them and alleged person offered him to invest firstly in OneCoin.

The alleged showed him that he has earned Rs. 11 crore in one day, which he showed him (the complainant) through website in presence of witnesses.
Rs. 11 crore is 110 million PKR. This equates to $718,719 USD and is how much Zafar claimed he made in one day promoting OneCoin.
(The complainant) met with the alleged Muhammad Zafar at Best Western Hotel Faisalabad where on 19-12-2016 he arranged (a) seminar regarding cryptocurrency and OneCoin.

In January 2017 (Zafar) compelled him to invest and the complainant invested 60 lac rupees in cash in January 2017 and returned 2 lac rupees in profit.
That's Rs. 6 million PKR invested ($39,202 USD) and Rs. 200,000 PKR withdrawn ($1306 USD).
The complainant further stated in (a) different transaction, the alleged Muhammad Zafar obtained total amount €371,000 euro in his different bank accounts.
The FIR suggests Zafar was also pitching the BitClub Network Ponzi scheme to his OneCoin downline. FirstCoin Club is also mentioned.
From the alleged amount €371,000 euro, complainant paid partial amount in cash and remaining amount in different bank transactions.

The alleged Muhammad Zafar confessed through SMS chat that he has received the said amount.
Sounds an awful lot like structured transactions so as to avoid any suspicious activity reports being filed. This would of course be money laundering.
The FIR states that when approached to return the amount, Zafar created "lame excuses".
Muhammad Zafar has been found involved in Electronic Fraud/Financial Fraud through the use of cryptocurrency, defrauding complainant his money amounting to €371,000 euro by disguising the true nature of business.
Zafar has since been arrested and is being held in Faisalabad. Authorities are continuing the investigation, and hope to determine "the role of others" involved.
Muhammad Zafar was the link between OneCoin promotion in Pakistan and the UK's Muslim immigrant community.
After OneCoin Zafar openly promoted BitherCash to OneCoin victims in the UK.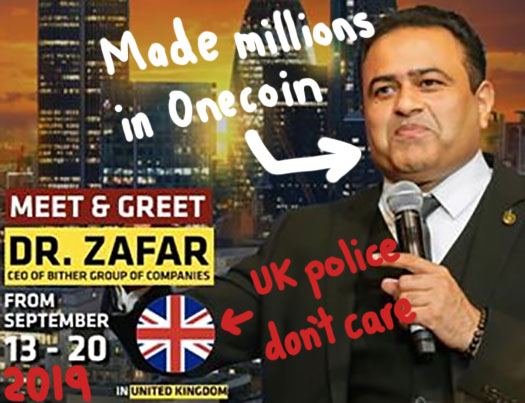 During OneCoin's heyday Zafar is believed to have been residing in the UK. It seems at some point he returned to Pakistan, likely hoping to fly under the regulatory radar.
Zafar is the second high-profily OneCoin arrest this week. French authorities arrested Frank Schneider on May 1st.
In addition to being heavily involved in OneCoin's money laundering operations, Schneider also worked as Ruja Ignatova's fixer.