OneCoin legal opinion lawyer was a company Director

To date OneCoin have had a tough time independently verifying their legitimacy.
The company, through Ponzi points, uses newly invested funds to pay off existing investors. Thus far this has proven to be a hard-sell to anyone they haven't paid off.
Paid advertorials are of course the videos OneCoin uploads to their YouTube channel, as well as paid advertising in Forbes BrandVoice and Financial IT.
One last bastion of purported independent coverage is a "legal opinion", published by the German law firm Breidenbach Rechtsanwalte back in 2014.
Now, new information suggests that even this document might have been financially motivated.
Breidenbach Rechtsanwalte's legal opinion on OneCoin is dated December 11th, 2014. It's a paper-thin document, obviously not designed to be held up to any scrutiny.
Breidenbach Rechtsanwalte didn't go over OneCoin's business model, but in their own words were
asked to assess the legality of cryptocurrency by our client, OneCoin Ltd.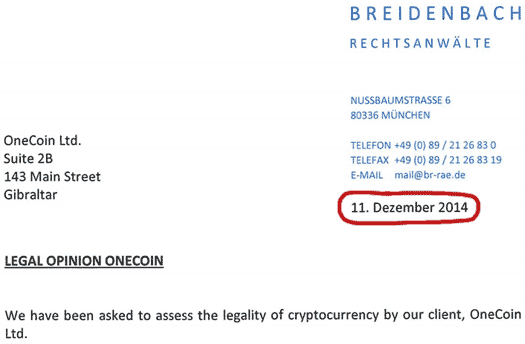 Is cryptocurrency legal? In most jurisdictions, yes.
But compare Breidenbach Rechtsanwalte's definition of a cryptocurrency with that of OneCoin.
A cryptocurrency is a digital commodity created according to strict mathematical principles by a complex algorithm, thereby granting a finite supply.

Unlike normal currencies, which are printed by central banks, cryptocurrencies are inflation-proof and respond to supply and demand like any other commodity.
I have no problems with that definition of a cryptocurrency.
OneCoin however is generated by OneCoin limited, at a fixed rate daily. There is likely no because the company is the sole issuer of coins.
This makes OneCoin Limited the "central bank" of OneCoin, which is the exact opposite of Breidenbach Rechtsanwalte's definition of a cryptocurrency.
As for supply and demand, the only value of OneCoin is that which the company assigns it.
You can't actually do anything with OneCoin other than cash out 1.5% of your balance each week (assuming the withdrawal request isn't denied, which most are), or use it as a marketing tool to collect recruitment commissions.
That's not legitimate supply and demand.
Nonetheless, Breidenbach Rechtsanwalte conclude:
As a result, most countries have recognized cryptocurrencies as a bona fide commodity, which may be held and traded by their citizens.

In our opinion the 'OneCoin' is a legitimate product, limited to 2.1 billion (coins).
Nevermind the fact that OneCoin cannot be traded publicly, all Breidenbach Rechtsanwalte have done is evaluate cryptocurrencies and apply the conclusion to OneCoin.
That appears to be solely based on the purported claim that OneCoin will stop generating Ponzi points once there are 2.1 million of them.
Like I said, it's a paper-thin document not meant to be held up to scrutiny.
After Breidenbach Rechtsanwalte published the opinion, it was widely circulated by OneCoin and their affiliates as proof that OneCoin was legitimate.
"Law firm", "legal opinion" and "legitimate product" were the marketing key words, with OneCoin affiliates expected not to look too closely or ask any followup questions.
Ignoring the actual content of the legal opinion, much of the credibility behind the document rests on Breidenbach Rechtsanwalte being a third-party.
Remember, OneCoin have had trouble getting anyone to support their business model that they haven't paid copious amounts of money to.
According to incorporation documents sourced from from the Gibraltar Companies House by BehindMLM reader OzDelphi, on April 22nd, 2015, a few months after Breidenbach Rechtsanwalte published their opinion, Martin Rudolf Alexander Breidenbach was appointed an "individual director" of OneCoin Limited.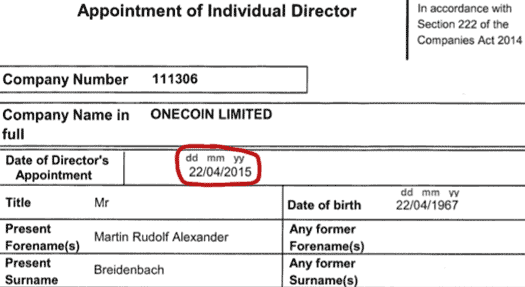 The document is signed by Adrian Stevenson of AMS Company Management, the firm that manages OneCoin Limited's corporate registration in Gibraltar.
OneCoin Limited is an offshore company that exists in name only, with AMS Company Management serving as similar role to Mossack Fonseca in the Panama Papers debacle last month.
While offshore business entities are often not illegal, reporters found that some of the Mossack Fonseca shell corporations were used for illegal purposes, including fraud, kleptocracy, tax evasion, and evading international sanctions.
As you've probably already guessed, Martin Breidenbach is a named partner at Breidenbach Rechtsanwalte.
According to the law firm's website, Breidenbach is an admitted attorney in Germany and a member of the Munich Bar Association.
What Breidenbach's duties were as a Director of OneCoin are not clear. The company has never publicly acknowledged he was part of their management team.
Breidenbach was terminated as a Director of OneCoin Limited on December 24th, 2015.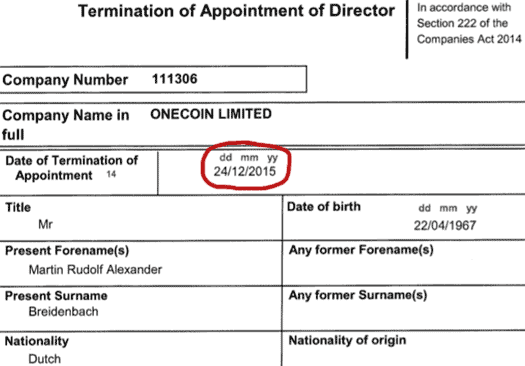 As an independent law firm, obviously Breidenbach Rechtsanwalte would have had to of been financially compensated for their legal opinion.
Martin Breidenbach's appointment as a Director of OneCoin wasn't just something that happened overnight though. And there's a very real distinction between receiving funds for an independent legal opinion, and providing one when you have a vested financial interest in the subject.
I can't stress this enough. Breidenbach had a business relationship with OneCoin dating back to at least December, 2014.
To what extent he was involved in the operation of OneCoin prior to April, 2015 is unclear, but it's obvious Breidenbach and his firm were not just approached for a legal opinion.
Yet that's exactly how Breidenbach Rechtsanwalte's legal opinion of OneCoin was marketed to its affiliates and the general public.
As lawyers of OneCoin, Breidenbach Rechtsanwalte should have disclosed that their legal opinion was tied to Martin Breidenbach's financial interest in the company.
As a matter of transparency, what services Breidenbach provided to OneCoin during his eleven months with the company should be disclosed.
Lest Breidenbach Rechtsanwalte rectract its legal opinion, based on Martin Breidenbach's obvious conflict of interest.
But hey, when has OneCoin ever been associated with professional integrity?
In hindsight, what's done is done and Breidenbach, for whatever reason, is no longer a Director of OneCoin Limited.
More importantly, as the last domino falls on independent reputable coverage of OneCoin, all we're left with are paid advertising campaigns and YouTube astroturfing.
Bit of a problem for an MLM company that professes legitimacy, yet is the sole source of such claims.
Not unlike the value of OneCoin itself…