Ruja Ignatova disappeared with 230,000 BTC, lawsuit alleges

A lawsuit filed by the Crypto Currency Resolution Trust alleges at the time of her disappearance, OneCoin's Ruja Ignatova made off with 230,000 BTC.
The staggering amount was worth just over $1 billion in October 2017 ($4600 avg).
That same amount is worth $11.5 billion today ($50,000 avg, note BTC's public trading value is all over the place this month).
In late 2019 Ruja's brother, Konstantin Ignatov, testified that she only made off with $500 million. So how do we arrive at double that amount?
Crypto Currency Resolution Trust's lawsuit was filed against "onecoinico.io" on April 27th, 2021.
The jurisdiction is the British Indian Ocean Territory Supreme Court. The law firm representing CCRT is Jonathan Levy, a US based attorney.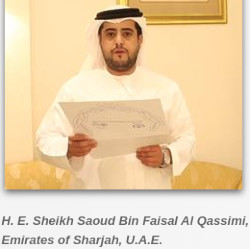 As alleged in the lawsuit, upon disappearing in October 2017, Ruja Ignatova
provided Power of Attorneys to two individuals: H.E. Sheikh Saoud bin Sultan Al Qassimi (Sheikh Saoud) and Mimoun Madani to act in her stead).

Sheikh Saoud is also the Secretary-General of the Intergovernmental Collaborative Action Fund for Excellence (ICAFE), a New York non profit corporation which issued "diplomatic credentials" to Ignatova (to) assist the OneCoin schemes.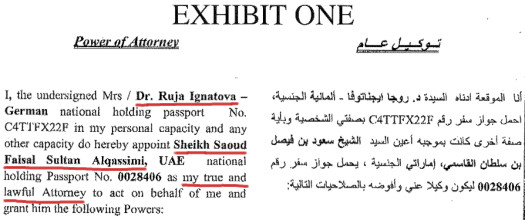 "Diplomatic credentials" would certainly explain why Ruja Ignatova was able to travel with impunity.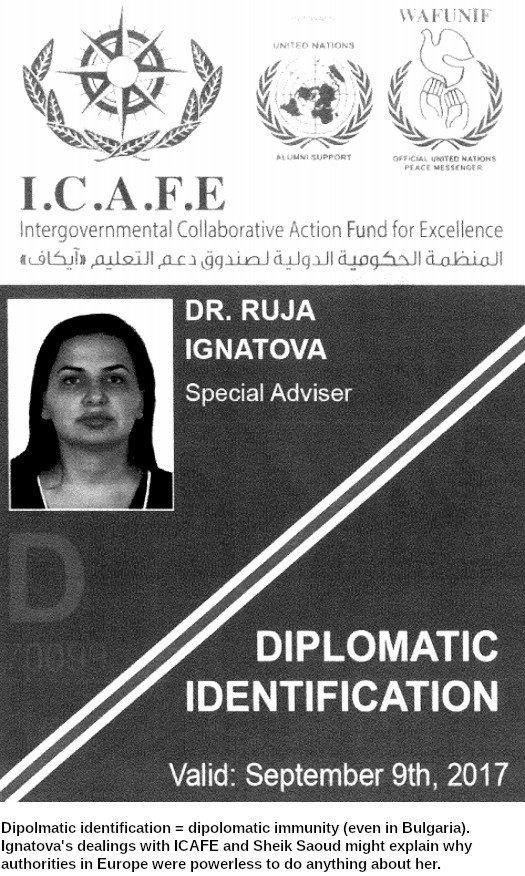 It might also provide insight into how she was able to disappear.
Although Sheikh Saoud is based out of the UAE, ICAFE is based out of New York. New York is the jurisdiction the bulk of US criminal prosecutions related to OneCoin are taking place.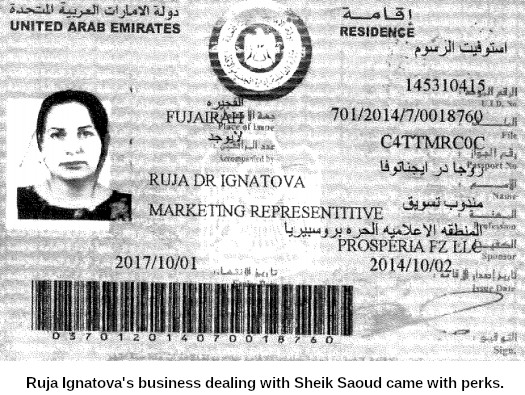 Whether authorities in New York have been in touch with ICAFE or Sheikh Saoud is unclear.
It is noted in the complaint that
In October 2019, the United States District Court for the Southern District of New York found the crime fraud exception applied to any communications made by Ignatova and Sheikh Saoud's One Coin Ltd.
In exchange for "diplomatic credentials" (and who knows what else);
Sheikh Saoud purchased OneCoin's assets in exchange for 230,000 bitcoin on October 1, 2015.
This is two years before Ignatova disappeared and, as noted in the lawsuit, "the largest known bitcoin transaction" to date. It also makes Ruja Ignatova the second largest holder of bitcoin.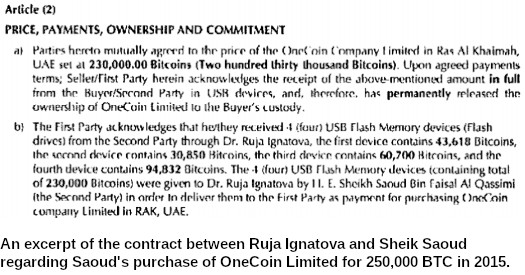 How the money side of things from Sheik Saoud was worked out is unclear.
What we do know is Sheikh Saoud is the son of 'one of the wealthiest men in the UAE, United Arab Bank CEO H.E. Sheikh Faisal Bin Sultan Bin Salem Al Qassimi'.
Sheikh Saoud handed over 4 USB drive wallets containing 230,000 bitcoin  in exchange for One Coin Ltd., which was the front company for OneCoin.
The purchase cemented Sheikh Saoud as the sole shareholder and Director of OneCoin Limited (click to enlarge).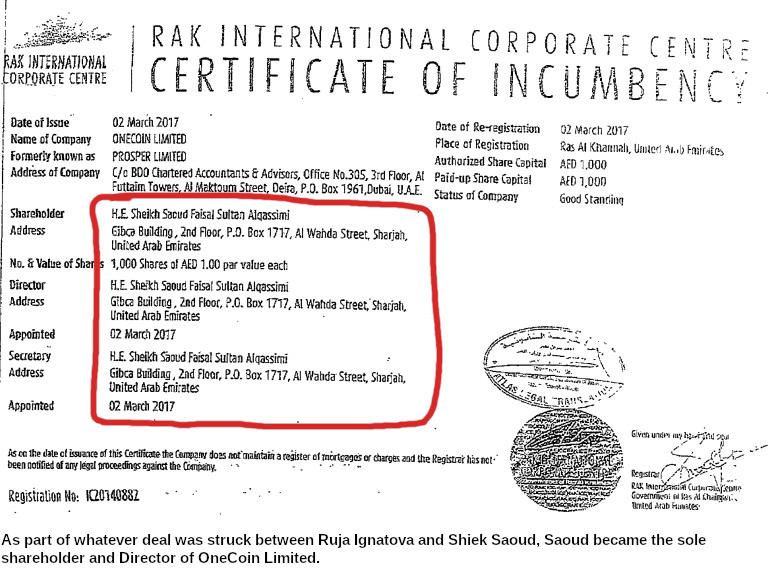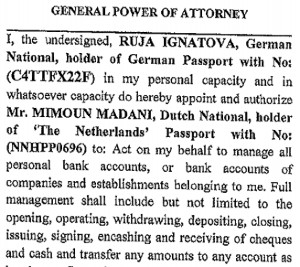 The link to Mimoun Madani co-signed as Ignatova's Power of Attorney is less clear.
Mimoun Madani, a United Arab Emirates resident, who has a current Power of Attorney executed by Ignatova dated after her disappearance from public view and notarized by a well-known Seychelles lawyer and member of parliament, Bernard Georges, may have been the last person to see Ignatova.
The United Arab Emirates does not have an extradition treaty with the US.
Up until now the prime candidates for Ignatova's disappearance have been Russia or death.
Both remain strong possibilities but given the claims made in CCRT's lawsuit, it's not implausible Ignatova might be hiding out in the UAE.
230,000 BTC is certainly enough to set anyone up for life anywhere they didn't want to be found.
While my interest in CCRT's lawsuit is information on Ruja Ingatova's finances, that is not the reason it was filed.
CCRT have filed on behalf of "Ms. EC", who claims to have accumulated 1.8 million Onecoin Ponzi points.
CCRT's lawsuit seeks £250,000 GBP in damages and recovery of €53.5 million EUR, the "stated value of 1.8 million OneCoin tokens".
Anyone remotely familiar with OneCoin knows this valuation is based on baloney.
The ungodly amounts of money that passed between Ignatova and her co-conspirators aside, OneCoin stopped paying token withdrawals in January 2017.
It is also highly unlikely Ms. EC acquired her 1.8 million OneCoin Ponzi points through direct investment.
If a sizable amount of Ms. EC's tokens are tied to recruitment of OneCoin victims, that would in turn make the amount claimed proceeds of fraudulent activity itself.
Not withstanding OneCoin token balances were never anything more than backoffice monopoly money from the start.
The OneCoin tokens exist on a database sure, but the public value attached to them never did. Therein lies one of the key aspects of fraud within OneCoin.
Nonetheless, Ms. EC is going after "onecoinico.io", with the implication being the domain is, directly or otherwise, owned by Sheikh Saoud.
In other words the ultimate goal is get Sheikh Saoud to cough up ~€53 million EUR.