RevShare Works Review: $1 and $100 ad pack Ponzi

There is no information on the RevShare Works website identifying owns or runs the company.
The only clue as to company ownership is buried in the RevShare Works Terms and Conditions:
RevShareWorks is a web property and business activity owned and operated by METALEVEL CONSULTING INC, an S-Corporation.
According to the U.S. Small Business Administration,
An S corporation (sometimes referred to as an S Corp) is a special type of corporation created through an IRS tax election.

An eligible domestic corporation can avoid double taxation (once to the corporation and again to the shareholders) by electing to be treated as an S corporation.
MetaLevel Consulting Inc is a domestic profit corporation registered in the US state of Georgia in February, 2016.
Terrence Brannon is listed as the sole agent of the company. Brannon is also listed as the owner of the RevShare Works website domain (registered on December 11th, 2015).
Of note is the RevShare Works domain registration lists an address in Ohio. Why MetaLevel Consulting and RevShare Works have addresses in different states is unclear.
Terrence Brannon meanwhile appears to have a long history of participation in Ponzi schemes: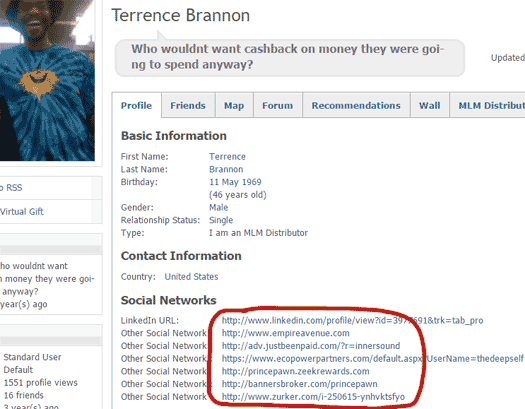 Under the affiliate account "princepawn", Brannon was an investor in Zeek Rewards, Just Been Paid and Banners Broker.
Brannon was also an affiliate with MPB Today, a pyramid scheme shut down in late 2012.
On his blog "I want you to prosper", Brannon is currently promoting
Read on for a full review of the RevShare Works MLM opportunity.
The RevShare Works Product Line
RevShare Works has no retailable products or services, with affiliates only able to market RevShare Works affiliate membership itself.
Once signed up, RevShare Works affiliates can invest in "ad packs" and participate in the attached income opportunity.
Bundled with each ad pack investment are a series of advertising credits, which can be used to display advertising on the RevShare Works website.
The RevShare Works Compensation Plan
RevShare Works sees affiliates make $1 or $100 investments, on the promise of an advertised 110% ROI.
Note that RevShare Works cap ROIs at a maximum daily rate of 4%.
Referral commissions on investments made by recruited affiliates are paid out via a unilevel compensation structure.
A unilevel compensation structure places an affiliate at the top of a unilevel team, with every personally recruited affiliate placed directly under them (level 1):

If any level 1 affiliates recruit new affiliates, they are placed on level 2 of the original affiliate's unilevel team.
If any level 2 affiliates recruit new affiliates, they are placed on level 3 and so on and so forth down a theoretical infinite number of levels.
RevShare Works cap payable unilevel levels at five, with a 5% referral commission paid out across all five levels of a unilevel team.
Joining RevShare Works
Affiliate membership with RevShare Works is free, however affiliates must invest at last $1 to participate in the attached income opportunity.
Conclusion
As per the RevShare Works website, here's how they distribute newly invested funds:
When advertising is purchased, 15% goes to the admin and 25% is paid on 5 levels of referral.. 60% is shared amongst all advertisers holding at least 1 non-matured advertising package.
Breaking down the pseudo-compliance nonsense, "advertising is purchased" is affiliate investment. In turn 60% of invested funds are use dto pay off "advertisers" (existing investors), making RevShare Works a Ponzi scheme.
To explain away the fraudulent nature of the scheme, RevShare works trot out more pseudo-compliance:
Is RSW legal?

In order for any program to be legal, it is required to supply a service and/or product to you, the member! All members that purchase ad packs will get advertising credits.
Every modern MLM ponzi scheme has some sort of product or service attached to it. The ad-credit route is by far the most common, as ad credits cost nothing to produce and allow investors to promote similar schemes.
AdSurfDaily pioneered the ad credit Ponzi model in 2006. AdSurfDaily's argument that an attached product or service legitimized a Ponzi scheme was shot down in court, with owner Andy Bowdoin sentenced to six and a half years in prison.
As with all Ponzi schemes, once newly invested funds flowing into RevShare Works dry ROI obligations will fail.
Being a daily ROI scheme, this will manifest itself by way of daily ROI percentages dropping towards 0%.
Eventually the scheme will collapse altogether, with Terrence Brannon doing a runner with funds still trapped in the system.
Owing to Ponzi scheme math, in order for just a small number of investors to turn profit, the majority of RevShare Works affiliates are guaranteed to lose money.