Stable Revshare Review: $2 to $10 Adpack Ponzi fraud

The Stable Revshare website identifies Gill Gursevak as the admin of the company.
Gursevak appears to be from India, however a Facebook profile bearing the name "Gill Gursevak" appears to be bogus.
The only content in the profile is related to Stable Revshare and begins in late September. This is symptomatic of a fake profile created solely for promotion.
Interestingly enough, the official Stable Revshare Facebook group was created by a Facebook profile bearing the name "Gill Ryaan".
The Gill Ryaan profile uses a st was created the same day as the Gill Gursevak profile (22nd September).
The Gill Ryaan profile uses a stolen photo of Nigel Wright of Converge Technology Specialists: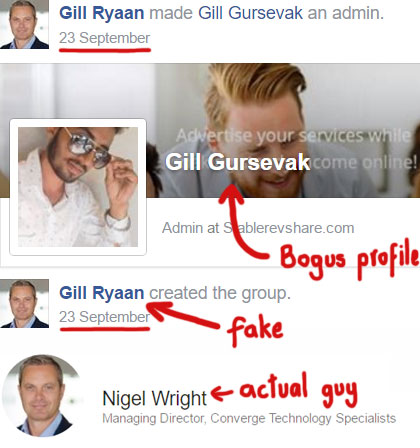 Evidently neither Gill Gursevak or Gill Ryaan actually exist.
As always, if an MLM company is not openly upfront about who is running or owns it, think long and hard about joining and/or handing over any money.
The Stable Revshare Product Line
Stable Revshare has no retailable products or services, with affiliates only able to market Stable Revshare affiliate membership itself.
In order to participate in the attached income opportunity, Stable Revshare affiliates invest in Adpacks.
Bundled with each Adpack investment are a series of advertising credits. These advertising credits can be used to display advertising on the Stable Revshare website.
The Stable Revshare Compensation Plan
The Stable Revshare compensation plan sees affiliates invest $2 to $10 in Adpacks on the promise of advertised ROIs.
Bronze – invest $2 and receive a 110% ROI after 22 days (30% must be reinvested)
Silver – invest $3 and receive a 120% ROI after 30 days (50% must be reinvested)
Gold – invest $5 and receive a 120% ROI after 40 days (50% must be reinvested)
Diamond – invest $10 and receive a 130% ROI after 65 days (50% must be reinvested)
Referral commissions are available on funds invested by recruited affiliates, paid out down two levels of recruitment (unilevel):
level 1 (personally recruited affiliates) – 7%
level 2 – 3%
Joining Stable Revshare
Stable Revshare affiliate membership is free.
Full participation in the Stable Revshare income opportunity however requires a minimum investment of $2 to $10.
Conclusion
The name "Stable Revshare" is an oxymoron.
The only source of revenue entering Stable Revshare is affiliate investment, with each deposit creating a growing ROI liability for the company.
That newly invested funds are used to pay off existing Stable Revshare affiliates makes it a Ponzi scheme.
Ponzi schemes are "stable" for as long as new affiliates are recruited who continue to invest new funds into the scheme.
Once recruitment slows down it doesn't take long for whatever reserve exist to be depleted, prompting a company-wide collapse.
In that sense Stable Revshare is about as stable as a raised muddy platform in the middle of a hurricane.
To top it off Stable Revshare is being run by shady admin(s) who have created at least two bogus Facebook profiles to promote the scam.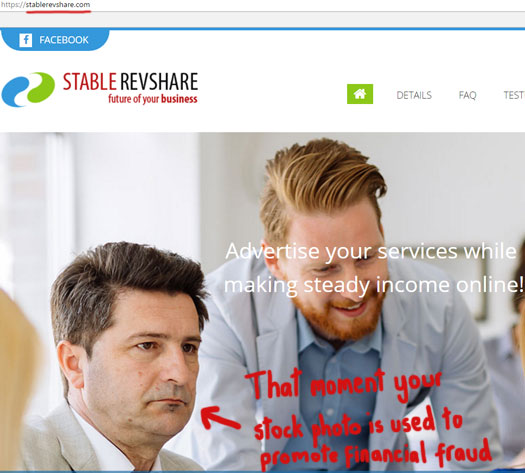 No doubt when Stable Revshare does collapse, they'll make a quick getaway and hope nobody will be any the wiser as to who they are.
As to the bundled advertising credits, they're neither here nor there. Adcredits in a Ponzi scheme serve only as pseudo-compliance, reflecting a closed-loop flow of money between investors and the company.
So to sum up, Stable Revshare offers Ponzi fraud run by admin(s) unknown. Sign up and lose your money today!