Vizionary Review: Norwegian scammer tries cryptocurrency?

Vizionary operate in the cryptocurrency MLM niche and name Frode Berg as Founder on their website.
As per Berg's Vizionary corporate bio;
Frode Berg is a highly respected sales and team building professional with over 20 years of experience and a history of success.

During this time he has been a Master Distributor and has built reputation for integrity. Frode is known for being highly innovative and methodical and has also been a Marketing Consultant to various companies.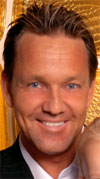 Further research reveals Berg (right) to have been a major player in the Norwegian pyramid scheme, World Games Inc.
World Games Inc. collapsed in 2004, with over 220,000 affiliates losing "large sums of money".
In 2008 Berg was again tied to a scam, this time a poker-based scheme called T6 Poker.
YOU get bonus EVERY MONTH even if you do not have a single player in your business and the ENTIRE your downline has stopped working. This is ALL networkers DREAM !!! When people realize this will take COMPLETELY off ….
When contacted by Norwegian media regarding his involvement in T6 Poker, Berg told them "T6poker is far from any pyramid scheme."
By the end of the year T6 Poker had collapsed, again resulting in the vast majority of investors losing money.
How much Frode Berg made in both WGI and T6 Poker is unclear.
In 2012 Berg resurfaced as an affiliate in Ausante.
As per an interview in the January 2012 Ausante affiliate newsletter (page 6);
Ausante has just been an outstanding company. It has delivered way above my expectations.

I don't find it hard to introduce people to Ausante, The hardest signup was my brother Thomas, he was fighting
against MLM for 7 years basically hating the way I do business.

But right now he is flying with Ausante. I predict that he will be making a huge success with Ausante.

I am proud to be a member, I love the mission and I love the business opportunity and I can truly say
for the first time I have found what I have been looking for so long.

A home… There is no Plan B….This is IT.
In 2013 former management alleged Ausante was a "worldwide fraud".
When Berg left Ausante is unclear, but over the last few years he appears to have been concentrating on building an e-cigarette business (non-MLM).
Now it appears Berg is getting back into MLM, hoping to carve himself a slice of the cryptocurrency MLM niche pie.
Read on for a full review of the Vizionary MLM business opportunity.
The Vizionary Product Line
Vizionary has no retailable products or services, with affiliates only able to market affiliate membership with the company itself (€97-€2897).
The Vizionary Compensation Plan
The Vizionary compensation plan sees affiliates spend between €97 and €2897 EUR, with commissions paid when they recruit others who do the same.
All in all, there are four affiliate levels within the Vizionary compensation plan:
Bronze – €97
Silver – €297
Gold – €897
Platinum – €2897
Recruitment Commissions
Vizionary affiliates are paid direct commission when they recruit new affiliates.
How much of a commission is paid is determined by how much a newly recruited affiliate spends on their membership:
recruit a Bronze affiliate – €9.70
recruit a Silver affiliate – €29.70
recruit a Gold affiliate – €89.70
recruit a Platinum affiliate – €289.70
These commissions can be temporarily "boosted", via what Vizionary call the "Momentum Bonus".
When an affiliate first signs up, they are given seven days of Momentum Bonus time.
Additional hours are added to this time balance, whenever a new Vizionary affiliate is recruited:
recruit a Bronze affiliate = additional 12 hours
recruit a Silver affiliate = additional 24 hours
recruit a Gold affiliate = additional 48 hours
recruit a Platinum affiliate = additional 72 hours
If a Vizionary affiliate is recruited by an affiliate who has active Momentum Bonus time, the recruitment commission paid out is as follows:
recruit a Bronze affiliate -€14.55
recruit a Silver affiliate – €44.55
recruit a Gold affiliate – €134.55
recruit a Platinum affiliate – €434.55
Residual Commissions
Residual commissions in Vizionary are paid out via a binary compensation structure.
A binary compensation structure places an affiliate at the top of two binary teams, left and right: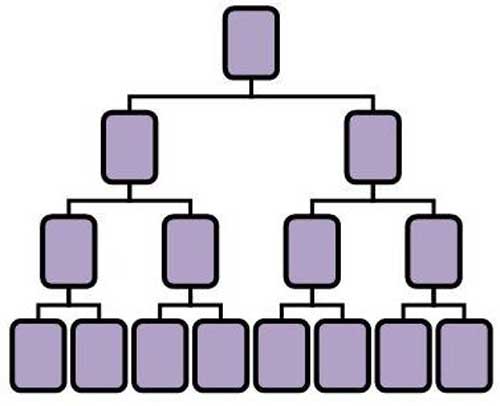 Positions are created in each of these teams, by way of the positions on the previous level splitting into two additional positions each (starting with two positions on level 1).
Business Volume (BV) is tracked throughout each binary team, with BV generated whenever new affiliates are recruited into the teams:
recruited Bronze affiliate = 50 BV
recruited Silver affiliate = 200 BV
recruited Gold affiliate = 600 BV
recruited Platinum affiliate = 2000 BV
A €75 EUR commission is paid out whenever 500 BV is matched on either side of the binary.
Once matched, this BV is flushed and cannot be used again.
Matching Bonus
Vizionary affiliates can earn a 10% or 5% matching bonus on residual commissions earned by recruited affiliates.
Recruited affiliates that fall on the "power" binary side pay out a 10% bonus, whilst affiliates that fall on the "working" binary side pay out 5%.
Presumably this is in reference to the stronger and weaker binary teams (by BV), however Vizionary do not clarify which side is which in their official compensation plan documentation.
Meanwhile how many levels the Matching Bonus is paid out on is determined by how many Gold or Platinum affiliates have been personally recruited:
recruit at least one Platinum or Gold affiliate = matching bonus down one level of recruitment
recruit at least two Platinum or Gold affiliates = matching bonus down two levels of recruitment
recruit at least three Platinum or Gold affiliates = matching bonus down three levels of recruitment
recruit at least four Platinum or Gold affiliates = matching bonus down four levels of recruitment
recruit at least five Platinum or Gold affiliates = matching bonus down five levels of recruitment
recruit at least six or more Platinum or Gold affiliates = matching bonus down an unlimited level of recruitment (payout reduced to 5% across both binary teams)
Joining Vizionary
Affiliate membership with Vizionary is tied to the purchase of one of the following affiliate packages:
Bronze – €97
Silver – €297
Gold – €897
Platinum – €2897
The primary difference between these packages is bonus time allocated to the Momentum Bonus recruitment commission.
Conclusion
As per the Vizionary "vision" website page:
Our aim is to ensure that we work with coins that are used for legitimate purposes. We want to build a community of users with a common purpose of supporting, developing, growing, or creating a long term stable payment solution.

We aim to create a community of hard working merchants who are not constantly worried about chargebacks or having their accounts frozen by the banks at whim.
What exactly Vizionary has to do with cryptocurrencies I have no idea, with the compensation plan rooted firmly in the recruitment of new affiliates.
To that end commissions within the MLM business opportunity are only generated when new affiliates are recruited – qualifying Vizionary as a pyramid scheme.
Hardly surprising when you consider Frode Berg's past involvement in various scams.
The cryptocurrency facade is paper-thin in Vizionary, serving little more than jargon fluff to cover what is otherwise just a binary-based recruitment scheme.
As with all pyramid schemes, once recruitment of new affiliates slows down commissions in Vizionary will grind to a halt.
At that point anyone who hasn't recouped their initial spend by recruiting new suckers into the scheme, loses out.