MMM Global Review: Sergey Mavrodi's MLM BTC Ponzi cult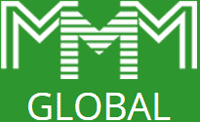 There is no information on the MMM Global website indicating who owns or runs the business.
As per the MMM Global website:
There is no formal organization, no legal person in MMM. And of course there is no central bank account, no other activity in any form. Neither close, nor open. There is nothing!
The MMM Global website domain ("mmmglobal.org") was registered on February 4th 2014, however the domain registration is set to private.
Further research reveals marketing videos uploaded to the MMM Global website blog. These videos are titled "weekly news" and feature Sergey Mavrodi.
Although not credited by name, Mavrodi's photo also appears on the MMM Global website itself: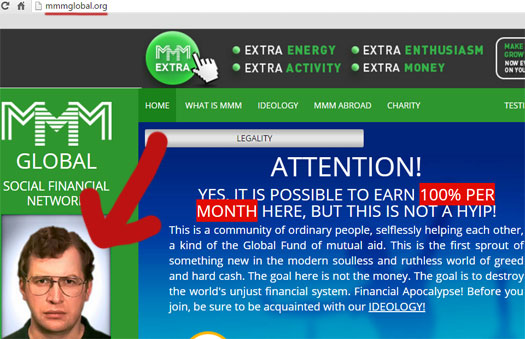 The "weekly news" videos on the MMM Global website are hosted on a YouTube account bearing the name "MMMGlobal". In addition to Mavrodi's news updates, the account has a plethora of testimonial videos.
Presumably MMM Global affiliates, the vast majority of those featured in the testimonial videos appear to be of Asian descent.
Primary countries MMM Global operates in appear to be China and India, with Alexa estimating that these two countries provide 34% of traffic to the MMM Global website.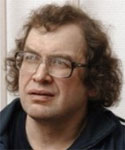 Mavrodi (right) began using the "MMM" brand back in 1989, but it wasn't until 1994 that it delved into Ponzi fraud.
MMM was established in 1989 by Sergei Mavrodi, his brother Vyacheslav Mavrodi, and Olga Melnikova. The name of the company was taken from the first letters of the three founders' surnames.

MMM created its successful Ponzi scheme in 1994. The company started attracting money from private investors, promising annual returns of up to one thousand percent.

MMM grew rapidly. In February 1994, the company reported dividends of 1,000%, and started an aggressive TV ad campaign.

Since the shares were not quoted on any stock exchange and the company itself determined the share price, it maintained a steady price growth of thousands of percent annually, leading the public to believe its shares were a safe and profitable investment.

At its peak the company was taking in more than 100 billion rubles (about 50 million USD) each day from the sale of its shares to the public.

Thus, the cashflow turnover at the MMM central office in Moscow was so high that it could not be estimated. The management started to count money in roomfuls (1 roomful of money, 2 roomfuls of money, etc.).

Regular publication in the media of the rising MMM share price led President Boris Yeltsin to issue a decree in June 1994 prohibiting financial institutions from publicising their expected income.

The success of MMM in attracting investors led to the creation of other similar companies, including Tibet, Chara, Khoper-Invest, Selenga, Telemarket, and Germes.

All of these companies were characterised by aggressive television advertising and extremely high promised rates of return. One company promised annual returns of 30,000%.[citation needed]

On July 22, 1994, the police closed the offices of MMM for tax evasion. For a few days the company attempted to continue the scheme, but soon ceased operations.

At that point, Invest-Consulting, one of the company's subsidiaries, owed more than 50 billion rubles in taxes (USD 26 million), and MMM itself owed between 100 billion and 3 trillion rubles to the investors (from USD 50 million to USD 1.5 billion).

In the aftermath at least 50 investors, having lost all of their money, committed suicide.

Several organisations of "deceived investors" made efforts to recover their lost investments, but Sergei Mavrodi manipulated their indignation and directed it at the government.

In August 1994 Mavrodi was arrested for tax evasion. However, he was soon elected to the Russian State Duma, with the support of the "deceived investors".

He argued that the government, not MMM, was responsible for people losing their money, and promised to initiate a pay-back program. The amount ultimately paid back was minuscule compared to the amount owed.

In October 1995, the Duma cancelled Mavrodi's right to immunity as a deputy. In 1996, he tried to run for Russia's presidency, but most of the signatures he received were rejected. MMM declared bankruptcy on September 22, 1997.

While it was believed that Sergei Mavrodi left Russia and moved to the United States, it is possible that he stayed in Moscow, using his money to change apartments regularly and employ a group of former special agents.

With the help of a distant relative he started Stock Generation Ltd., another pyramid scheme.

Despite a bold-letter warning on the main page that the site was not a real stock exchange, between 20,000 and 275,000 people, according to various estimates, fell for the promised 200% returns and lost their money.

According to U.S. Securities and Exchange Commission, losses of victims were at least USD 5.5 million.

Mavrodi was found and arrested in 2003. While in custody, Mavrodi was given until January 31, 2006 to read the documents in his fraud case against him (The criminal case consisted of 650 volumes, each 250-270 pages long).

At the end of April 2007, Mavrodi was convicted of fraud, and given a sentence of four and a half years.

Since he had already spent over four years in custody, he was released less than a month later, on May 22, 2007.

He later went on to creating yet another pyramid scheme called MMM-2011. (Wikipedia)
MMM-2011 saw the introduction of "Mavro" Ponzi points.
In January 2011, Mavrodi launched another pyramid scheme called MMM-2011, asking investors to buy so-called Mavro currency units.

He frankly described it as a pyramid, adding "It is a naked scheme, nothing more … People interact with each other and give each other money. For no reason!"

Mavrodi said that his goal with MMM-2011 is to destroy the current financial system, which he considers unfair, which would allow something new to take its place.

MMM-2011 was able to function openly as Ponzi schemes and financial pyramids are not illegal under Russian law.

In May 2012 he froze the operation and announced that there would be no more payouts.

In 2011 he launched a similar scheme in India, called MMM India, again stating clearly that the vehicle is a pyramid. He has also launched MMM in China.

He was reported to be trying to expand his operations into Western Europe, Canada, and Latin America.

As of September 2015 it had spread rapidly in South Africa with a claimed 1% per day or 30% per month interest rate scheme and warnings from both the South African and Russian Communist Parties for people not to participate in it.
Mavrodi's latest Ponzi fraud iteration saw MMM Global launch last year. Amid ongoing financial instability in China, MMM Global is currently being heavily promoted there as a vehicle to launder dirty money out of the country.
Due to inaction on behalf of Russian authorities, Mavrodi remains at large.
Read on for a full review of the MMM Global MLM business opportunity.
The MMM Global Product Line
MMM Global has no retailable products or services, with affiliates only able to market MMM Global affiliate membership itself.
Once signed up, MMM Global affiliates can then invest in "Mavro" points, which enable them to participate in the MMM Global income opportunity.
The MMM Global Compensation Plan
The MMM Global compensation plan sees affiliates invest in Mavro points. Transfers in and out of MMM Global are done through BitCoin.
Mavro Points ROI
The value of Mavro points is determined by MMM Global, with the scheme promising a 'rate of growth from 20% to 100% per month'.
Affiliates can guarantee a 100% a month ROI by investing in "special Mavro (Mavro-Extra)".
After buying these Mavro you have to go to the appropriate section in your PO, which is called MMM Extra. On the Extra's main page you will find the list of current web-tasks.

In order to make your Mavro grow up to 100% per month you have to perform these tasks on daily basis and your Mavro will grow on daily basis as well.
The nature of these required tasks is not disclosed on the MMM Global website.
The conclusion is: if you perform tasks from MMM Extra every day, your Mavro will grow at the rate of 100% per month; if you don't perform any task, your Mavro will grow at the rate of 20% per month only.
Note that in order to withdraw funds from MMM Global, all affiliates are required to invest within 36 hours of joining the company. Failure to do so results in affiliate account termination.
How much money is required to be invested is not disclosed, with MMM Global stating only that all affiliates are sent an "order (to) provide help" shortly after signing up.
Referral Commissions
In addition to a 10% direct referral commission, paid out on funds invested by personally recruited affiliates, a residual unilevel referral commission is also available.
A unilevel compensation structure places an affiliate at the top of a unilevel team, with every personally recruited affiliate placed directly under them (level 1):

If any level 1 affiliates go on to recruit new affiliates of their own, they are placed on level 2 of the original affiliate's unilevel team.
If any level 2 affiliates recruit new affiliates, they are placed on level 3 and so on and so forth down a theoretical infinite number of levels.
Commissions are paid out as a percentage of invested funds, with how much of a percentage determined by what level of a unilevel team an investment is made:
level 1 (personally recruited affiliates) – 5%
level 2 – 3%
level 3 – 1%
level 4 – 0.5%
level 5 – 0.3%
level 6 onwards – 0.1%
Joining MMM Global
Affiliate membership with MMM Global is free, however affiliates must invest funds within 36 hours of joining the company.
Order for providing help comes to you in your Personal Office. If you do not complete it within 36 hours, you will be removed from the System!
The MMM Global websites suggests the amount demanded from an affiliate will be between $10 to $10,000.
Conclusion
From the MMM Global website;
Justice, kindness and honesty in the modern world are not a myth and fantasy any more, MMM has made them reality!

By joining our forces, TOGETHER we can change the world!!! Long live MMM! Long Live Sergei Mavrodi!!!
That anybody continues to invest in Mavrodi's schemes is nothing short of remarkable.
Here we have a convicted fraudster, pushing the same brand of Ponzi fraud since 1994, only now with BitCoin as the investment vehicle.
Otherwise it's pretty much the same ideological bullshit Mavrodi originally came up with.
The MMM Global website is littered with "rage against the government" type spiels.
In one video banking customers are referred to as fleas:
Have you watched? Who is it about? About fleas? Or about us? The people who were born in the bank system?

Don't you sometimes think that you were born for greater things? Not for glass jars, not for the dullness and hopelessness that surrounds you today?

Not to be forced to work hard from morning till evening for somebody else and get miserable pennies for this hard work? And spend all your life on this!

The only life you have, because you won't get another one!! Never!!!
I'm not here to defend modern banking, but under no circumstances do the shortfalls of the system justify Ponzi fraud. This is the same emotionally manipulative bullshit Mavrodi has been using to rip off victims for years.
There is no formal organization, no legal person in MMM. And of course there is no central bank account, no other activity in any form. Neither close, nor open. There is nothing!

There are only millions and millions of simple participants, simple private persons. And their bank accounts. And nothing more.

MMM is absolutely legal and does not break any laws. Because there are only money transfers between private persons and nothing more.
Mavrodi quite obviously oversees transfers between MMM Global investors throughout the BitCoin ecosystem, with bank accounts under his control attached to these transactions.
Having previously ripped off Russian and US investors, Mavrodi has now set his sights on Asia. Authorities in China and India are unlikely to go after Mavrodi, who is believed to be hiding out in Russia.
Russian law aside, Ponzi schemes are illegal the world over and for good reason. Mavrodi's past MMM Ponzi scams have generated losses in the billions.
Having only just launched in 2014, MMM Global is still in the "honeymoon" Ponzi phase, pushed along by gullible investors in India and China (both currently Ponzi hotbeds).
I did initially think it strange that so many testimonials featured on the MMM Global website, but later learned investors are credited with a 5% investment bonus if they make a video showing their face. Only a 3% bonus is awarded if it's voice-only (no face).
The use of BitCoin is immaterial to the fallacy of paying out more than is invested, with MMM Global yet to hit critical mass.
That said it is a given that, dollar for dollar, the liability generated by Mavro points far exceeds available funds.
It is only that affiliates are busy hoarding Mavro points that keeps the scheme from collapsing. Nonetheless, over time as more and more affiliates start putting in sizable daily or weekly withdrawals, there's still only so much newly invested funds to go around.
At that point the BTC transfers will go dead. Mavrodi, as he's done before, will do a runner with whatever he's been siphoning off the top and go into hiding.
The use of BitCoin guarantees no regulatory agency will be able to clean up the aftermath of the MMM Global bubble bursting, which is pretty worrying.
The good news is the BitCoin community are aware of the potential impact schemes like MMM Global are having on the cryptocurrency industry.
The bad news is currently nobody seems to be able to do anything meaningful about it.